Finances Online has ranked, #Teleduce by Corefactors among top contenders who help businesses provide outstanding solutions for #B2B companies across a number of categories, including leaders like #Hubspot and #FreshSales in the CRM market. You can read the full review on Teleduce – Lead Campaign Management here: https://reviews.financesonline.com/p/teleduce/
and more about the methodology used by FinancesOnline B2B Software Reviewers here: https://reviews.financesonline.com/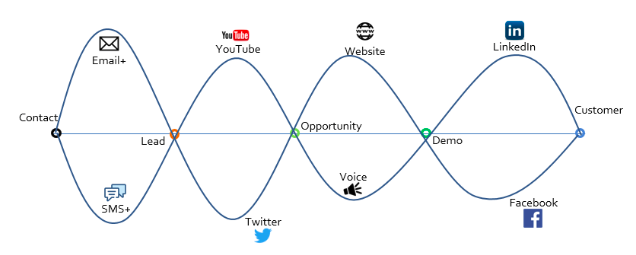 Teleduce has been given a full 8 on 10 for its customer friendly features. They mention Teleduce by Corefactors as "a cross-functional sales and marketing software with integrated communication and CRM automation capabilities". They mention that we help "sales and marketing teams within a rich platform to generate high-quality leads, manage contacts, run campaigns, increase conversions, and drive revenue growth."
Finances Online's detailed review process was founded by #CEO Sebastian Lambert. He explains that it all started while he was searching for reliable software solution vendors to engage his employees and help them be more performance oriented. They do mention our current pricing points and have all our support details on record.
Teleduce was also honored in FinancesOnline among niche CRM software firms for its Device agnostic approach. Clearly, the review accolades other Teleduce features like real-time updates, unlimited campaigns, component-based ROI, and customized controls. This SaaS solution enables you to talk to your end-customers using any device in any location. Reach out to get your hands on the web version and the mobile version of our portal. Save on the software deployments costs, maintenance costs, upgrade costs and much more with Teleduce.
Delve into details on our #Integrated Sales & Marketing suite on their portal. It is in our best in case you have a feedback or feel areas where we could improve; do contact us for immediate rectification. We help our clients to do the following:
 Capture leads and Profile connections
 Allow Marketing Campaign Management
 Integrate with Third Party User Interfaces
 Analyze Business ROI using Algorithmic Analytics
 Follow-up on Sales Lead Nurturing
If you'd like to take advantage of the 'Thank You Email/SMS' Free Campaign Template: Contact team Corefactors now.
About FinancesOnline
FinancesOnline is a prestigious B2B directory where they review the software used within business circles. They have an ever growing database with 2.5M users monthly. This B2B online directory is supported world over by Information Technology driven communities. This portal hosts a review platform for 90+ nations. CRM Software, Project Management Software, Accounting Software, Business Intelligence Software, HR Software, and Help Desk software are just a few main categories where you could enlist your product for worldwide reviews.