Marketing Journey, the lead conversion machine.
Marketers job is lead generation. Sales persons job is lead conversion. Most of the time, sales men and marketers blame each other on the big number. Sales men discusses on lead quality, marketers discuss on sales conversion.
Something new is happening with technology in Marketing space. Yes, now marketers can do sales. Sales is no more a job of meeting customer, explaining what is the value, how it will help them, what ROI they can get. Marketers can do sales thru marketing itself.
Marketers can sell by engaging with customers consistently across channels using personalized and relevant content. When a content is personalized with right depth, people pay more attention to it. Technology helps marketers to know more about customers by tracking demographics, interest and activities. Personalization is not just about referring their name, it is to provide the best possible personalized content with relevant colors, offers, images, titles, landing pages, etc. It also includes sending the personalized content when the receiver really like to receive. Personalization is essential, so just don't push, send right content in right channel at right time.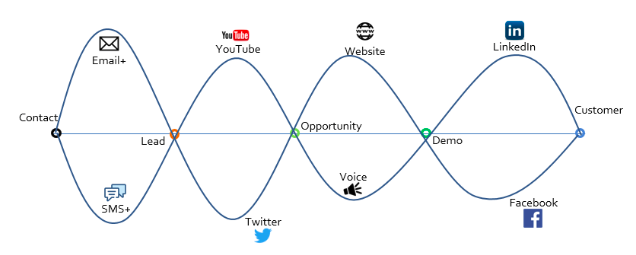 In content driven world, audience leverage content across the web before taking buy decisions. Hence being in all relevant channels is very important. Email, SMS, Social Media and Web channels are primary today for sales conversion. The key is, marketers can pull audience to the channels where they can sell better. Parallelly, Marketers must be agile to try different things, act fast to react on the results, be innovative to provide awesome experience.


Marketing journey is data driven. With more richer and deep data, achieving awesome results is just a bite. With journey technology, marketers job is just to watch and drive. Marketing journey technology enables customer acquisition while marketers & sales were sleeping.
Be smart marketer, sell without sales team.