Customer Relationship Management is a technology to maintain relationships and manage interactions with your customers.
Integrated CRM is significantly more than just customer relationship management.
You might be thinking, why small business needs CRM? Well, It helps in integrating Marketing, Sales, Customer Support, Customer Success Management with applications, reports, and storing a huge amount of data.
Let's get into details and see why integrated CRM is necessary for your business.
Automation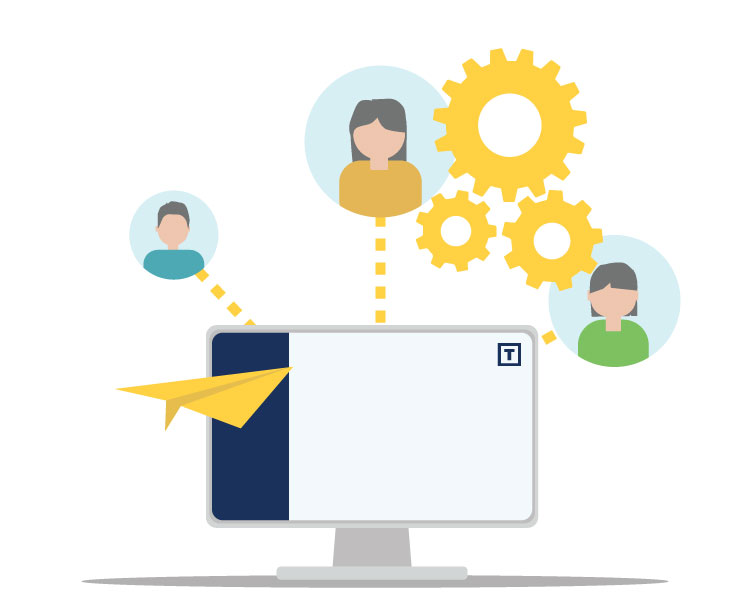 According to a publication Fortune Business Insights, the industrial automation market worldwide reached 157.04 billion dollars in 2018 and is expected to reach 296.70 billion dollars in 2026, almost twice as much as a year ago.
Automation reduces costs and increases productivity and efficiency.
Saves your employee efforts from boring tasks.
If you are into manufacturing robots can perform the job of welding, material handling, packing, and cutting.
Zero errors and faster ROI's.
Collaborative Work Within the Teams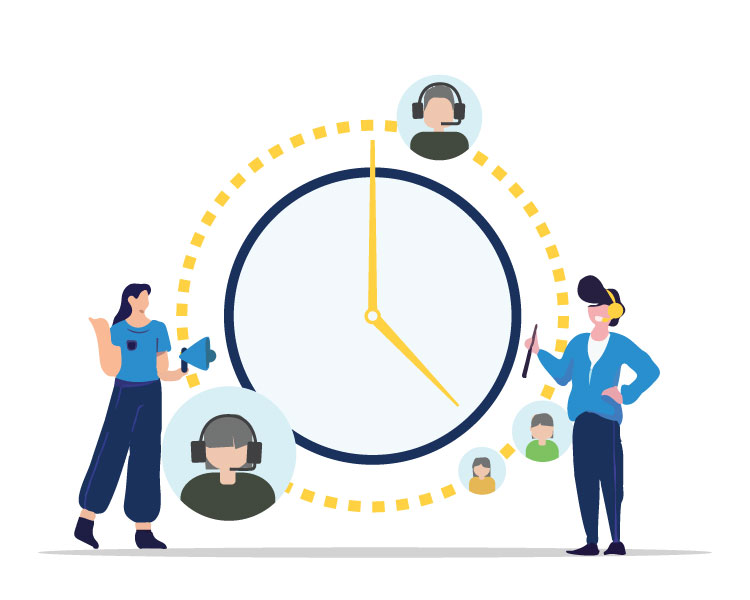 Digital Collaboration statistics reveal "Online collaboration tools and digital workplaces facilitate increased productivity by up to 30%. "
When different teams collaborate in an organization your delivery becomes aligned.
For example:-
If your Marketing team has sent a push notification for your customers about a SALE happening.
And one of the customers contacts customer care, then the support team should be well aware of the Offer too.
Otherwise, it creates confusion for your customer.
This will create a bad impact on your brand resulting in loss of sales.
Mobile CRM App to Sell Faster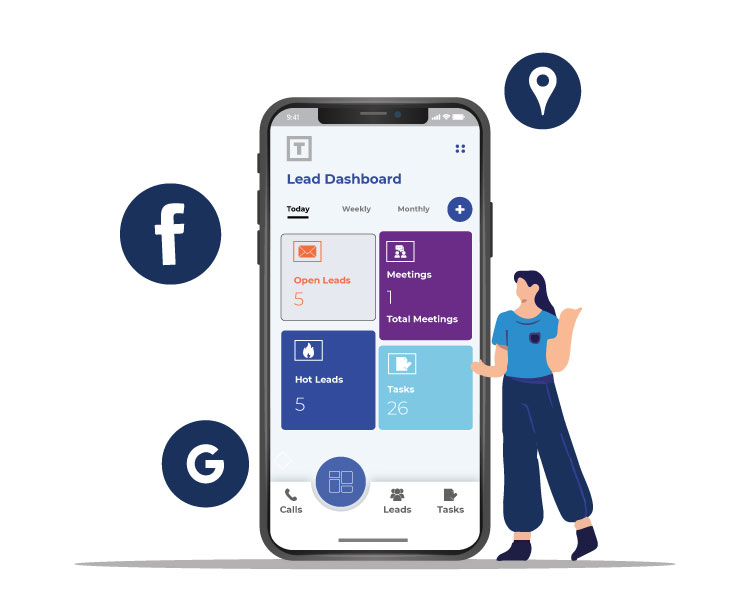 Teleduce recently launched Mobile CRM App to gear up your sales.
Focused on 4 major modules:
Calls:
Quickly take a look at the call logs and filter options based on incoming calls, outgoing calls, call agent, and time duration.
Understand in-depth how Mobile CRM drives you more sales and revenue.
Dashboard:
Mobile CRM was designed considering the hustle and urgency of a business owner and a team.
Metrics and critical information is shown on colorful tiles to prompt you
To take necessary action.
You can check the unassigned lead tile if there are any and inform the team or assign a lead owner. This simple feature helps you to not miss a single lead.
Sales CRM:
A separate module for leads and lead information.
You can get all the information of a lead.
Business information.
History of engagement.
Schedule meetings.
Take notes.
Tasks:
The last module in Mobile CRM Teleduce is Tasks.
Here you can track upcoming tasks, overdue tasks, and pending tasks.
Filter based on the type of tasks like Email, Call, SMS, Meeting.
Marketing Place Integrations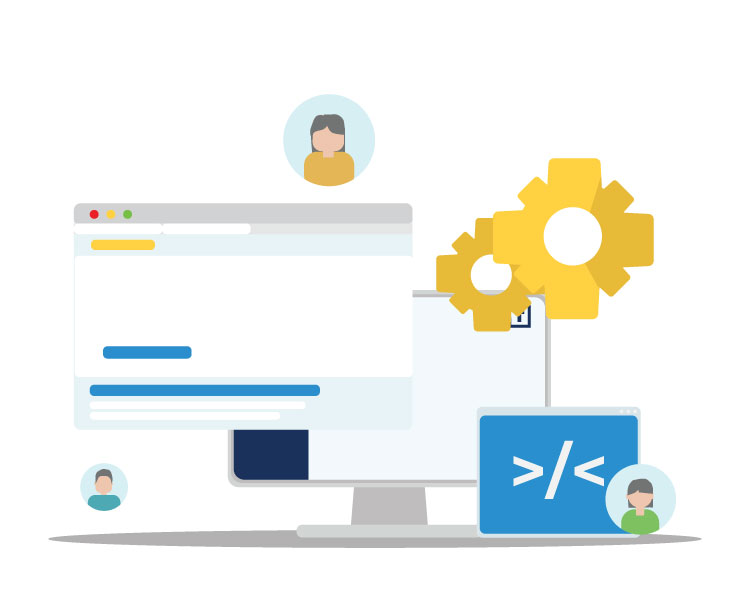 Though, you don't need any other application when you use an All-in-One tool Teleduce.
We are open to integrating marketplaces (like 99 acres, Housing, Sulekha, TradeIndia, IndiaMART etc.,), e-commerce sites, social media, helpdesk applications, telephony service applications, and more if you have been using them.
The main sim of introducing integration is to capture leads from all these applications.
When you integrate with 99acres in Teleduce. If a lead enquired about a property or a site you listed.
Then we capture lead details and show them in our lead box along with the source.
This way you will also know where most of your leads are from.
Marketing, Sales, and Support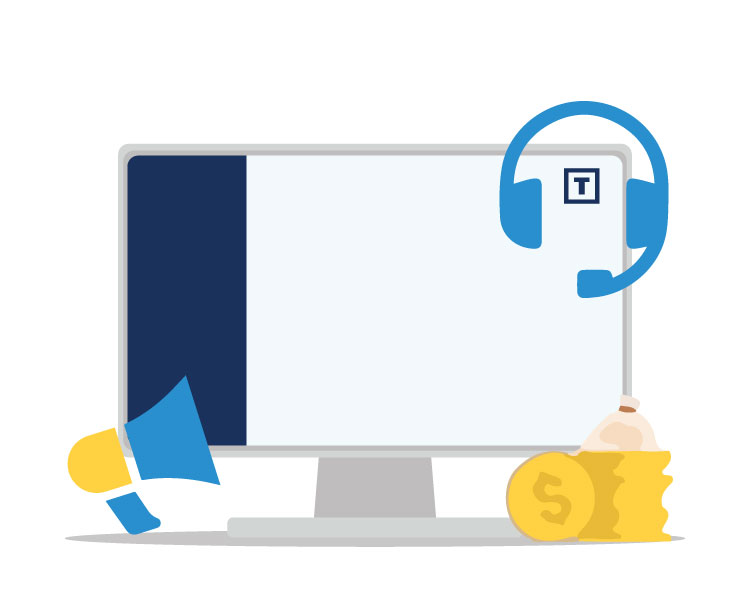 As a business, you desire to have a smooth workflow between operations. So do we.
When you have all the business operations under one roof like Teleduce.
You have a clear picture of what's going on, what's next, and what's pending.
When you have scheduled a campaign, you want to know the stats, leads generated, engagement progress, and the status of the conversion and sales percentage.
Additionally, you would like to see the concerns raised by leads or customers you can head over to the support box with just a tap.
You wouldn't encounter such easy access if all your operations are spread across multiple platforms.
This happens only when Marketing, Sales, Support are in sync.
Inbuilt Cloud telephony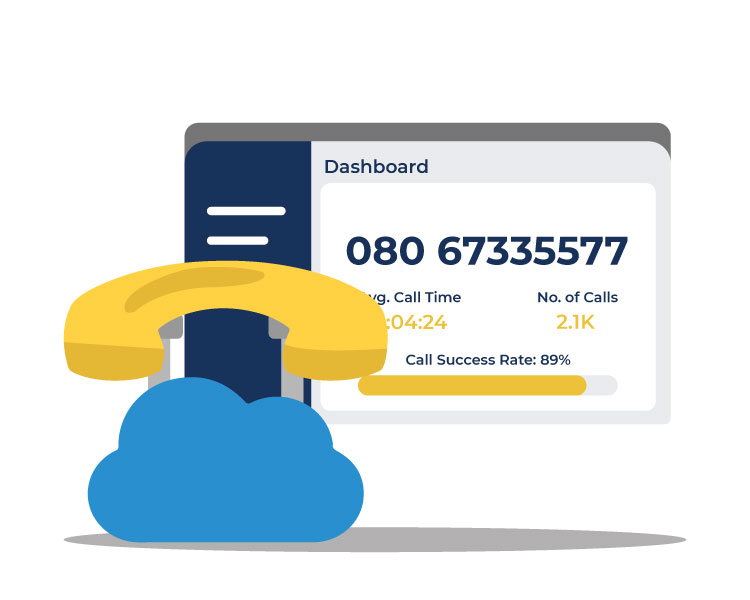 Built-in Cloud Telephony is one of the best investments you make to care for your customer in your team's absence.
Because, no matter which industry your business caters to, be it hospitality, non-profit, real estate, retail, home services, etc – you need to be proactive now to ensure that your business's growth is not hampered later.
Importantly, the entire process will not take more than a few minutes and you can start taking business calls from wherever you are.
Reach out to them with the help of a virtual number and let them know that you are always available to answer any questions.
All your incoming calls will be routed from landlines to the cloud and you won't miss a single call ever.
Metrics, Reports, and Dashboards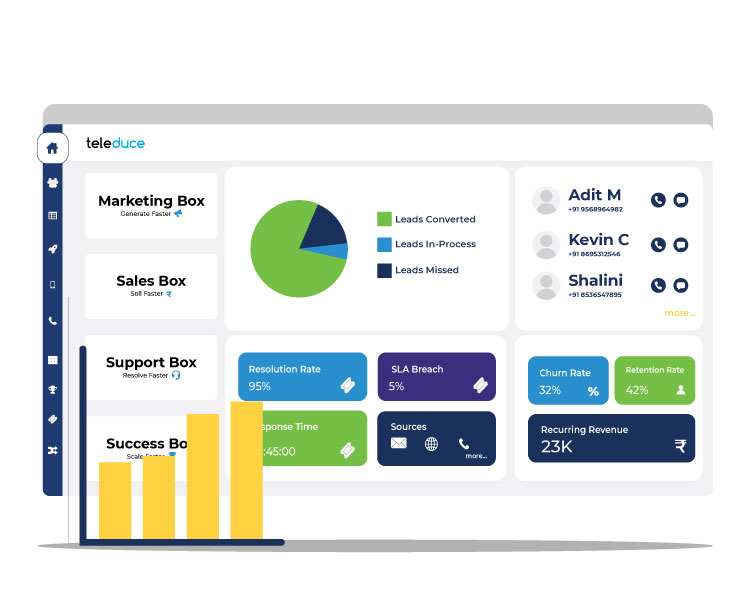 When you are planning to launch a new product or service.
How do you know what customers are expecting from it?
You can totally rely on stats and come up with a service/product your customers are craving.
Through stats you will know; what type of product gave you more sales, which type of social posts, emails gain you more engagement and when to publish.
Reports will direct you towards building a product your customers will adore and finally increase your ROI.
Conclusion
All-in-one Integrated CRM is a great investment for your business growth to scale and sell faster.