We are proud to share that one of the leading SaaS review platforms, CompareCamp, presented Corefactors AI CRM with a prestigious accolade, commending its outstanding performance in the CRM software category.
CompareCamp, one of the highly sought-after software directories, has recognized Corefactors AI with a Rising Star Award. It is a recognition given to software that garnered a firm number of followers and positive mentions on social media in a short period of time.
Aside from the recognition, CompareCamp also created a comprehensive review and rated each of the software's vital functions. Based on the review, Corefactors AI boasts top-notch features that are well-accustomed to the users' needs, making them an efficient CRM tool.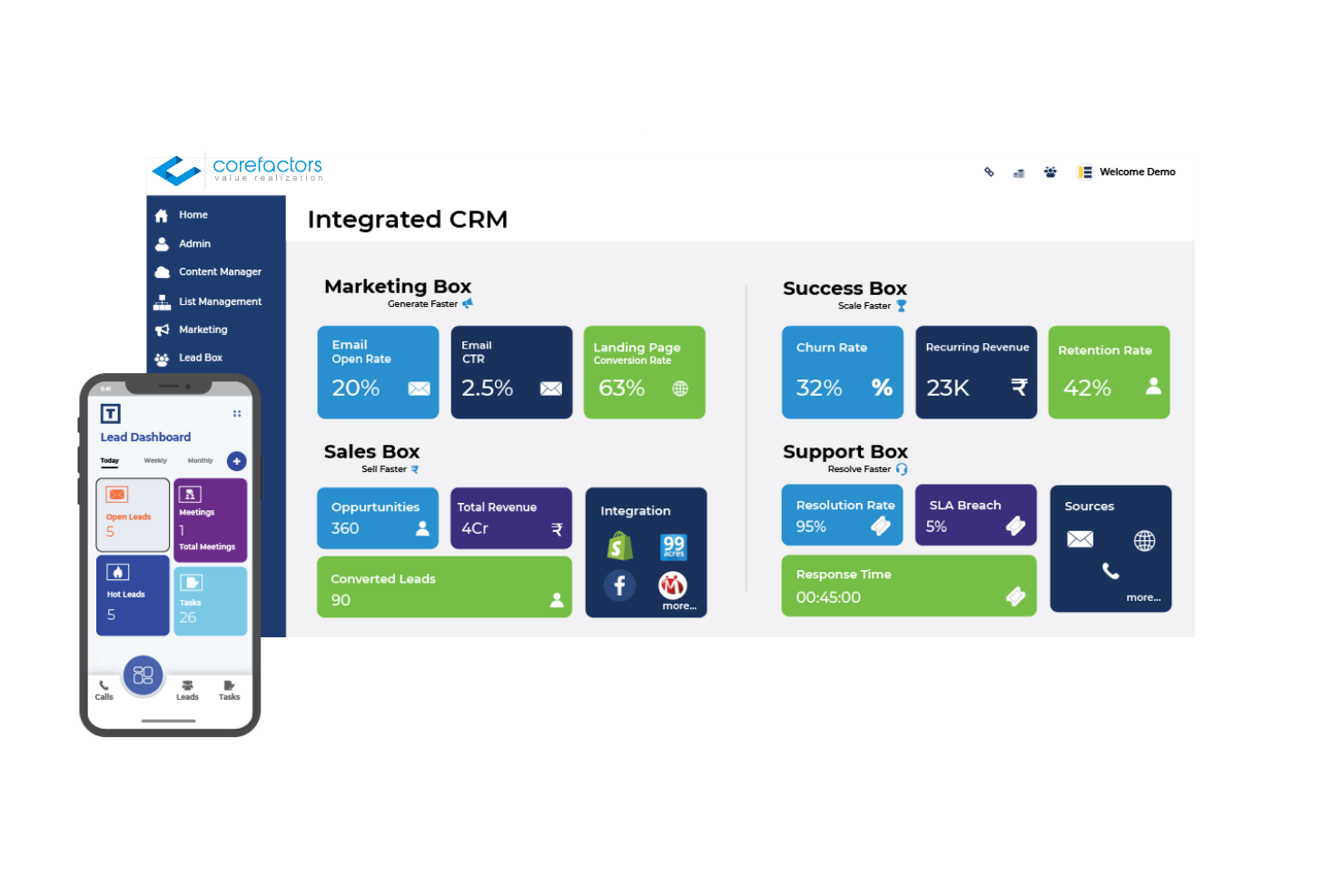 The experts note from their review that our platform is efficient with our automated sales processes, easy to connect with customers, and easy to conduct multi-channel marketing campaigns. It is RevOps-enabled, allowing users to engage with customers better and improve revenue.
Corefactors AI has several main features that make it a truly outstanding application:
Sales Box
Marketing Box
Support Box
Success Box
Omni-channel communications
Powerful Dashboards
To sum up all its features, it offers different benefits that make it an efficient CRM tool.
CompareCamp recognizes the marketing and sales automation tool that Corefactors AI has. It enables users to capture leads and close sales to progress revenue and performance. Aside from the content management feature, it is equipped with sales automation to manage and nurture leads.
Another excellent feature is its customer support tools. It helps improve customer experience and enables users to assign, receive, and track tickets submitted through various channels. Additionally, it allows you to automate assignments and follow-up tickets.
It also ensures customer retention by monitoring customers' health scores and triggering NPS campaigns. Users can manage and automate renewals, keep tabs on payments, and track CSAT results with it as well, once integrated with the payment gateway or invoicing system.
💡
With more brands entering the market today, the need for CRM software is increasing. Based on a
report
, in 2020, the global CRM market size was valued at USD 43.7 billion and is expected to expand at a compound annual growth rate of 10.6% from 2021-2028.
This tool has proven its robust features and capabilities by becoming one of the fastest-growing and most in-demand CRM platforms. With that, they are among the top review platforms' list of top CRM software tools today.
Corefactors AI extends our gratitude to CompareCamp for acknowledging our hard work. Receiving recognition from a highly-reputable organization drives us to keep improving and deliver top-notch services. It truly is a feat for us to know that we are gaining recognition.
Our team would also like to thank our loyal customer base, who never fail to support our services. We are in awe of how you patronize and help us be on the map with other excellent CRM tools.
We can assure everyone that we will continue to deliver premium services and features. Our motivation to keep going is the support we receive and continue to receive. We look forward to more years of partnership with you.