Every business around aims to generate as many sales as possible. But to turn the potential visitor into a genuine buyer, you need an excellent Lead Nurturing Strategy.
It helps to keep your audience hooked to your business so that you can generate interest in them and turn them into a customer. 
The Lead Nurturing technique involves following a series of steps that a sales expert must follow to clinch the set sales goals.
The major benefit of following this strategy is it streamlines the whole process, and the lead doesn't feel pressured or irritated by the repeated sales calls or follow-ups.
It is because you are not selling on every call, but you are first focusing on building a healthy bond with the lead and then eventually sell. 
Let me tell you, to your surprise, nearly 70% of the sales experts fail to convert their leads to buyers and have a pile of lists flooded with dormant prospects.
If you don't want the same to happen with you, then a proper Lead Nurturing Strategy is all you need. Moreover, it might solve any problem you face by boosting your buyer's count and generating higher sales revenue.
Lead Nurturing strategy is one of the most practical, friendly, and effective methods to turn "just-looking" customers into genuine and even loyal buyers.
Why Turn to a Lead Nurturing Strategy?
Are you still not sure about how to include a Lead Nurturing strategy into your business? Don't feel stressed; we will help you. 
Instead of spending thousands of dollars and precious time on leads who are not the right fit, it's better to always follow a solid strategy.
Let us explain your about Lead Nurturing using an example. Suppose your potential lead is looking forward to purchasing a home so it's clear that the lead will not be able to give a final decision in a day or two.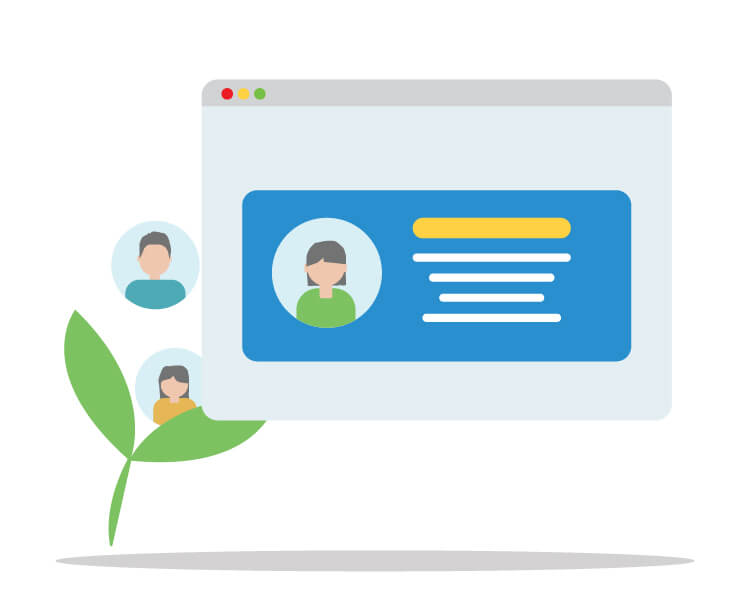 Moreover, you cannot bug them with sales calls right from the first instance because chances are they may feel agitated. So here comes lead nurturing into the picture.
In this technique, you will keep the lead updated frequently through SMS, Email, Calls, or a combination of all.
It means you are nurturing the lead for some time instead of directly getting started with sales.
For creating a Lead Nurturing Strategy, you can use the best sales CRM available named Teleduce.
Using it, as a sales expert, you can create the whole journey plan beforehand and keep a tab on the lead instead of pushing them away.
In the following steps, we have shared how to use Teleduce for Lead Nurturing?
What Are Some Proven Benefits of Using a Lead Nurturing Strategy?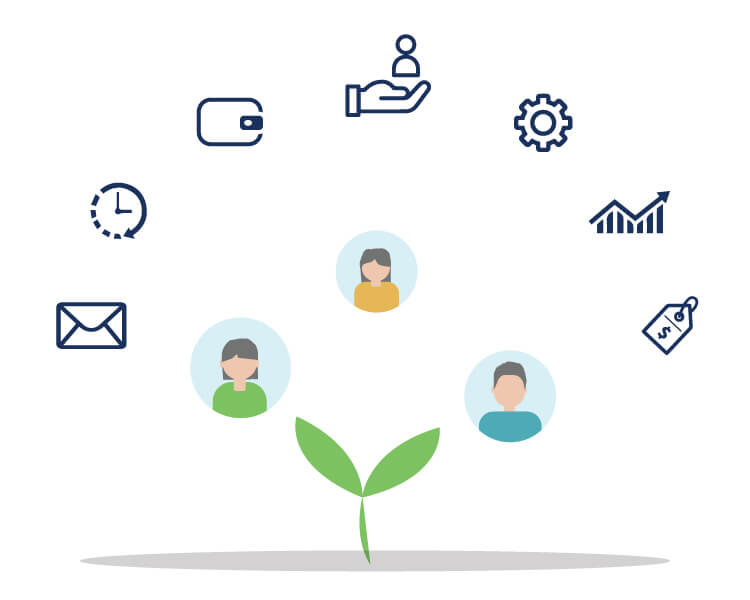 Better Response to Marketed Emails. (4-10 times)
Reduced Length of Sales Cycles with Better Outcomes. (50% increase in ready leads)
Extremely Pocket-Friendly than Most Other Marketing Schemes and Strategies.
Increase in Customer Loyalty.
Zero Efforts Required on Your End with Full Automation with Sales CRM Software.
Commendable Return-on-Investment (by 45%)
Transferred Leads are More Prone to Make Bigger Purchases.
Boosting Sales with Effective Lead Nurturing Strategies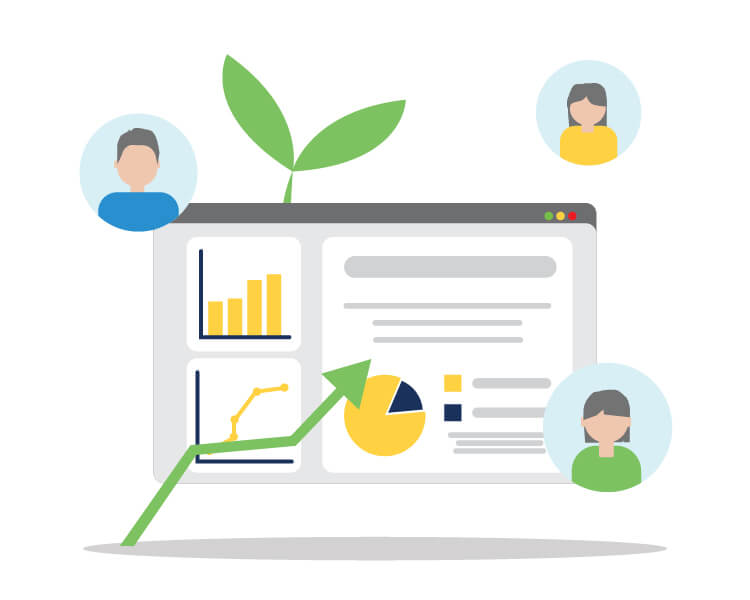 Now that you are ready to build your own lead nurturing strategy, here are a few things you need to keep in mind and enforce:
Suitable Targeting of Leads
A brand cannot simply communicate and keep a buyer engaged without having anything relevant to offer.
Lead nurturing works in a way where you are needed to push relevant content to your potential leads, depending on which part of the mental decision-making stage they are in, otherwise known as the buyer's stage.
Let's look at it this way. For instance, your brand is oriented toward organic skin and hair care solutions.
You send an email to leads at the extreme top of the sales funnel about the dangers of synthetic shampoos and body soaps.
Finding the content relevant, this person now moves into wondering about possible alternatives to the products they use.
Your strategy will be now to assist them with these possible alternatives.
Once they are at a decision stage, this is where you push your products with helpful reviews and essential information, giving you a higher ground than competitors.
This is all about what they need and when they need it without aggressively pushing them for purchasing from your brand.
Knowing and Modeling Your Target Market
Your brand cannot relate to its potential customers without knowing them.
An effective way to approach this is by gathering lead intelligence data and building virtual buyer profiles.
For example, a young demographic is represented by a 19-year-old Zac, a section of corporate employees through a fictional Darla, an IT employee, under which you'll gather all the information you need about them and help your sales.
And how can you get this information? The old research and feedback method.
Ask your staff, get feedback from clients and leads, update yourself with contemporary trends and needs, identify common ground through analytical keyword tools, study the swerve and need on social media channels, and compare what personal information you already have.
Also Read: How To Respond When Prospect Asks For A Discount
Lead Nurturing Using Teleduce
Increasing sales through lead nurturing is a time-sensitive process, as you would have gathered by now.
And naturally, focusing just on this strategy will affect other essential grounds of your brand upkeep.
So, enjoy the gift of technological advancements in marketing, and automate this process entirely.
Using Sales CRM like Teleduce is not only a more pocket-friendly approach but instead offers better and increased outcomes.
The uncountable complex tasks of marketing and sales are unbelievably simplified with the help of the Lead Management System.
When needed, pushing relevant content, getting a better response, effective email marketing, analyzing your market, providing excellent customer services, several things come under your grip without having to expend much time or effort of your own, streamlining the process significantly.
Here are the steps you need to follow for creating Lead Nurturing Strategy in Teleduce:
Step 1: After receiving the lead, the sales agent can begin planning how to proceed further and what type of journey to create.
Step 2: Before starting with a Lead Nurturing strategy, decide whether it's a potential lead or not. It helps to save you from wasting time on not interested prospects.
Step 3: Log in to Teleduce, your best sales CRM. After logging on the left-hand side, you will find several options.
Step 4: Click on the JOURNEY option to get started with creating a NEW JOURNEY for Lead Nurturing.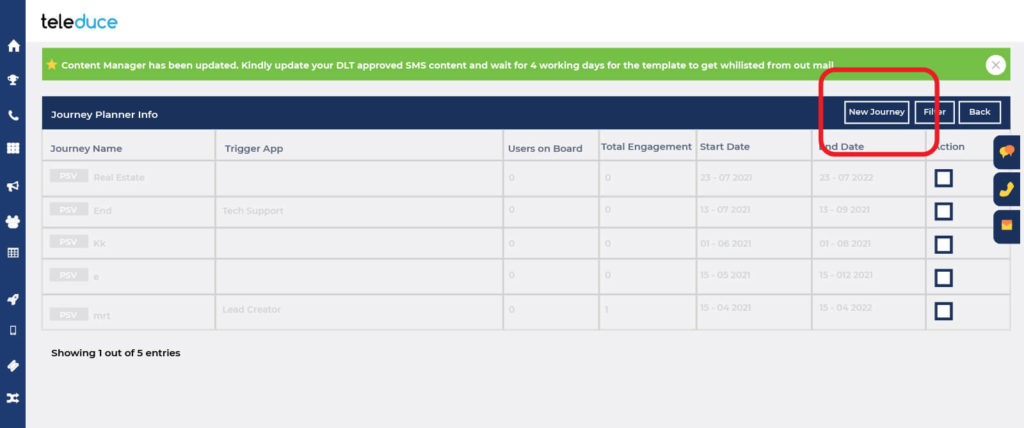 Step 5: Add the data into the first step. Give a suitable name to the journey, enter details and timeline till when this journey continues.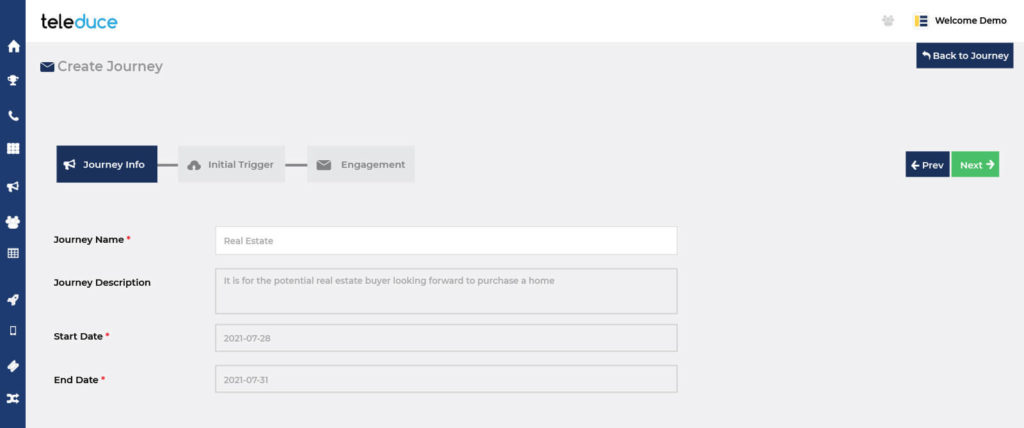 Step 6: In the Initial Trigger stage, select whether you want to begin with sending an email, sms, or creating a custom strategy.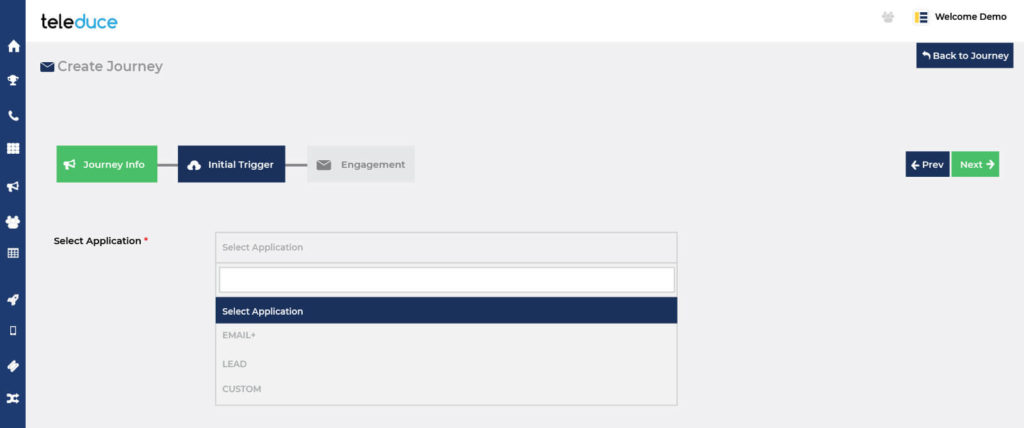 Step 7: Suppose you clicked on an email, then Teleduce will ask you to choose the event and campaign. For creating both events and campaigns, you can click on the content manager and create easily. While creating the journey, you can easily retrieve the set templates.
Step 8: In the last step, called Engagements, enter all the asked details and click on save, to begin with, lead nurturing instantly. Then, based on the steps to be followed, you can create multiple stages in the journey feature and proceed to stay in touch with your lead for a long time.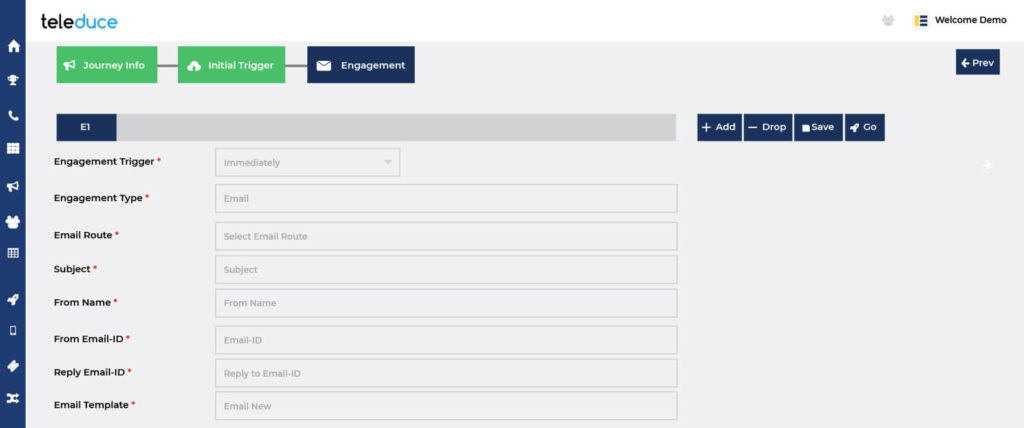 Using Teleduce, you can easily create the stages to stay connected with the lead and turn them into customers.
Moreover, ensure you keep a check on the client's response because if the client is not interested, then creating a lead nurturing strategy is of no use.
Slowly and smoothly take the lead through every stage till they become your customer.
Another beneficial feature of Teleduce is API Integration. Let's suppose if you are using Zoho CRM and don't want to shift to any other CRM, but you are willing to use our Lead Nurturing Feature.
Through API integration, we can provide only the Journey feature to the individual so they can begin with lead nurturing.
You Cannot Do Without Email Marketing
Email marketing has survived from the initial stages of marketing and sales until now with tremendous evolution for the better.
Even today, several studies have shown it provides higher ROI than any other marketing approach, whether with social media, website, and more. 
Personalization of emails, sending educational emails, event invitations, making prospective buyers aware of product launches. This could be streamlined properly when you automate email marketing.
There are many effective ways you can adapt to email marketing, converting leads, and producing an impressive increase in sales revenues.
Where to Merge Sales and Marketing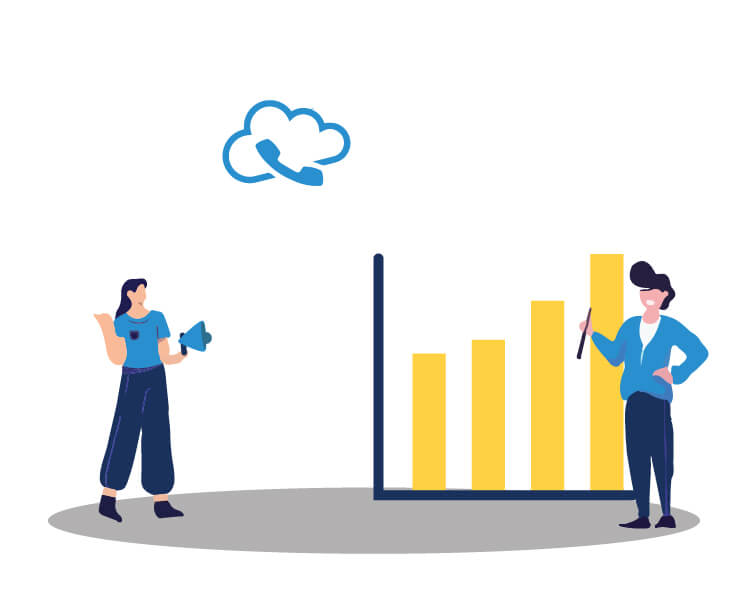 Sales and marketing are not the same elements, and you should treat your market leads and sales leads differently.
But somewhere down the line aligning the two together will produce impressive outcomes.
First, identify the exact point where your market leads become more sales-ready and timely transition them to the sales team.
Keep the leads going cold and ignored when in the marketing funnel and the sales leads never following up and the prospects changing loyalty separately.
It helps to simplify the process on your part and effective lead nurturing promotes higher sales rates.
Also Read: How To Accelerate Sales Cycle And Why Is It Important For Businesses
Final Words
Be consistent in your lead nurturing approach and make necessary changes until you get satisfying results, which assuredly you will.
Surprisingly, a vast portion of the market fails to employ an effective lead nurturing strategy.
By building your own, you can stay ahead of competitors and boost sales in great numbers.