"With Corefactors AI CRM, we were able to automate the entire journey from prospect reaching us for an inquiry to them becoming our student and further on. This helped us keep the leads engaged and also helped us improve our efficiency significantly. We were able to double the number of leads we used to manage, and last year we enrolled more students than we had done ever in the last 20 years since inception".
-Yasavi Santosh
Owner and Founder, Spark Academy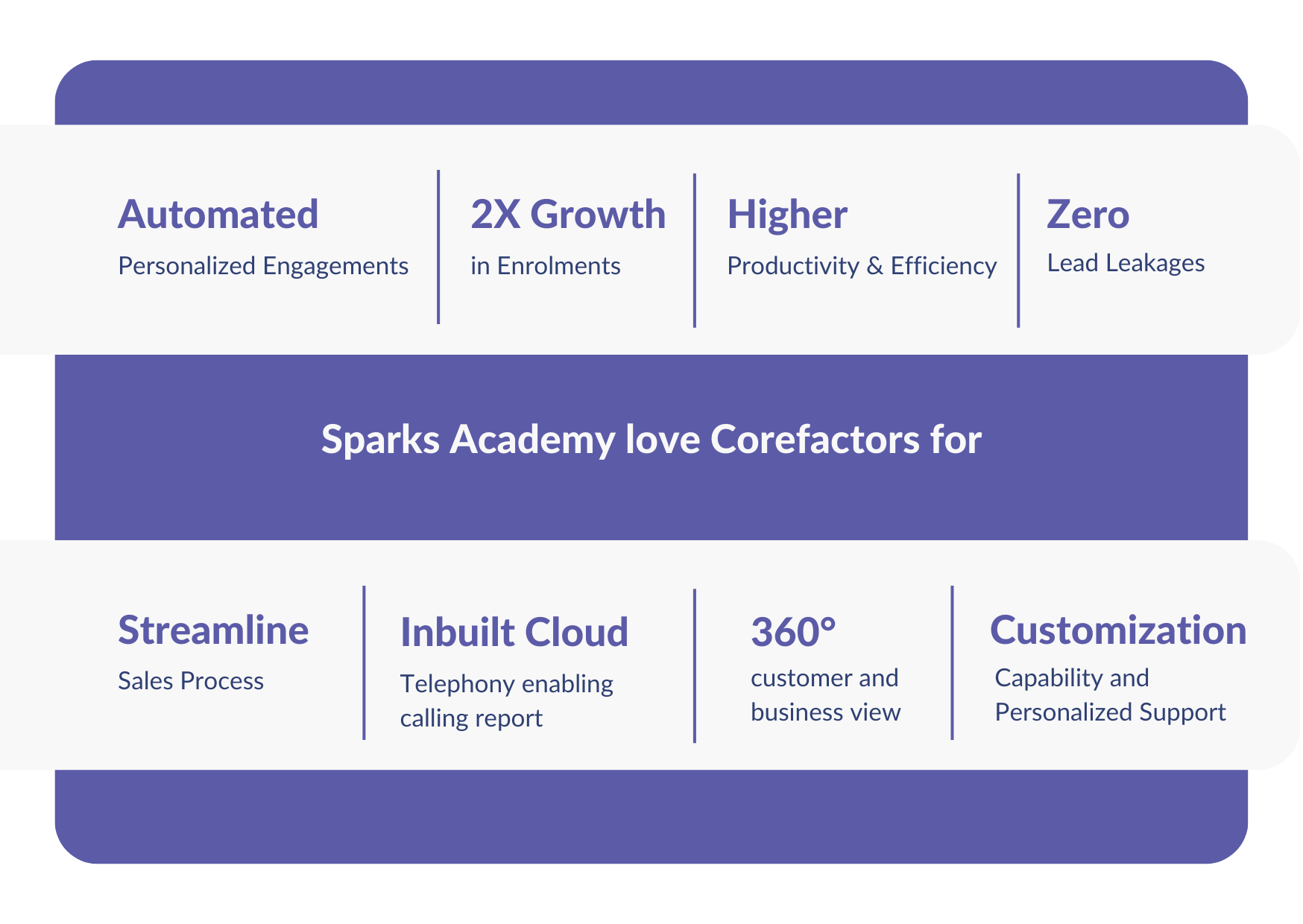 About Spark Academy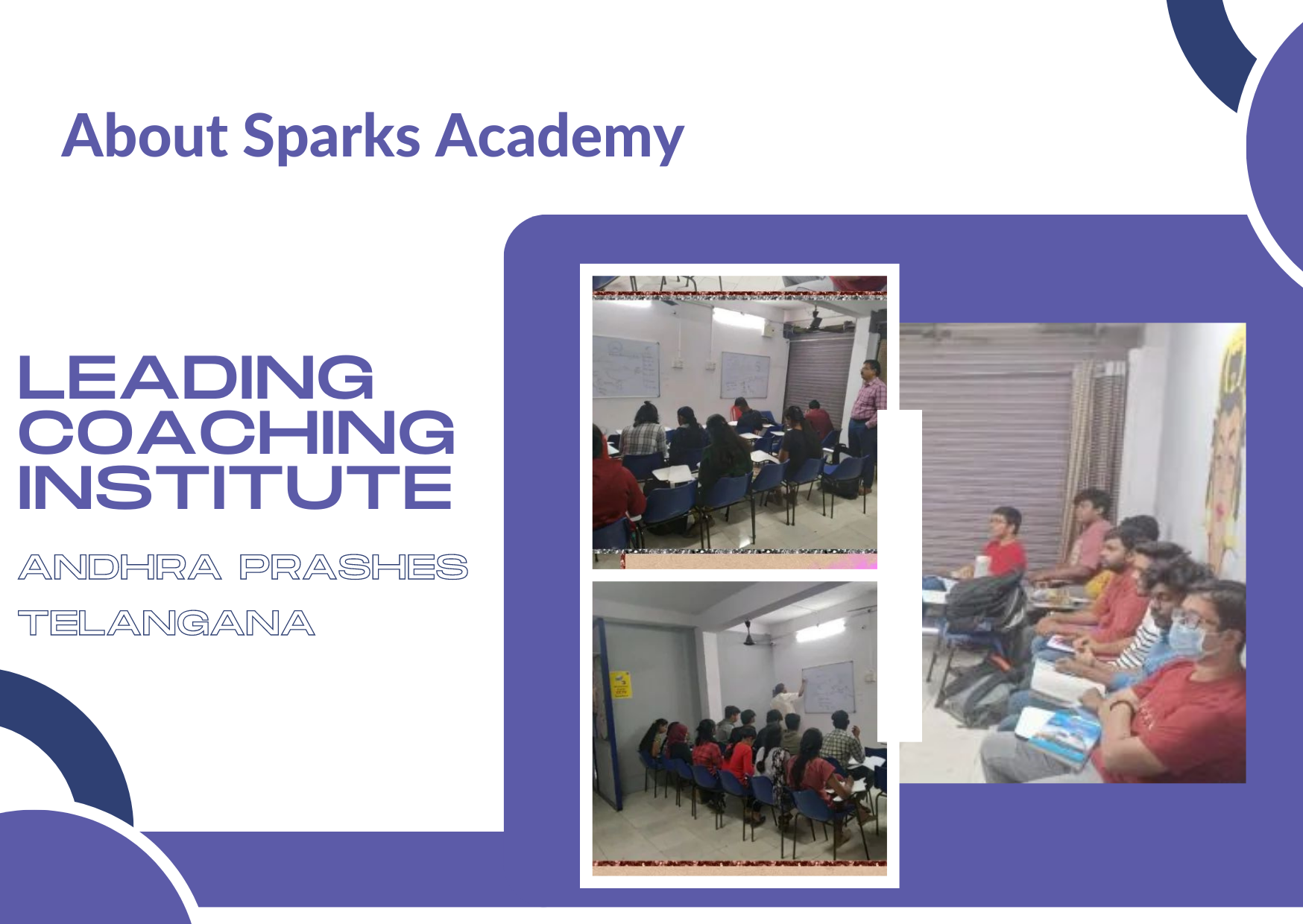 Spark Academy, a renowned competitive coaching exams center, has been making a significant impact on the education landscape since its inception in 2004. Founded with a focus on after-school classes for students, the academy later recognized the potential in the competitive exams space. This realization marked the beginning of an inspiring journey, where they expanded to cater to engineering and medical students' competitive exam needs.
Over the last 12 years, they have grown to four centers in Andhra Pradesh and Telangana, along with a strong online coaching presence, serving more than 8000 students. With a qualifying percentage of 85%+ across various competitive exams, they have cemented their position as one of the top coaching institutes in the region. This outstanding performance has been acknowledged by numerous third-party platforms, ranking Spark Academy among the top five institutes in the coaching segment.
Challenges
#1 Manual Inquiry and Lead Management
Spark Academy had a vision of providing top-notch education services to their community, but manual processes were hindering their growth. They relied on cumbersome spreadsheets and paper-based methods to manage student and inquiry data, leading to data discrepancies and data traceability issues.
#2 Lead Leakges
Spark Academy has adopted a customer-centric marketing approach, relying primarily on word-of-mouth marketing. They leverage various platforms, such as YouTube, GoogleMyBusiness, and Instagram, to share valuable content and connect with their target audience effectively. And with the help of organic marketing, they generate inbound inquiries that they nurture and eventually convert. However, with the manual process, it was very difficult for them to engage the prospects at the right time and maintain a regular timely follow-up. Because of this, valuable leads were slipping through the cracks, causing lead leakages.
#3 Inefficient communication system and low conversion rates
Even though Spark Academy was generating a good number of inquiries daily through its online content on social media and word-of-mouth, they were missing its revenue targets from its competitors. This was happening because there was no systematic communication and engagement with prospects. It was observed that multiple inquiries were not acted upon for several days, the average speed of conversion of inquiries to leads ranged from 5-6 days and sometimes some leads weren't touched at all. On the other hand, competitors were sending personalized emails and SMSes and regularly keeping them updated about upcoming batches, prices, offers, events, etc.  This adversely affected conversion rates.
#4 Inability to track student journey, team performance, and sales metrics
Last, but not least, there was no way to track and ascertain the stages of the leads and engage them based on past interactions. Often leads complained about receiving the same call and messages again and again. This increased dissatisfaction among the students.
Also, the inquiries were distributed randomly to the sales team, and it was difficult to measure the performance of the sales agents. There was no way to track the productivity of the calling team, check out the call log, call duration, and call recording. This dearth of insights hindered their ability to make data-driven decisions and optimize their operations for growth.
Researching and Evaluating Solutions
Amidst Covid-19 and the vision of scaling, Spark Academy started looking into and comparing a few CRMs after realizing how crucial it was to connect with prospects effectively and keep track of interactions to better qualify leads and cut down on the sales cycle. That's when they discovered Zoho, Corefactors, and a few more CRM SaaS solution providers. Following the Corefactors AI CRM demo and 15-day Free Trial, they were convinced that Corefactors AI CRM is the perfect solution for their challenges and that it is the most cost-effective CRM for education businesses when compared to the capabilities and features that it provides.
Solutions
#1 Automated Lead Management
Spark Academy generates a majority of its leads, almost 90-95% from the organic content that they post on social media platforms like YouTube, Facebook, and Instagram and offline word-of-mouth. Also, they have a limited sales force and hence wanted to reduce the time taken by their sales agents in manual data entry in Excel and spreadsheets. Also, different team members were using different sheets which required quite a lot of time in data correction and preparing any report, if and when needed.
With automatic lead capture and assignment, custom fields with easy drop-down options, AI-based lead scoring, automatic lead stage change record, individual and team revenue target tracking, and more, Corefactors AI CRM makes selling super easy and systematic.
"Now we do not need to manually enter customer contact information, it is captured automatically by Corefactors AI CRM. There is very minimal manual data entry now. Also as the entire customer details are all in one place, from their contact information to all the tasks and activities related to a particular lead. This makes our work very easy and saves at least 2 hours of work every day"
-Yasasvi Santosh
Owner and Founder of Spark Academy
#2 Journey Automation
Engagement with prospects and customers can be automated across SMS, Email, and WhatsApp. You can create different workflows to understand your customer journey and define triggers along the journey to keep the prospects engaged with the right contextual and personalized messages.
"With Corefactors AI CRM, we can pre-create SMS and EMail templates for different scenarios. These messages can then be sent out to the inquirers, leads, students, and parents at different stages of the journey automatically without having anyone manually send them. This helped us completely streamline our communications and also helped us improve our inquiry to conversion rates".
-Yasasvi Santosh
Owner and Founder of Spark Academy
Now Spark Academy keep prospects, students, and parents engaged by updating them about important details like center location, free class timings, test date, and center location, offers, upcoming batches, etc. This has helped them build trust among prospects, students, and parents. Also, AI-based lead scoring helps their sales agents to prioritize their efforts and reach and nurture the right prospects that are most likely to convert and sell faster.
"Every inquiry or leads matters but not all converts in one go, some may be quick to convert, some may take time and some may not even convert. It becomes very important to identify them quickly and manage them very efficiently so that our sales team devotes their most time to what matters most."
-Yasasvi Santosh
Owner and Founder of Spark Academy
#3 AI-Powered alerts, triggers, and reminders
Corefactors AI CRM is designed to make sure that your sales team never misses any opportunity. The sales team can schedule tasks, follow-ups, and meetings with the leads, and the system automatically pushes notifications to the sales agent about the same both on the web application as well as the mobile application. One can enable Auto calling as well so that the agent gets reminded even if he or she is not active.
With Corefactors AI CRM, calls are automated using progressive dialing. The alert and notification system along with auto call feature helped our student counselor 2X their efficiency and connect 50-60 students per day compared to only 25-30 earlier".
-Yasasvi Santosh
Owner and Founder of Spark Academy
#4 360° Customer and Business View
Corefactors AI CRM with inbuilt cloud telephony enables businesses to automatically call from the CRM itself and also get complete call-related insights that include call logs, call duration, call recording, call answered, call dropped, etc. in CRM itself with no loss in information. This enables tracking the performance and productivity of every agent and take decisions on how to improve them in the future.
Additionally, Corefactors provides rich analytics on revenue by source, team, and region. Similarly, you can get lead stage analytics to identify where the leads are getting stuck, which stage or process needs improvement, marketing campaign reports, etc. The CRM automatically captures every interaction with leads and students to enable a 360° customer view. The solution is crafted so that it can be easily customized to show reports and dashboards in a form that is convenient to its users.
Corefactors AI CRM has helped us measure and track certain metrics which we were not monitoring earlier. This fosters the efficiency and productivity of our team members. Also, now we do not need to prepare any report, as it is easily accessible in just a few clicks. I believe AI CRM reports are the biggest reason for our growth in recent times".
-Yasasvi Santosh
Owner and Founder of Spark Academy
Results
The initial implementation posed some alignment challenges, as our business model was very different from other education businesses, but over time, the academy overcame them, and Corefactors AI CRM now runs smoothly, ensuring seamless communication with students and parents throughout their journey—from pre-enrollment to post-enrollment phases".
-Yasasvi Santosh
Owner and Founder of Spark Academy
Spark Academy's commitment to excellence and the efficient utilization of Corefactors AI CRM have yielded impressive results. The academy's dedication to delivering exceptional service is evident from the fact that 85% of its admissions are a result of word-of-mouth referrals. Such high customer satisfaction is a testament to the quality of education and strong customer relationship management by Spark Academy.
Looking ahead, Spark Academy has ambitious expansion plans. They aim to establish offline branches in Andhra Pradesh and Telangana, followed by further expansion into the South India market, particularly in Karnataka, Tamil Nadu, and Kerala. Additionally, their online presence continues to grow, with a strong focus on social media content to engage with their audience.
Their strategic use of Corefactors AI CRM has been instrumental in achieving seamless communication, optimizing marketing efforts, and driving customer success. As they continue to excel and expand, Spark Academy's success story stands as an inspiration to others in the education industry.