💡
Did you know that email marketing offers a whooping return of 4200%?
This means for every dollar you spend on email marketing, you'll gain $42 in return. Email marketing is a form of digital marketing done through emails. It's one of the most efficient marketing types and the secret to the success of almost all unicorn brands. If you want to grow in the market, email marketing is your way. But learning about email marketing isn't just enough.
You need to figure out which to use. Today, there are thousands of email marketing tools available on the Internet. These tools are designed to help businesses and marketers with email marketing. The first step towards email marketing is finding the right tool. In today's blog, we have shared the top seven email marketing tools you can choose from. Here are their details!
#1 Mailerlite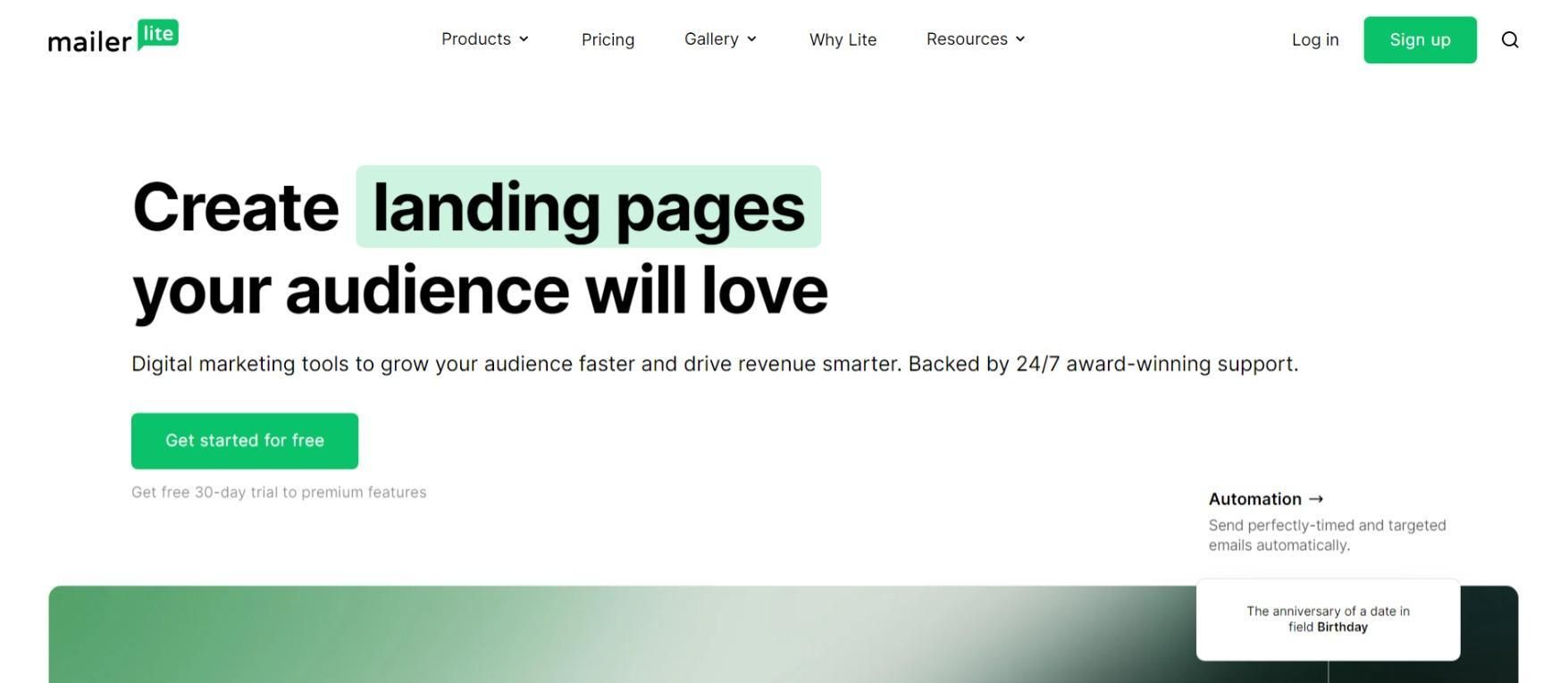 Do you want to invest in email marketing software but have a tight budget? Mailerlite is perfect for you. With their free plans, you can send 12k emails every month. Moreover, for sending unlimited emails to more than 1000 contacts, users can get a monthly premium plan. Even their monthly plan is super economical, costing $9. Perfect for all industries, Mailerlite is best for beginners starting with email marketing.
Features of Mailerlite
Users can make edits with drag & the drop feature
Send emails through the automation facility
Users can also build their business website
Benefits of Mailerlite
Easy-to-use interface
Send unlimited emails for an affordable price
Automate your email campaigns effortlessly
Unlimited email templates
Easy to create auto-resend campaigns
#2 MailChimp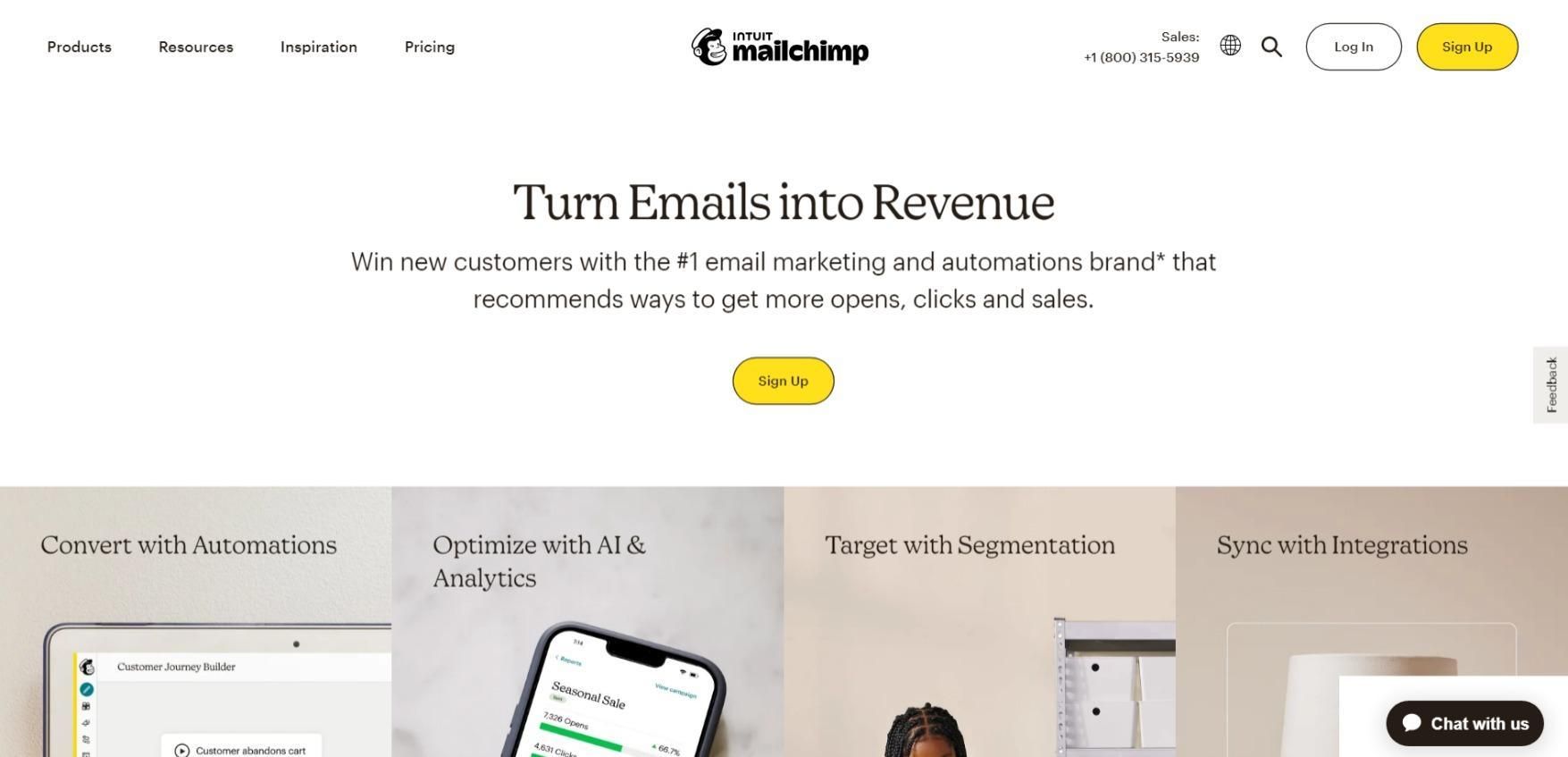 MailChimp is a simple and neatly designed email marketing software. It has every feature that businesses need to get started with their email marketing campaigns. Unlike other tools, MailChimp isn't confusing and complicated. Its simplicity is one of the reasons why it's a favourite tool of many brands. From scheduling marketing campaigns to A/B testing, there's a lot you can do with it.
Features of MailChimp
Free-forever plans
Send emails to more than 2000 contacts
Send more than 10k monthly emails
Benefits of MailChimp
Clear reporting, which helps in email optimization
Integration with multiple business software
Easy drag and drop feature to stylize emails
Multi-step journey and A/B testing features
Helps identify click-throughs and open rates
#3 Omnisend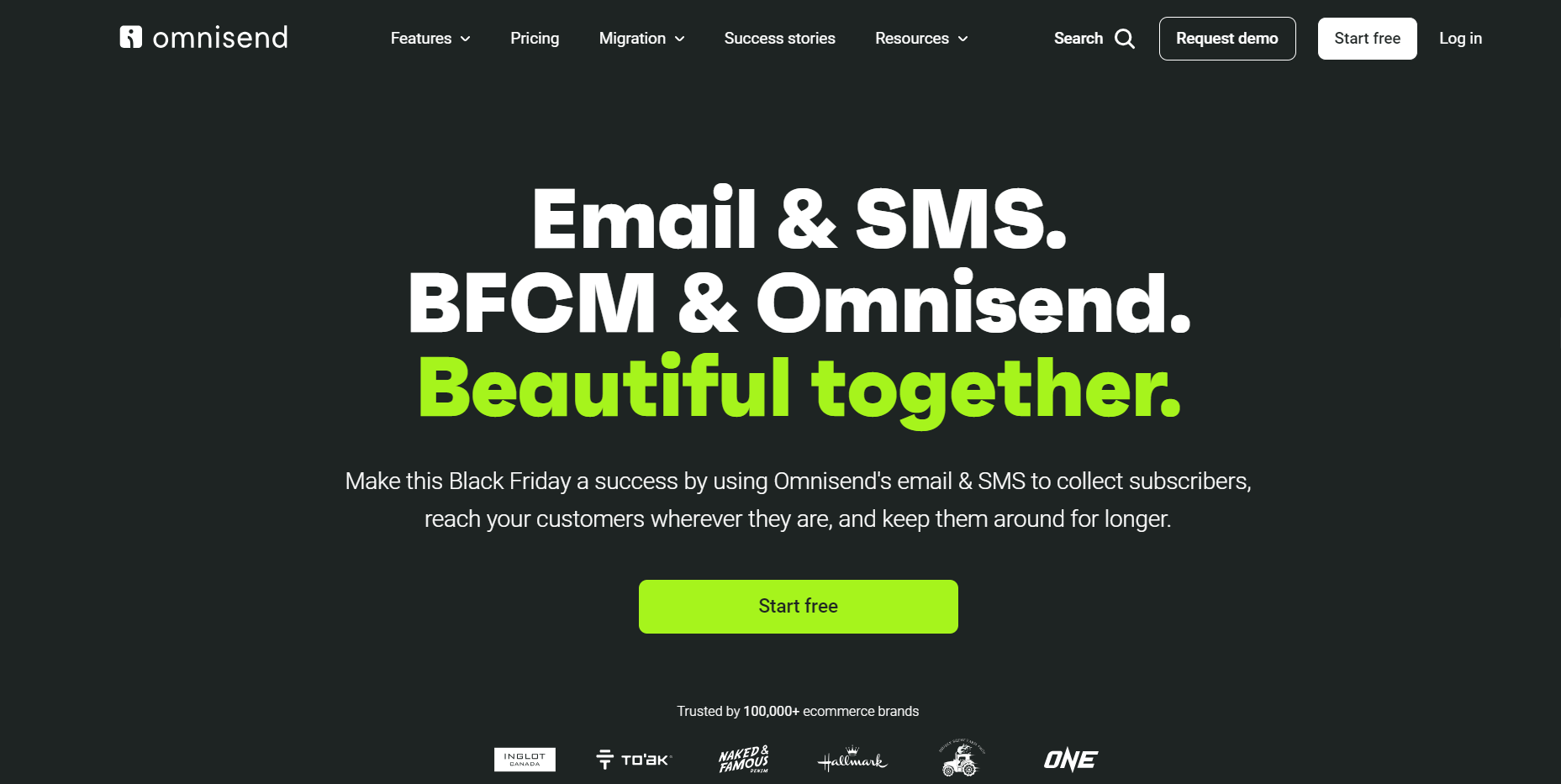 Contrary to popular belief, great email marketing doesn't have to cost an arm and a leg. Omnisend is an all-in-one email and SMS marketing automation platform that enables businesses to create personalized and targeted marketing campaigns. With its intuitive interface and powerful features, plus beautiful newsletter templates, it's a great choice for businesses of all sizes looking to enhance their email and SMS marketing strategies.
Features of Omnisend
Multi-channel marketing automation, including email, SMS, and push
Customizable workflows for different customer segments
1-click integration with Shopify, WooCommerce, and other e-commerce platforms
Advanced segmentation and targeting options
Product recommendations and unique discount codes
Benefits of Omnisend
Streamlined marketing automation for improved efficiency & lower costs
Higher engagement rates through personalized and relevant messaging
Effective cross-selling and upselling through product recommendations
In-depth analytics and reporting for better insights
Responsive 24/7 customer support for quick issue resolution
#4 Active Campaign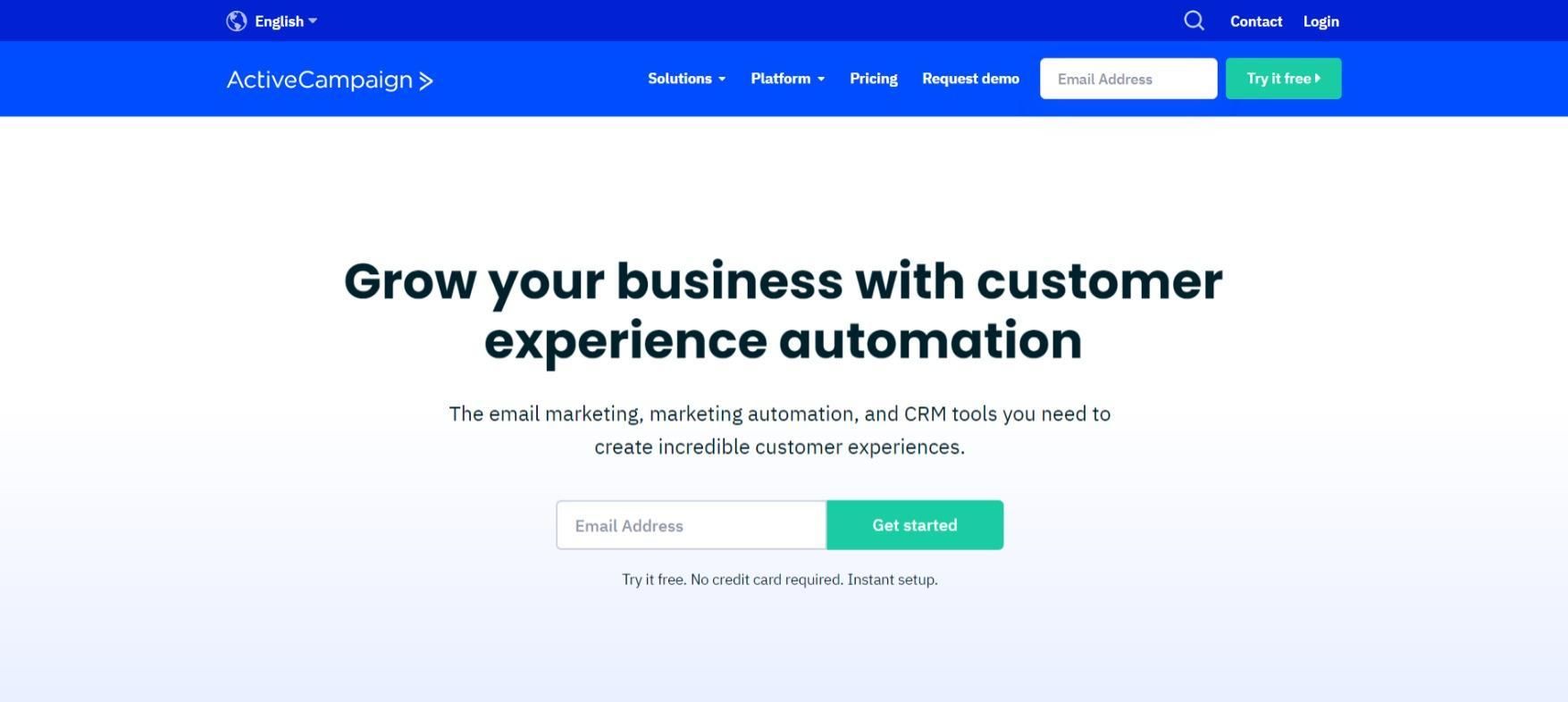 Active Campaign is the perfect software beginners can use for email automations. For account setup, the software provides an in-depth guide for users. The best part about Active Campaign is its customer support. It's super friendly and fast. The tool is designed to manage sales processes and manage contact with 850+ integrations. Plus, there's a 14-day free trial that users can try to better understand the software before buying premium.
Features of Active Campaign
Automation simplifies customer interactions
Fast, friendly and helpful customer support
Integration with more than 850 business softwares
Benefits of Active Campaign
All plans include data migration
In-build sales automation facility
Great discounts on annual payment
Easy to customise accounts
Simple, clean and straightforward navigation
#5 SendinBlue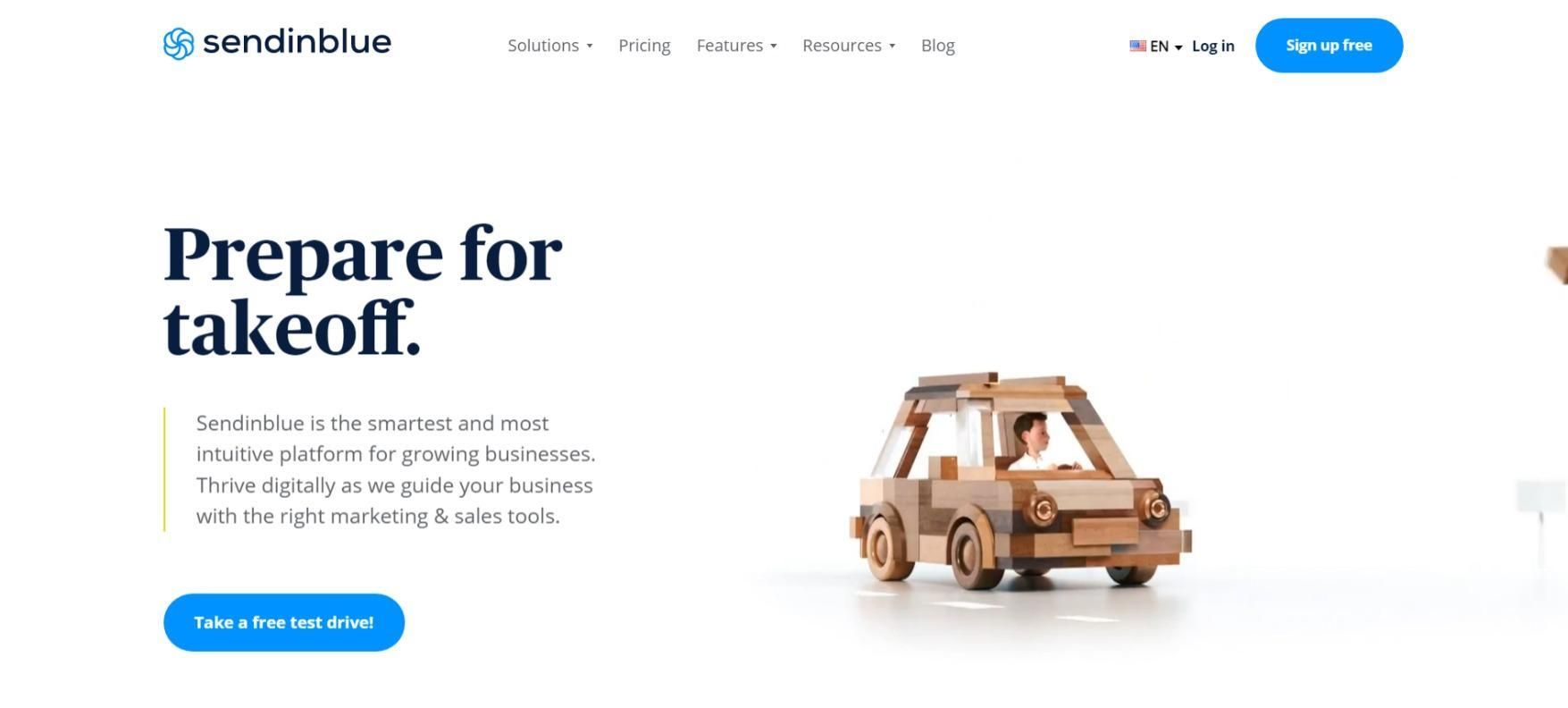 SendinBlue provides an exceptional range of lead-nurturing tools businesses can use to turn potential leads into paying customers. In addition to being an advanced digital marketing solution, SendinBlue also offers a plethora of personalised templates and advanced reporting. It's great software for those who want to get more features at less cost. Let's talk about its features and benefits now!
Features of SendinBlue
Email automation and contact segmentation
Email and SMS marketing features
Excellent live chat support
Benefits of SendinBlue
Manage Facebook ads from the software itself
Only pay for those emails that you send
Users can send unlimited emails
Pre-built developer recipes for customised HTML emails
Send emails in bulk without any inconvenience
#6 Constant Contact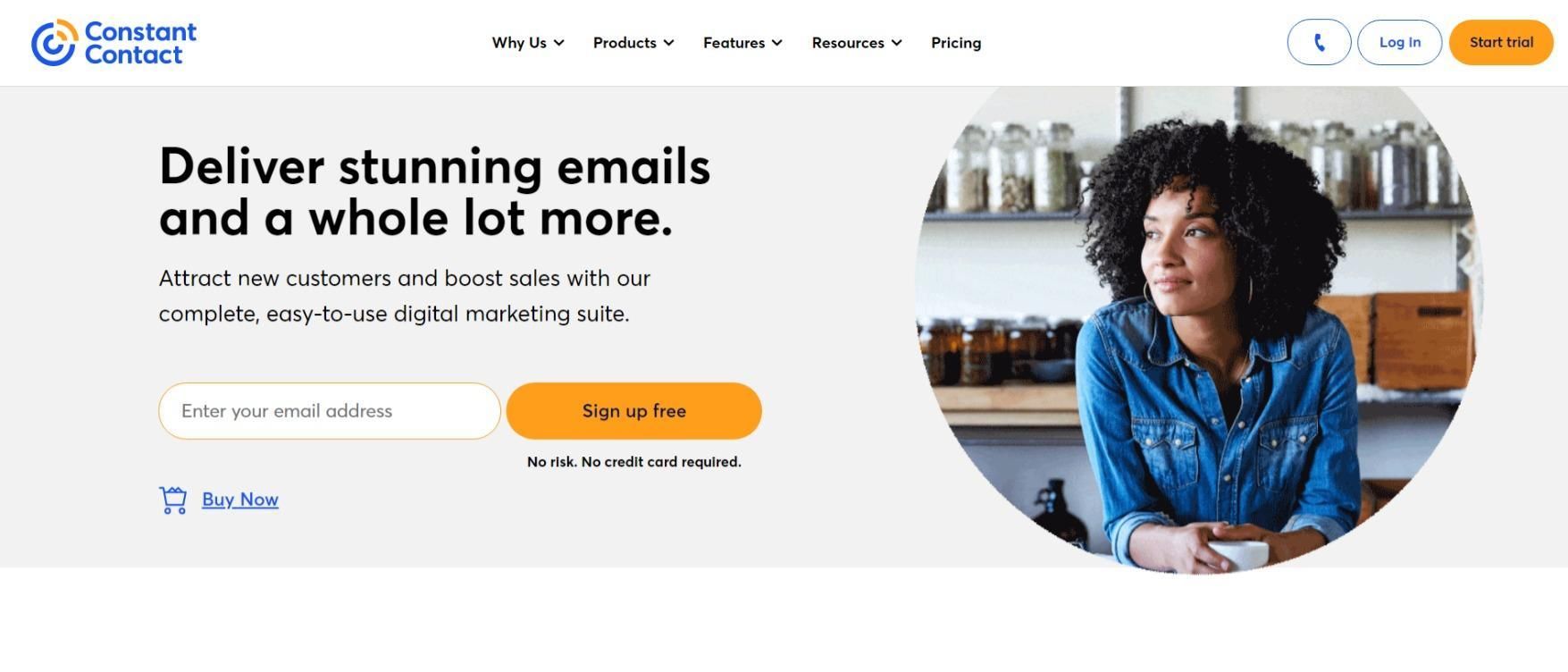 Constant Contact is a great choice for Businesses who want to get started with email marketing but have no idea which software to choose. Its simple drag-and-drop model makes it easy for businesses to build emails in minutes. The software offers users pre-designed email templates that are optimised by experts. These templates make it easy for users to create professional emails better than others.
Features of Constant Contact
More than 100 templates for email creation
List-building tools for landing pages
Easy integration with third-party softwares
Benefits of Constant Contact
A long trial period of 60 days
Campaign reporting to better understand email marketing results
Automation features to make email management hassle-free
Import unlimited contacts to your dashboard
Access to personalised coupon codes, subscriber survived and demographic data
#7 GetResponse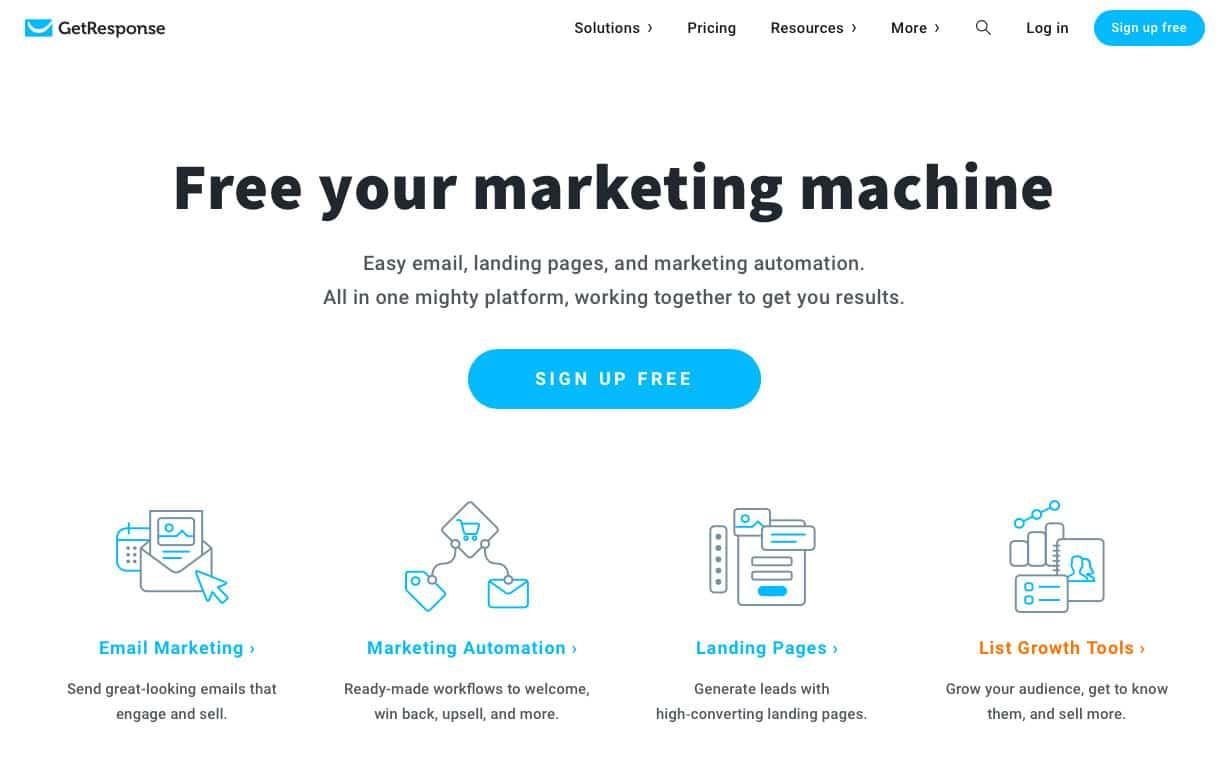 GetResponse is more than just a basic email marketing software. It's more like an all-in-one tool specialised in the automation process. It offers advanced tools such as an autoresponder, advanced analytics, audience segmentation, webinar software, and so much more. An exceptional tool that GetResponse provides is Autofunnel. This feature/tool is used for creating sales funnels for leads.
Autofunnel is easy-to-use and fully automated.
Features of GetResponse
Unlimited lead funnels and landing pages
Users can sell e-products from their GetResponse accounts
Create webinars with more than 500 attendees
Benefits of GetResponse
Consultation services for better email campaigns
Dedicated account managers for every user
Unlimited sales funnel and webinar funnels
Automation builder with unlimited workflows
200 email templates and 180+ landing page templates
#8EngageBay
EngageBay is a comprehensive marketing automation software designed to simplify and streamline your marketing efforts. With its user-friendly interface and powerful features, EngageBay is the go-to tool for businesses of all sizes. Say goodbye to confusion and complexity – EngageBay makes marketing a breeze.
Features of EngageBay
All-in-one marketing, sales, and customer support solution
Omnichannel marketing – email, phone, SMS, social media, and the web.
360-degree customer view with customer journey mapping and activity timelines
Multi-step, visual, drag-and-drop automation builder
Benefits of EngageBay
Free-forever plan available
Unlimited contacts in the Pro plan
Multiple integrations
Advanced marketing automation
One of the best customer support
#9 Corefactors AI CRM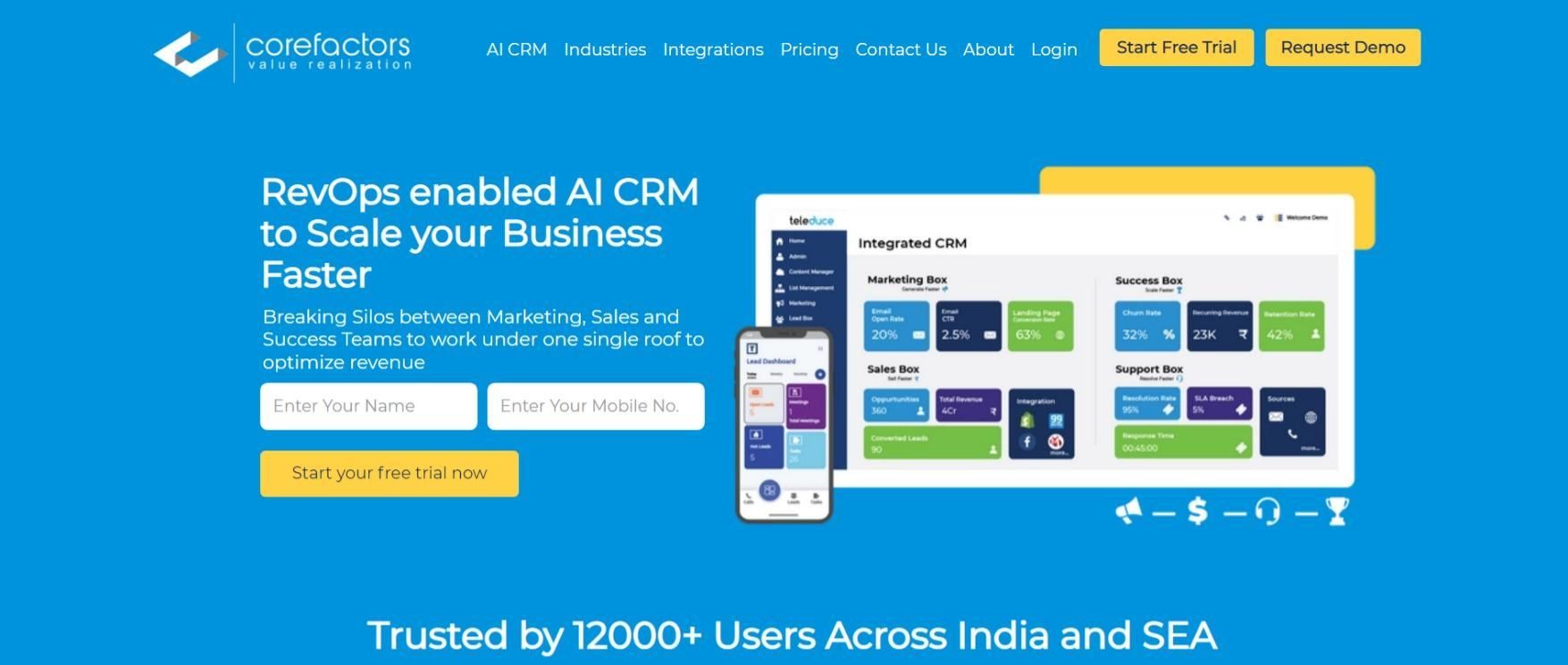 Corefactors AI CRM is the best CRM available in the market. It's not just a CRM but an advanced email marketing solution. Businesses can use it to target potential leads better through emails. The software has a large range of email templates and automation features to promote efficient email marketing. Moreover, users receive timely campaign insights to improve marketing strategies for better results.
Features of Corefactors AI CRM
Lead box for reduced lead leakages and better response rate
Marketing Box for AI-effective lead generation
24/7 advanced and friendly customer support
Benefits of Corefactors AI CRM
Users can get 360-degree customer view from the Success Box feature
Easily track the activities of customers from the moment they enter the funnel
Track calls using an inbuilt cloud telephony service
Monitor team performance using the VIP dashboard
Design attractive and engaging email copies using exceptionally-designed email templates
Final Words
Choosing the right software is the first step towards getting started with email marketing. With the right software, email marketing is hassle-free and generates great returns. The above list contains the top seven email marketing software that businesses can choose from.
Even though all of them are pretty efficient, if you ask us, we recommend the all-in-one Corefactors AI CRM. It has got everything the other six tools contain. So if you are searching for email marketing software, there's no better start than Corefactors AI CRM. Try it out, and we're sure that you'll love it!