Sirius Decisions predicts that businesses with coordinated RevOps will have the highest chance of surviving over the next five years. According to research Sirius Decisions commissioned in 2019, there is a link between companies using the RevOps framework and revenue growth; S&P500 companies using the model saw a revenue increase of 19.5% compared to 7.3% for those not using it. Additionally, the survey noted improved average stock performance for companies that use RevOps as opposed to those that do not. According to the report's conclusion, "businesses with an aligned revenue engine grow 19% faster and are 15% more profitable.
With the Successful implementation of RevOps, you can witness
So without further ado, let's explore RevOps in greater detail. Here is a summary of the topics we will cover in this post:
1. What is RevOps
2. Why is RevOps important for your business?
3. How can it be implemented?
4. How are firms measuring for a successful implementation of RevOps?
What is RevOps?
RevOps or Revenue Operations is the strategic integration of sales, marketing, and service departments to get a better end-to-end view of administration and management while leaving day-to-day processes within the departments. The holistic approach of RevOps is designed to break down silos between departments, increase revenue forecasting predictability, and maximize an organization's revenue potential.
RevOps is a technique to help enterprises better align themselves based on technology, data, analysis, workflow, and strategy. When implemented correctly, RevOps assists a company in rewriting internal processes, improving client acquisition by promoting full funnel accountability, achieving customer delight, and establishing a business culture centered on generating revenue.
The three (3) cornerstones of RevOps

Process: By keeping customers at the center of its design rather than putting independent departments and its goal at the center, RevOps enables end-to-end process integration.
Platform: The goal of RevOps is to fully visualize execution and results throughout the whole customer lifecycle in terms of revenue.
People: By being constantly updated about the customer journeys, their interactions, their pain spots, their delight factors, etc., RevOps leads to easy communication amongst teams linked with the revenue operations.
Why is RevOps important for your business?
To respond to this question, let's first comprehend the organizational structure that is common to most, if not all, firms (where RevOps is not enabled).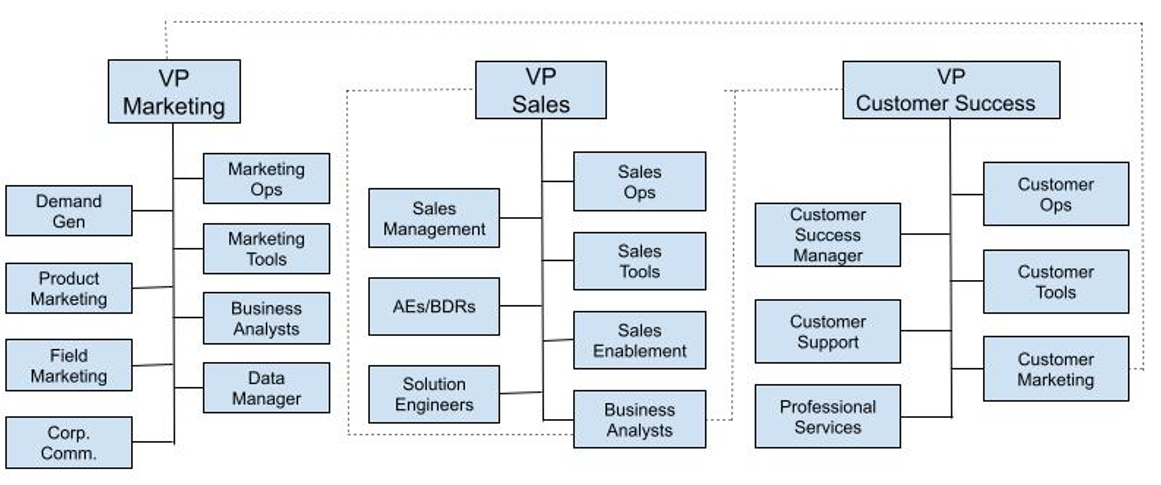 In the current business environment, the above organizational structure poses significant challenges. Most firms struggle as a result of the siloed operation of their three main teams: sales, marketing, and customer success.
As the company expands, you want separate personnel in charge of delivering the various components of the sales funnel. And this results in the formation of business departments/teams like sales, marketing, support, finance, etc., each of which has distinct roles and objectives that work together to achieve the organization's aim. This is an excellent method because it enables the main goal to be divided into smaller, related tasks and gives different teams the freedom to manage them independently while maximizing productivity and efficiency. However, as the internet grew, businesses had to be reachable through a number of channels, including websites, apps, social media, etc., and communicate with both current and future clients. As a result, as businesses had to gather information from all touchpoints, the volume of data collected increased dramatically. It became vital to provide various departments with automation and tools in order for them to perform better than the competitors and achieve their objectives successfully.
Three (3) main issues with the siloed approach:
1. No agreement on metrics: Regardless of how you define MQL/SQL, you will still see that the sales and marketing teams are unhappy and blaming one another (if RevOps is not enabled). When sales teams miss their goals, marketing teams are to blame for not generating enough SQL leads, and vice versa for MQLs.
2. No consensus on the process: When leads are created in a company without RevOp, they are typically sent on to the sales staff for conversion. But what happens next? What if the leads are not touched for let's say 30 days by both sales as well as marketing teams? Both teams constrained themselves to the respective section of the funnel and this makes it difficult to figure out how to hit the target. Similarly, businesses find issues of customer dissatisfaction due to a lack of agreement in the transition process of onboarded customers to customer success teams.
3. Lack of technology stack (tools) ownership: The extensive range of tools in the current era has resulted in various teams employing various technologies. This results in the under-utilization of some tools, process duplication, and teams using dirty data (data that do not add any value to the respective team or is distorted or missing some details). For instance, sales, customer success, and finance view insufficient customer data, like a customer success team trying to upsell a customer without being aware that the customer is behind on payments. Different teams won't have quality data to do quality analyses if data is not effectively integrated which is often the case with the siloed approach.
According to the 2022 Customer Service and Support Survey conducted by Gartner, 71% of B2C and 86% of B2B customers expect companies to be well-informed about their personal information during an interaction.
Marketing must now be active throughout the lifecycle, from the first touchpoint to churn prevention, when it used to only be concerned with top-of-the-funnel operations and customer acquisition. Similar to how marketing needs to get more involved earlier in the life cycle, sales needs to use social selling techniques to engage customers during the awareness phase of the customer journey. Finally, Customer Success needs more access to sales and marketing resources in order to have visibility into new customers that are onboarded and their conversion process.
On one hand, customers today expect the brands to be well informed about them, and on the other hand, organizations struggle to achieve seamless collaboration between teams. The average team wastes more than 20 hours per month due to poor collaboration and communication. That's 6 work weeks per year that teams are not being productive while also creating bad experiences for customers as they do not like to repeat details of previous interactions or inquiries. With siloed organizations comes duplication in effort and dispersion of resources. As separate teams build and maintain technology stacks, they start developing substantial overhead costs, sometimes with tools that offer the same benefits. Also, segregated operations can cause simple problems to not only take longer to handle but also spiral out of control.
In addition to facilitating seamless team collaboration, RevOps offers the following advantages:
Successful RevOps adoption helps shorten sales cycles for businesses. Additionally, as time savings begin to add up, it results in improved revenue performance and efficiencies.
RevOps enables a 360-degree view of consumers, comprehensive visibility and control over all operations, fosters organizational transparency, and contributes to improving customer experience, which lowers customer churn.
Organizations can coordinate emphasis toward a single goal of revenue optimization across departments and have each group on the same page and focused on that goal by bringing together sales, marketing, and service.
How can RevOps be implemented?
In order to implement RevOps in the business, commonly organizations bring about a change in the organization structure. The new organization structure that is observed across successful 'RevOps have" (proposed by Marko Savic - a renowned researcher):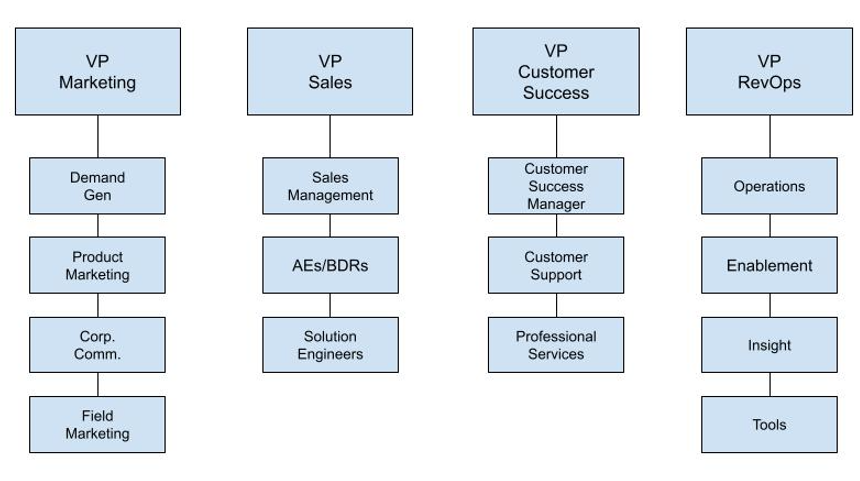 In this model, all support activities are rolled up under one RevOps leader, responsible for Operations, Enablement, Insights, and Tools. They are a single internally focused department that handles the Operations, Enablement, Insights, and Tools functions across the business. They help the rest of the organization have superpowers through an agreement on metrics, through managing the tools, and through managing the process. And they even make sure all of this data can go back to the rest of the organization including product and Finance.
Incorporating the Savic RevOps framework has 3 key benefits:
Aligns everyone by bringing agreement on metrics.
Create focus by ensuring the different team focuses on what they're best at because someone else is doing all the behind-the-scenes operational work
Simplifies everything, as businesses would have a better view of what is working and what is not, a 360-degree view of the customer journey, and a unified set of metrics and processes to work from.
Another simplified method of implementing RevOps can be with the help of modern-age technologies. Using the power of AI and automation, Corefactors AI CRM does all the back-end operational work and automatically aligns teams towards revenue, analyze customer journey across touchpoints, trigger an action when necessary, and help business leaders with insights into what is and is not working. Corefactors' all-in-one AI CRM is designed to automatically enable RevOps in your business process without you having to put together a brand-new team to do it. It also eliminates the trouble of managing numerous tools and the vendors connected to such tools. Know More

Key metrics to measure successful implementation of RevOps
With the changing business landscape, we need a new model for measurement. For example, for marketing, we need to know how marketing needs to be measured across the sales funnel and not just top of the funnel so that we can push growth even faster. And hence in addition to the fundamental KPIs that are tracked and measured, the business needs to re-align its metrics to the below-mentioned core metrics that are easy to achieve, easy to define and easy to agree upon, and most importantly easy to pull with tools like  Corefactors AI CRM for successful implementation of RevOps. Let's proceed to comprehend how these fundamental indicators might be utilized to introduce more information into your sales funnel:
Volume: On a fundamental level, the volume could be things like the number of leads you have in your pipeline, the number of MQLs you will deliver in the upcoming cycle, or the number of target clients you would want to engage. Volume can be utilized to discover a deficiency in future estimates by volume and help you forecast future revenue accurately.

Value: Value is an important metric for understanding your segmentation. Looking at your average deal size or your customer lifetime value can help you determine where your funnel is breaking down. For instance, businesses can track the value of deals that they win compared to the value of deals that they lose over a period. And if the value of won deals is significantly lower than the value of deals lost, then it could possibly mean either you are attracting the wrong segment or it could mean that you are attracting way too many prospects and creating a large pipeline compared to the resource that you possess or it could also mean that your sales and success reps are chasing big deals and in process, they are missing deals that would give higher overall revenue or it could also mean sales process is not optimized. And so only if you measure the value of deals you will be able to identify where you're winning and where you are losing and work on resolving the same and achieve growth in the segment that you want to. You can also measure value to understand what is the ratio of deals won to that of open deals in a particular cycle and if this ratio is greater than 1, it means that your pipeline is not healthy.

Velocity: This is one of the most underrated metrics that a business must use because it tells you completely about the health of your business processes. Velocity is about understanding how deals are progressing across various stages of the funnel. It helps you to analyze how long deals take to progress from one stage to another, all the way until it is won (be it fresh sales or re-sale) by comparing the average time across different stages as well as by comparing the time taken by each deal in each stage with the average time of respective stages.   This will give the business an idea about where the deals are stagnating or where they are getting lost. The business (where RevOps is not enabled) needs to take into consideration that mostly more than 30% of the reps pipeline is either too old or forgotten and there are deals that are not even touched by both Sales and Marketing reps for more than 30 days. And in most cases, these deals are clustered around the top of the funnel. Corefactors AI CRM is RevOps enabled and built to achieve optimum lead management effortlessly using AI. It lets you define stages, and SLA between the sales and marketing team, so that if some of the opportunities are not worked for a particular period automatically it can be taken away from sales reps and assigned to marketing for further nurture, or if some leads are not touched with first 24 hours of assignment then the transfer of the opportunity to a different rep.  Research shows that even with just these two small changes, one can increase revenue by 30% in the next deal cycle.

Conversion: Conversion measure is mostly focused on by every business but RevOps business can focus on analyzing conversion across stages of the funnel. This can help businesses in achieving a high conversion rate as even a small optimization at each stage will have a compound effect on the overall conversion rate. Additionally, it will help businesses evaluate the process and find gaps - training of sales reps, sales enablement, content gap, etc. As re-selling an existing customer is not only 5 times cheaper but amounts to 20% more profit, this measure has the potential to give a higher lift to business compared to investment on top of the funnel campaigns.

Connect with our experts to learn how you can enable RevOps in your business.