Customers, not businesses, hold power nowadays. They have a lot of alternatives at their fingertips, as well as the tools they need to inform themselves.
Customer experience refers to the overall picture your customers have of your brand during the buying process.
It impacts their perception of your brand and things that affect your bottom line, such as revenue.
A pleasant customer experience is a key to your company's success since a satisfied customer is more likely to be a faithful one who can help you maximize revenue.
The basics of providing excellent customer service are clear. You must be customer-focused, quick, and knowledgeable about the product.
But how do you provide outstanding customer service and build an unforgettable user experience? It is through offering excellent customer service with customer support software.
Why Focusing On The Customer Experience is Necessary?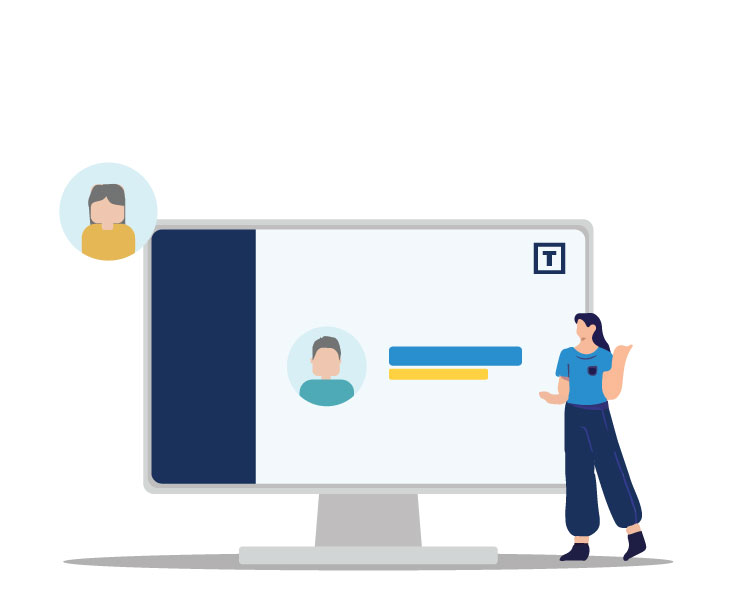 Customer service success necessitates consistently delivering easy, transparent, personalized customer experiences.
Great customer service entails not just adhering to industry best practices such as respecting customers' time, maintaining a pleasant tone, and offering relevant and valuable resources, but also going above and beyond just meeting demands.
Even if you have a good product, but your customer service is useless, inconsistent, or just very difficult to reach, people will complain, and you will lose consumers as a result.
That is one of the main reasons customer service is so important for a long-term company's growth.
Take Help Of Customer Support Software
Using specialized Customer Relationship Management software can help you provide better support to your customers.
Here we have mentioned below two important ways it facilitates those experiences:
Give More Timely and Reliable Support
Workflows, labeling, knowledge base integration, cached replies, and other specialized software features allow your workforce to invest more time helping customers and therefore less time struggling with their tools.
Boost the Growth of Your Business
Maintain high-quality service as your business expands by utilizing solutions that can manage various teams of agents to handle a large customer base and management functionality, automation, and integrations with other software.
Also Read: What is Proactive Customer Service? How to Deliver it Using Teleduce CRM?
Ways for Delivering Great Customer Support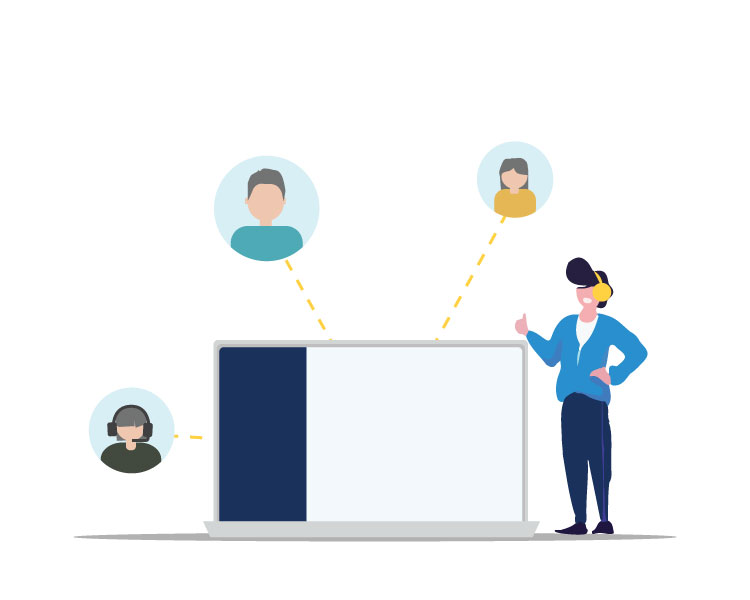 While there are numerous strategies to satisfy your customers and have them talking about your assistance to their friends, here are six of our favorites. Let's have a look:
Start Your 7 Days Free Trial With Teleduce-Integrated CRM
Be Polite
A smile is the first step in providing excellent customer service. When your consumers ask for assistance, and you are in a face-to-face situation, a friendly welcome should be the primary thing they notice and hear.
A grin can come through in your tone even when processing customer service requests over the phone, so be prepared to be cheerful.
Say Thank You
Gratitude is unforgettable, and it may help your customers remember why they chose to purchase at your store or hire your firm.
Saying thank you after each purchase, irrespective of the nature of the business you run is one of the simplest approaches to establish an excellent customer service practice.
Keep Your Promises
It's a basic customer service rule to follow. Keep your word and follow the commitment.
Make sure you don't disappoint your clients. It takes loyalty and confidence to keep one's word.
Make Use of Helpdesk Platforms
Even if you have the best workforce in the field, you must ensure that they have the tools they need to complete their tasks quickly and successfully.
Your teams may struggle to stay connected and respond quickly to consumer inquiries if you don't have the necessary technologies in place.
Helpdesk software like Teleduce might be a lifeline for your customer care workforce in this situation.
Key Benefits of Using Customer Support Software
Customer service software enables businesses to follow up on their promises of excellent customer service.
Helpdesk software stores customer and prospect details in a database that helps businesses find strong leads, personalize contacts, handle marketing campaigns, and monitor service concerns.
Anyone in an organization can access a customer or prospect's record to learn more about who they are, their relationship with the company, when they were last reached, any issues they may have expressed, and other necessary details.
Pay Attention to Your Customers
One of the best ways to deliver outstanding customer service is to listen. Customers sometimes want to be heard, so pay attention to what they have to share.
They might provide a remark that you can use to improve your services or products.
You can know precisely what your customer requires from you by listening carefully.
Be Proactive in your Assistance
When an organization makes an effort to assist a customer before they approach them for assistance, this is known as proactive customer service.
It entails striving to fix problems as soon as they arise.
Also Read: Benefits of Having a Customer Support Software
How to Deliver Consistent Customer Support Using Integrated CRM Teleduce?
Teleduce has a Support Box feature using which you can render excellent customer support.
Their support box is like a common ground where all the tickets id's containing the customer queries appear together.
It means the customer need not use or focus on different channels to collect customer queries and then respond to them.
Here are the impressive features which teleduce support box offers you:
Create a new ticket for every request.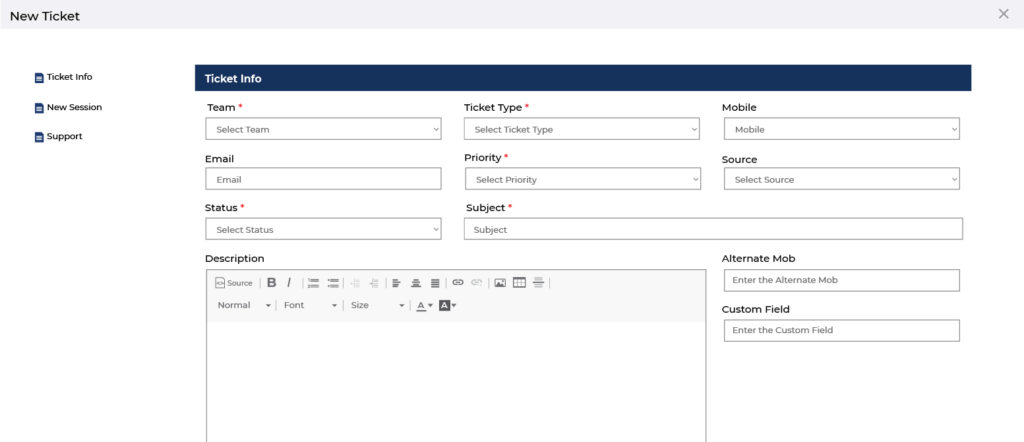 Easily apply filters to see which tickets are open, high priority, resolved, etc.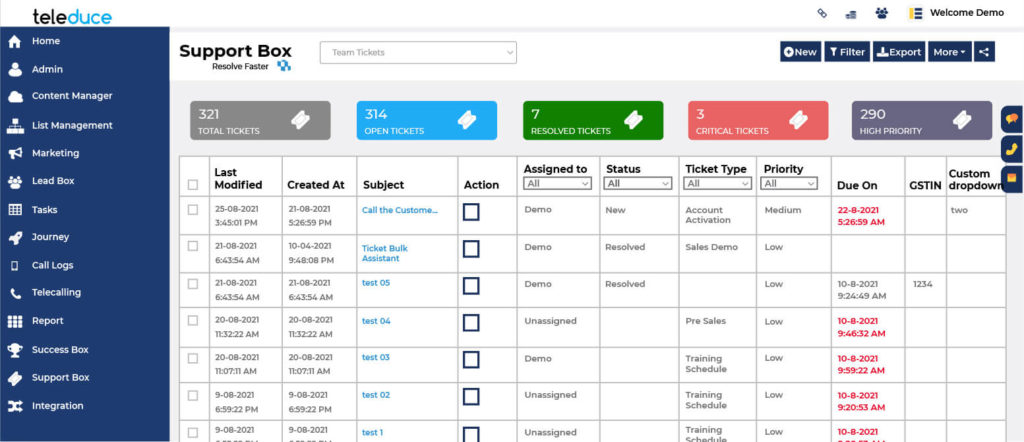 While creating a ticket, easily add a new section for adding more details. Click on the yellow highlighted "New Section" to add a new section.
Teleduce>Support box>+New (top right option for adding new ticket)>New Ticket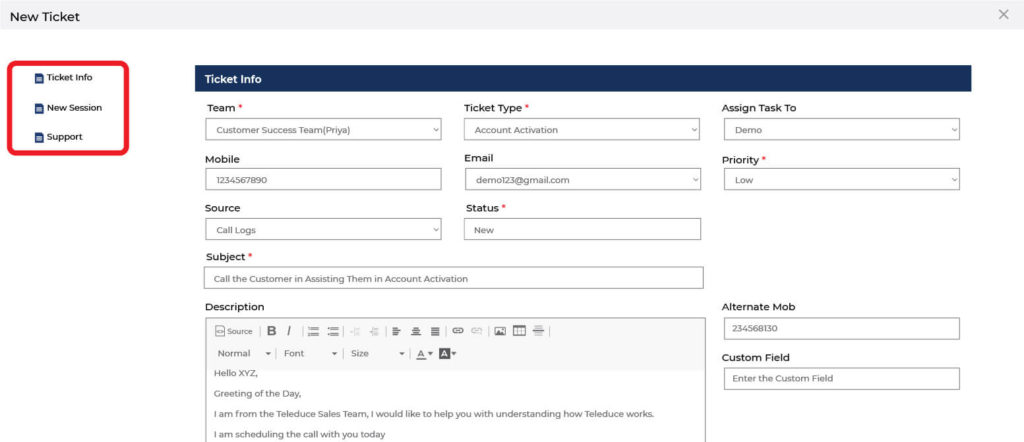 In the configuration section, create auto-reply sms, auto-reply email, and new ticket notification.
Also, do SLA time setting, group configuration, update ticket status, customize the field that shows while creating a ticket and Ticket API integration with other platforms. Check the options in the screenshot.
Teleduce>Support Box>Configuration (top right gear icon).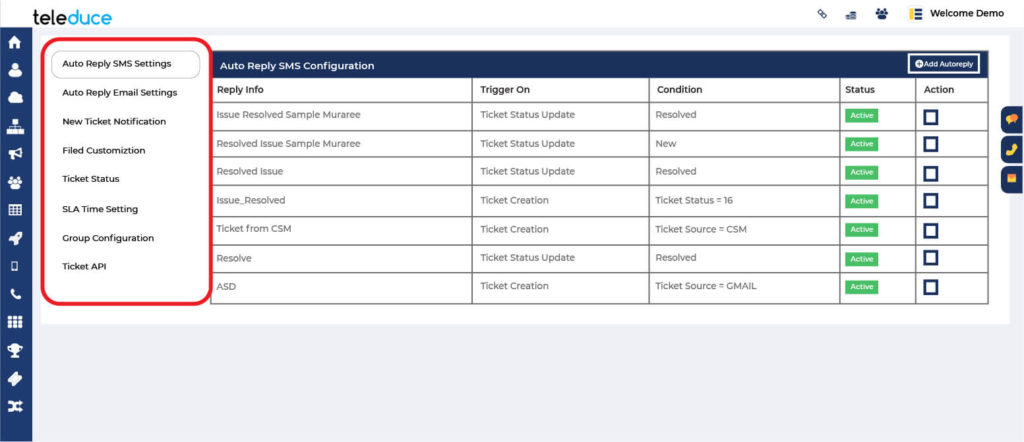 Assign the tickets to a particular department. For example, technical error tickets will be assigned to the development department.
This option is available in the +New option which is for creating a new ticket.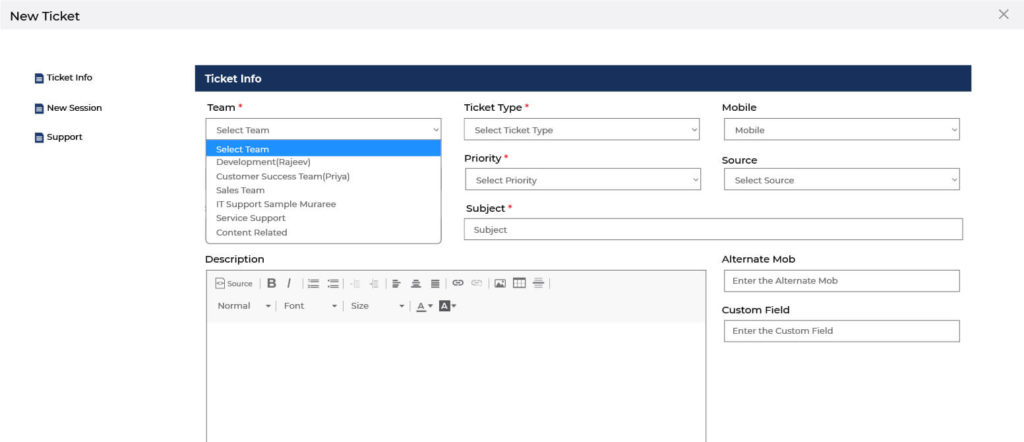 Easily create Service Level Agreements in a few steps. This SLA Time Setting option is in the configuration box.
Click on the red highlighted option and then on the blue one to create an SLA agreement.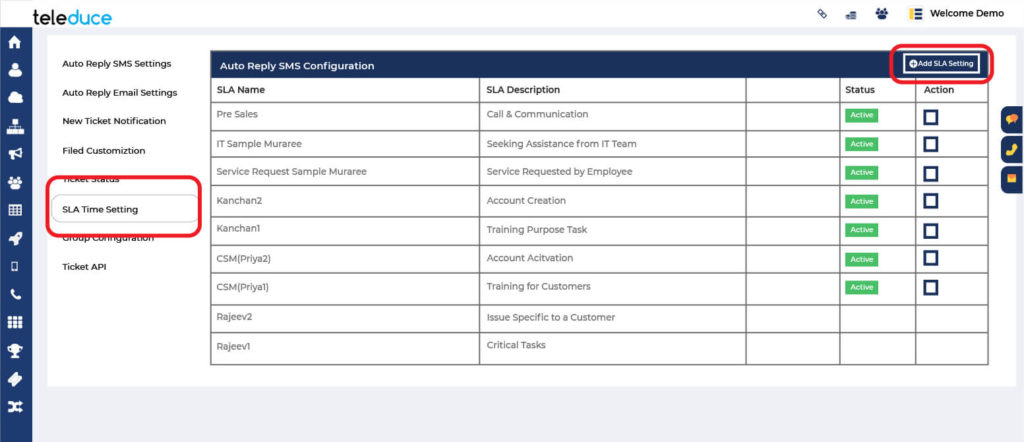 Directly from the Support Box using the Action tab assign the Ticket, Call, SMS, Email, or WhatsApp to the customer.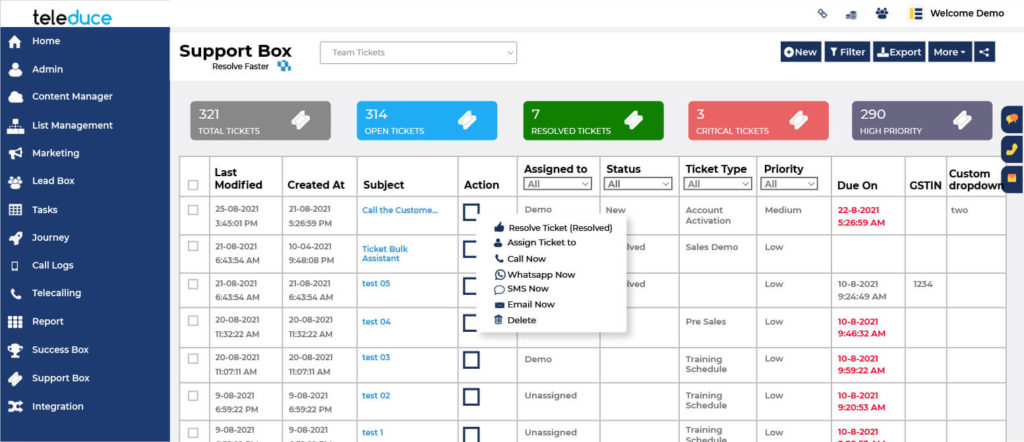 Delete the ticket from the support box directly, which is either resolved or added by mistake.
Don't you think it's easy to manage all the types of tickets in one place instead of opening one tab after another?
The support box in Teleduce is made to help the companies and businesses offer quick and excellent customer support.
Bottom Line
The standard of service you provide to your clients can build or ruin your company. According to surveys, bad customer service causes customers to switch brands.
While excellent customer service contributes to increased brand loyalty, Teleduce, one of the best customer support software for SMB's, provides a robust Helpdesk software system.
Teleduce is an Integrated CRM where marketing, sales, and support can work together in a single system.
With Teleduce Save INR 29040 by not spending on different software for your teams.
Hop on to this Integrated CRM with Built-in Cloud Telephony for resolving customer support tickets.