Looking for India's top hearing solution provider? Aavnii Hearing is exactly what you need. Established in 2014, the company has become market leaders in an exceptionally short time. The companys' major objective is to offer world-class hearing solutions to their customers, which they have been accomplishing very well.
But with Aanvii Hearings' market expansion, a number of complicated issues were coming their way. Improper lead integration, complex lead management, and other such problems were resisting the company's growth. Corefactors got them back into track by offering them AI CRM - solution to each of their issues. Our CRM streamlined their work-process, accomplishing new achievements. Today, Aanvi Hearing handles 60000+ calls and manages 35000+ leads every month. Our AI CRM helped them achieve the top ranks, by eliminating problems that were holding them back.
About Aanvii Hearing
In the Indian hearing care sector, Aanvii Hearing Solutions is among the biggest players. They are an authorised distributor of Signia hearing aids. Currently, they have 45 clinics spread across 12 Indian cities. According to Aanvii Hearing, the brand is expected to operate from 150 new touchpoints by the end of 2025. From day one, the brand aims to provide the best and highest quality hearing solutions, which is what they are famous for today. They not just deal in premium hearing aid solutions but their after-sales service is optimum and superior compared to others in the industry.
Aanvii Hearing believes that customers are kings and queens. Therefore they serve each of their clients with experienced, trained and highly qualified audiologists. The brand is the biggest chain of BestSounds centres, authorised partner with Brand Signia, and Sivantos, global leaders of the Hearing aid sector.
Problems Experienced by Aanvii Hearing
Aanvii Hearing encountered some bizarre issues, with their expansion, before they collaborated with Corefactors AI CRM. Here's a list of major problems that our CRM helped the brand overcome:
Improper Lead Integration From Socials Like Facebook, Justdial, Etc.
As Aanvii Hearing was scaling in India, its social channels were boosting. They were getting some really impressive and immense results. However, the problem was that they weren't able to handle the leads properly. The lead integration from social channels like Facebook, JustDial, Slocial Blue, and GoogleAds wasn't great. As a result, Aanvii Hearing was losing out on the majority of leads that they were gaining via social media. There wasn't any dedicated funnel where leads can be integrated and converted, causing the brand to miss out on lots of potential customers.
Complexities in The Management of Leads And Calls From 37 Branches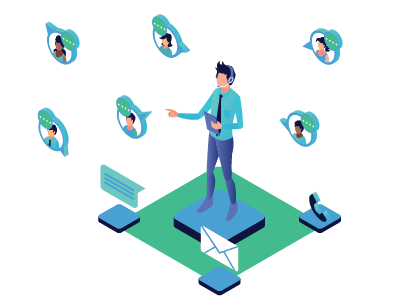 Aanvii Hearing has 37 branches throughout various cities in India. So their customer support used to receive inquiries throughout various branches, in abundance. Since there wasn't any dedicated software or tool to manage those leads, customer support suffered a lot. The management of leads and calls was one of the biggest issues the brand was facing. This issue wasn't just decreasing their sales, but also affecting their goodwill. Moreover, the enquiries weren't also being distributed properly among agents, depending upon enquiry type, location, etc. In other words, the lead distribution system wasn't efficient enough to handle and manage such a large number of leads. Improper distribution was a problem resisting their growth.
Manual Sales Process Was Resulting in Decreased Appointments
Another huge problem behind the downfall of Aanvii Hearing's growth was the manual sales process. When everyone around them was leveraging automated sales systems, they were still depending upon manual sales processes. That process wasn't just slow but inefficient at meeting the increasing sales enquiries. Moreover, due to the absence of technology-based CRM, the emails regarding the sales enquiries used to sit ideal in the company inbox. Furthermore, if customers wanted to book an appointment, there wasn't an easy way to do so. They had to book appointments manually, which wasn't a very complex job. The manual sale process reduced employee efficiency and made customer experience inconvenient.
Solutions Corefactors AI CRM Offered Aanvii Hearing
Corefactors provided AI CRM to Aanvii Hearing. Our highly efficient and feature-rich CRM helped the company overcome a wide range of problems that were resisting its growth. Here's how our AI CRM resolved the above potential problems that Aanvii Hearing experienced:
Proper Distribution of Leads Based on Products And Locations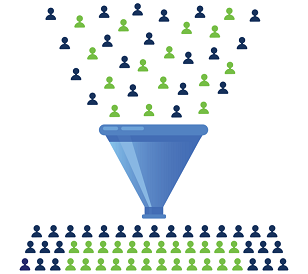 Ever since Aanvii Hearing have come across improper leads distribution as the least of their concerns. Every lead and enquiry that comes via various sources is distributed among agents depending upon which category they fall into. Agents are divided between various categories and the CRM equally distributed the leads among them. This way our CRM diverts an inquiry toward the right department, increasing its chances to convert. Ever since our AI CRM has been implemented into the company's systems, lead distribution has experienced a great boost.
Enhanced Customer Support Due to Equal Distribution of Location-based Calls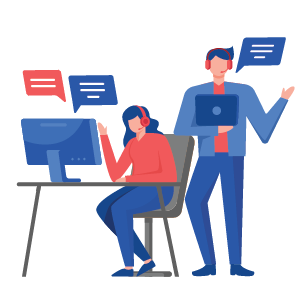 Earlier, there weren't any predetermined distribution systems for customer enquiries via calls. But with the implementation of Corefactors AI CRM, all the calls are forwarded among agents equally. This allowed no calls to go missed. Now location-based calls are treated the right way and transferred to agents who work in that branch. This has resulted in an increase in employee efficiency and performance. The location-based distribution of calls has enhanced the customer support experience for the customer, making after-sales service superior.
Automated Sales Process Lead to An Increase of 35% in Appointments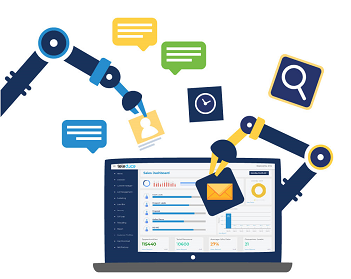 Our AI CRM is fully automated and has skyrocketed Aanvii Hearing's growth. Earlier the brand used to depend upon a manual sales process that was slower and can't handle many customers, which is now being replaced with a highly efficient AI CRM. Our CRM has given a new shape to their sales process, making it so much better than before. Every email, call and enquiry that comes into the system is distributed to designated agents, managers and employees within a matter of seconds. Moreover, customers can now book appointments online and timely follow-ups are automatically sent to them. There's an increase of 35% in appointments because of the automated sales process.
Results And Benefits
When it comes to choosing a CRM, Corefactors is a favourite choice of many businesses. We have been consistent in providing the highest quality customer-relation management services that have helped many of our clients achieve success in their sectors. Aanvii Hearing is one of our wonderful customers who now handles more than 35k leads every month. Thanks to our AI CRM which has enhanced their customer support. Not just lead handling but our CRM has also improved their rate of cold calls. Currently, the agents handle 60000 outbound cold calls per person/month. It's a great milestone on its own. All this proves that Corefactors AI CRM is the best CRM available in the market and worth relying upon. So make sure you give it a try.