The term "Service Level Agreement" refers to a contract that specifies the level of service formed between a company and its service provider.
It includes a description of the provider's services and inclusions, prohibitions, and exceptions. 
Setting a timeframe for SLAs is time-consuming yet crucial.
In the firm, offering quick responses and suitable answers to end customers is imperative since it establishes a basis for dependability and confidence.
However, in reality, things aren't always as simple as they seem. 
It's simple to get started with SLAs, and choosing a help desk software option to handle different SLAs will assure you're doing everything you can to maintain customer relationships alive.
In the end, we will teach you how to create SLA in Teleduce by following a few simple steps. So let's get started without any ado.
Key Benefits
A service level agreement (SLA) is a written contract between a service provider and customer that specifies the services to be delivered and the anticipated level as well as a timeline of those services.
SLAs assist you:
Set goals for both you and your consumers.
Pay attention to your consumers' requirements.
Ascertain that service is reliable.
Respond to the customer's queries on time. 
Tells you about how your customer support team is performing and where they are lacking.
Encourage customers to give you feedback on how you can upgrade your service.
Types of SLAs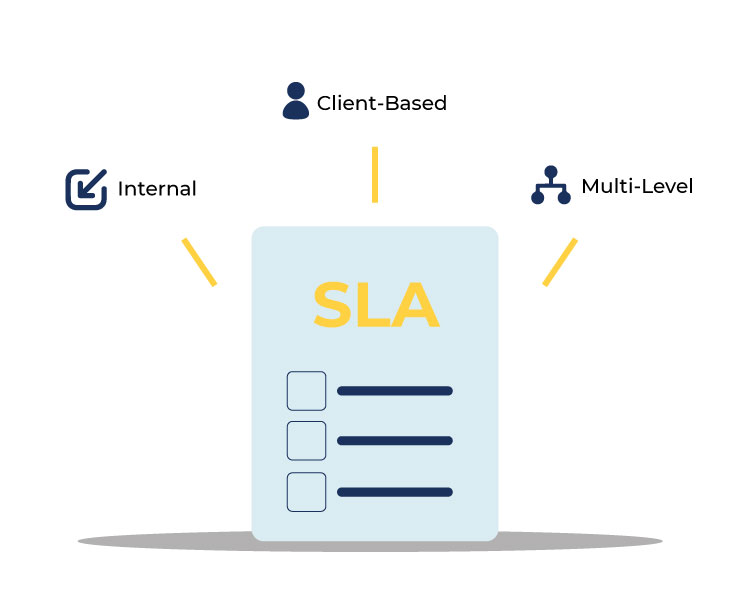 There are three types of SLAs that you may see:
Client-Based SLAs
A service provider and a customer engage in a customer service-level agreement.
A client-based SLA is one in which the customer and the service provider agree on the services offered.
A business might, for example, agree with a SaaS supplier to assist them in delivering customer involvement.
Internal SLAs
A firm and a related entity that is called an internal client have an internal SLA.
This is usually a separate department inside the organization.
These kinds of agreements could happen, for example, between marketing and sales teams.
Multi-level SLAs
A multilayer SLA divides a contract into various levels that connect to different client groups.
A SaaS provider, for example, may have different price points based on the degree of service supplied.
The SLA's structure will include these several levels of service.
Tips for Making Service Level Agreements (SLAs) for Customer Support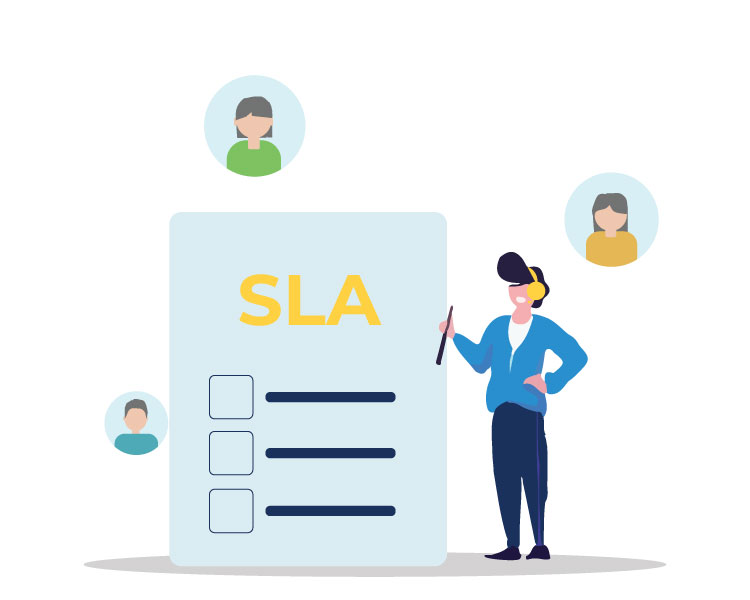 In brief, Service Level Agreements are critical in any business since they can distinguish between a mediocre and a great organization.
There are a few things to think about, which are mentioned below:
Address Common Concerns
Every issue mentioned by your customer is critical, and it must be resolved as soon as possible.
However, SLAs for these issues can be specified with a date that does not take much time to handle.
Understand Your Consumer
As previously stated, clients may come from numerous sectors and industries.
In such situations, it is critical to understand your customer and their needs.
Top-level IT Support
It is required to have a specialized technician to react to and fix inbound technical difficulties, but assigning a tier-level IT support expert to the tasks is also necessary.
Accept Consumer Feedback
It's a good idea to consider customer feedback while creating SLAs.
It will assist you in learning more about client satisfaction and where you need to make changes. In some circumstances, unpleasant comments aren't necessarily bad. 
Accepting client feedback allows SLAs to be revised and fulfilled, resulting in 100 percent satisfaction.
How to Create a Service Level Agreement For Delivering Excellent Customer Service?
Whenever you send a message to the company regarding the product you purchased or the service you ordered, you expect to get an answer as soon as possible. 
Let's suppose you purchased a sales CRM and are now trying to generate a performance report.
But you encounter some error, and the report is not getting generated. 
You tried different methods, but nothing is working. You are panicking now, but fortunately, it clicks in your mind that the Sales CRM provider offers a live chat option.
You click on it, send them a message, and they promise to connect with you via chat within 5 minutes.
They reply within promised time and resolve the issue immediately. Now, the issue is resolved, and you are back to work.
This whole scenario is an example of SLA – The sales CRM company claims to respond within 5 minutes through live chat to the customers and is in a formal agreement with the customer to take only the time mentioned.
Steps to create SLA in Teleduce Support Box
You need not go through complex steps; creating SLA is as easy as making a cup of coffee. Let's get started:
Login to Teleduce and click on the second last option called Support Box from the left side menu.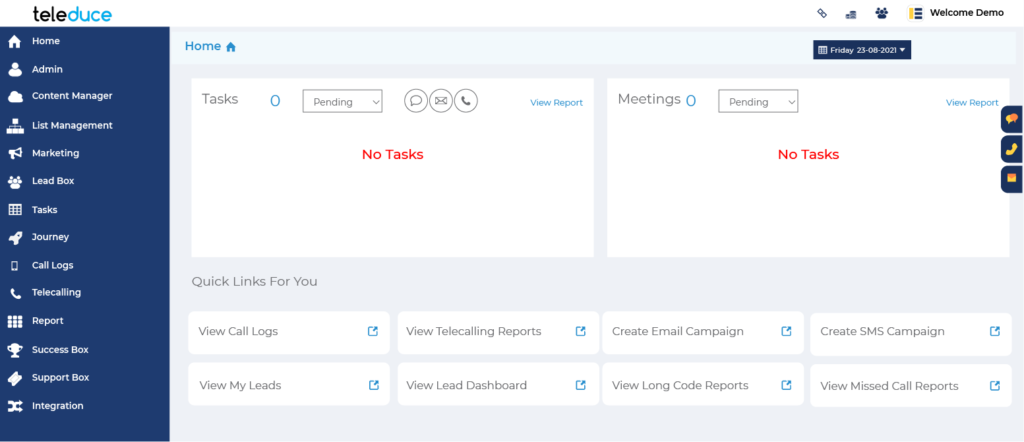 After the support box opens up, click on the gear icon – Ticket Configuration, as shown below.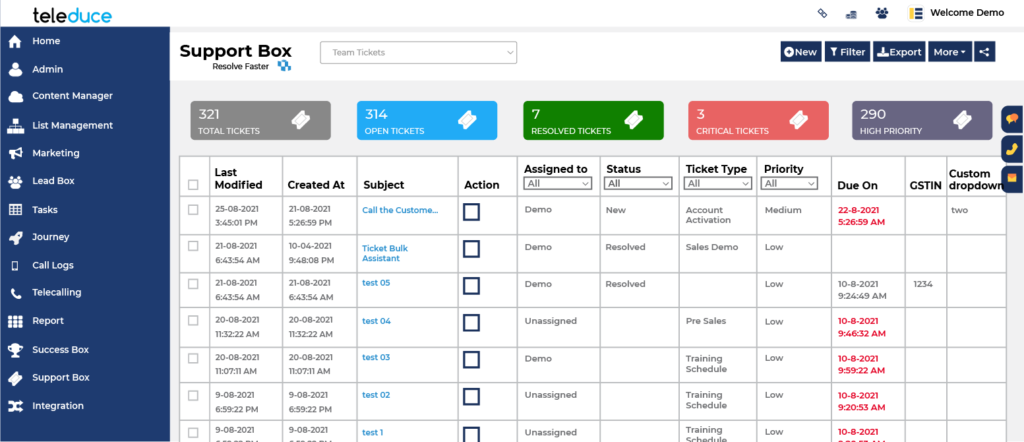 The following window will open up. See the option "SLA Time Setting" that we have highlighted and click on it.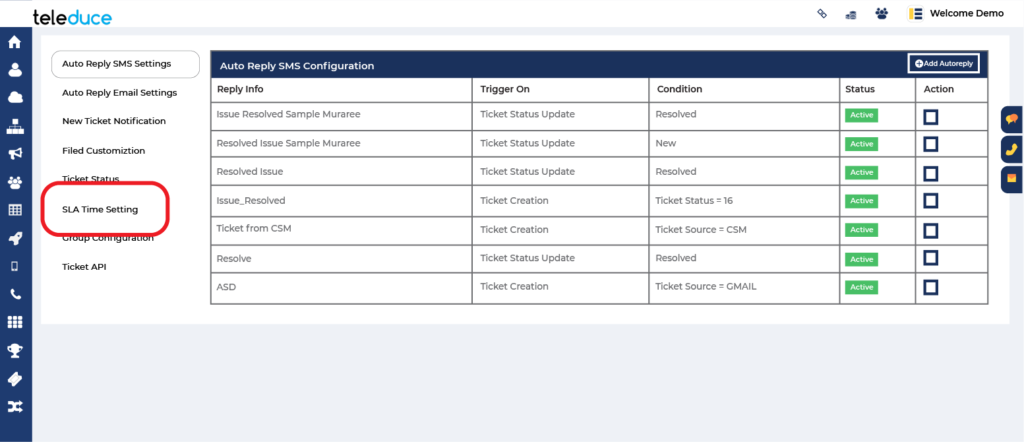 The following window will show up. Click on the highlighted option – ADD SLA Setting.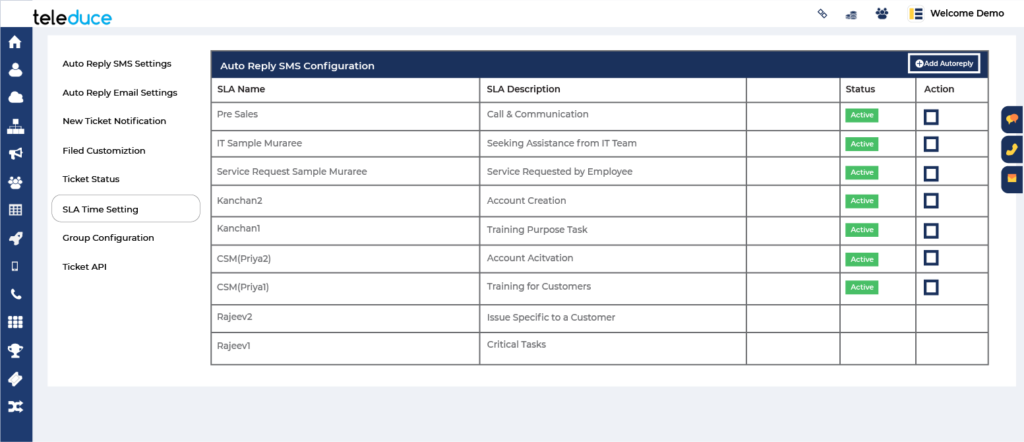 Start creating the new SLA. Add the appropriate SLA Name and Description.
Here are the details about the SLA time section:
Priority – As per the level of urgency, decide the priority. It can be critical, high, medium and low. 
Ticket Assign Time – The time at which the ticket will be assigned to the particular support team member.
First Response Time – The time when the customer will receive the first response from the support team. 
Resolution Time – It is time the support team members take to resolve the complete issue that the customer is facing.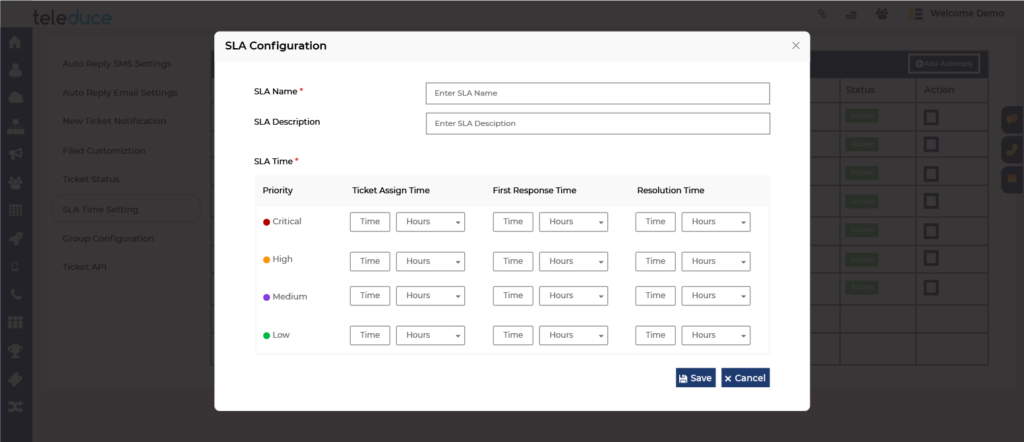 Isn't it simple to create SLA in a few steps using Teleduce, the best sales CRM?
What are you waiting for? Start creating yours in the Teleduce. 
If you don't have access to Teleduce, then get it now and reach out to us for a detailed demo. 
Now we know how to create an SLA, but how to know whether your SLA is performing well and beneficial? Don't worry; we have an answer.
Start Your 7 Days Free Trial With Teleduce-Integrated CRM
Focus On These Metrics to Know How Your SLA is Performing
Uptime – How frequently the service or product you offer is available or fully operational?
Queries – How often do you receive queries regarding the services or products you offer?
Response Time – How much time does the support team take to answer the customer queries and give an appropriate solution?
SLA Breaches – How many times or how often does a business or company meet the terms mentioned in SLA?
By focusing on the above metrics, you can easily determine how well the SLA set by you is performing.
Bottom Line
Fulfilling consumer demands is the key to delivering excellent customer service.
SLAs are a means to officially outline those goals and provide a blueprint for your support team to follow to meet them.
Teleduce has a unique and effective service level agreement management system.
In addition, you may include SLAs into your workflow using customer support software such as Helpdesk software.