Imagine getting your loan against securities approved within 7 minutes and the money is in your account in another 4 hours.
Wishful thinking? Not really.
Abhi Loans, a product of KNAB Finance has made it a possibility.
KNAB Finance is a regulated Non-Banking Financial Company (NBFC), registered with RBI.
Abhi Loans has formulated its service keeping the common man in mind. They offer a loan starting from INR 15,000.
The entire journey from loan application to approval to disbursement is digital and does not require the applicant to visit any offices or fill in multiple pieces of paperwork.
Abhi Loans has brought down the lengthy process to a digital journey of seven minutes and they promise a loan disbursal within four hours. They take away the physical effort and worry attached to a loan application process.
"Abhi Loans will act as a one-stop solution for all your loans against securities needs." - Vidit Mathur, Associate Manager - Digital Marketing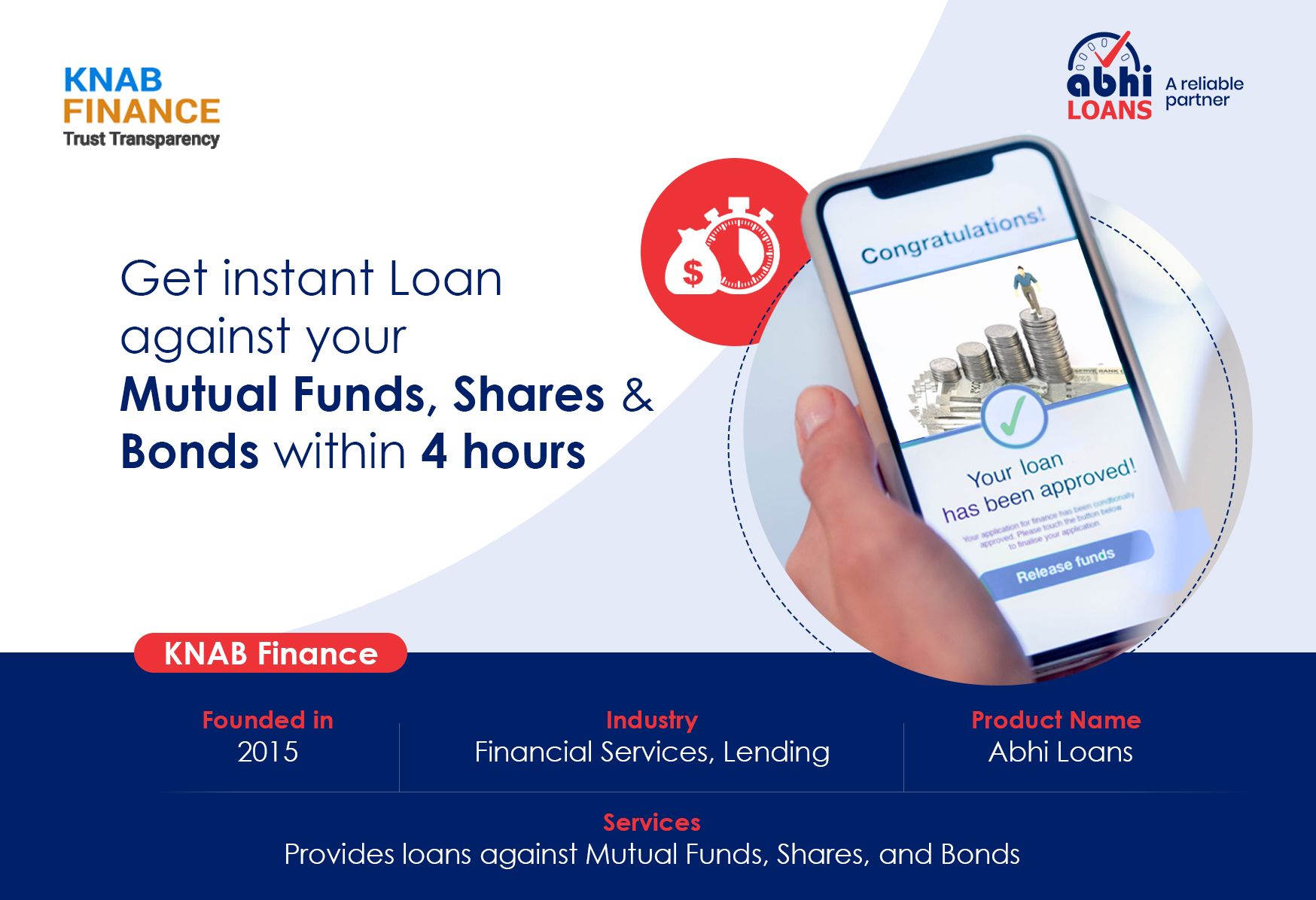 Democratizing Loans Against Securities(LAS)
LAS or Loan Against Securities is a type of loan where the applicants can pledge their shares, mutual funds, or life insurance policies as collateral against the loan amount. This is different from personal loans.
A quick search on the internet would give you an idea about the clientele that major LAS providers serve. They are mostly High Net-worth Individuals (HNI) and the loan disbursement process requires a plethora of paperwork, documentation, and multiple visits to the bank.
KNAB Finance, with its product Abhi Loans, has successfully managed to democratize loans against securities services. They provide loans against the following:
Mutual Funds
Shares
Bonds
"There are some recent players in this market, but no one offers as holistic a solution as Abhi Loans does." - Vidit Mathur, Associate Manager - Digital Marketing
The applicant does not have to keep track of multiple platforms for their loans against different security options. They can get a loan against their mutual fund as well as another one against their shares on Abhi Loans itself.
Abhi Loans provides their customers with the maximum loan amount against their portfolio in the market.
How did Corefactors Help?
An endeavor such as that undertaken by Abhi Loans involves a lot of communication. In the financial services industry, communication is data.
The agents, relationship managers, and marketing team should all be in sync on the status of a particular client account. Hence they needed a robust CRM that also doubles as an effective customer calling and communication platform.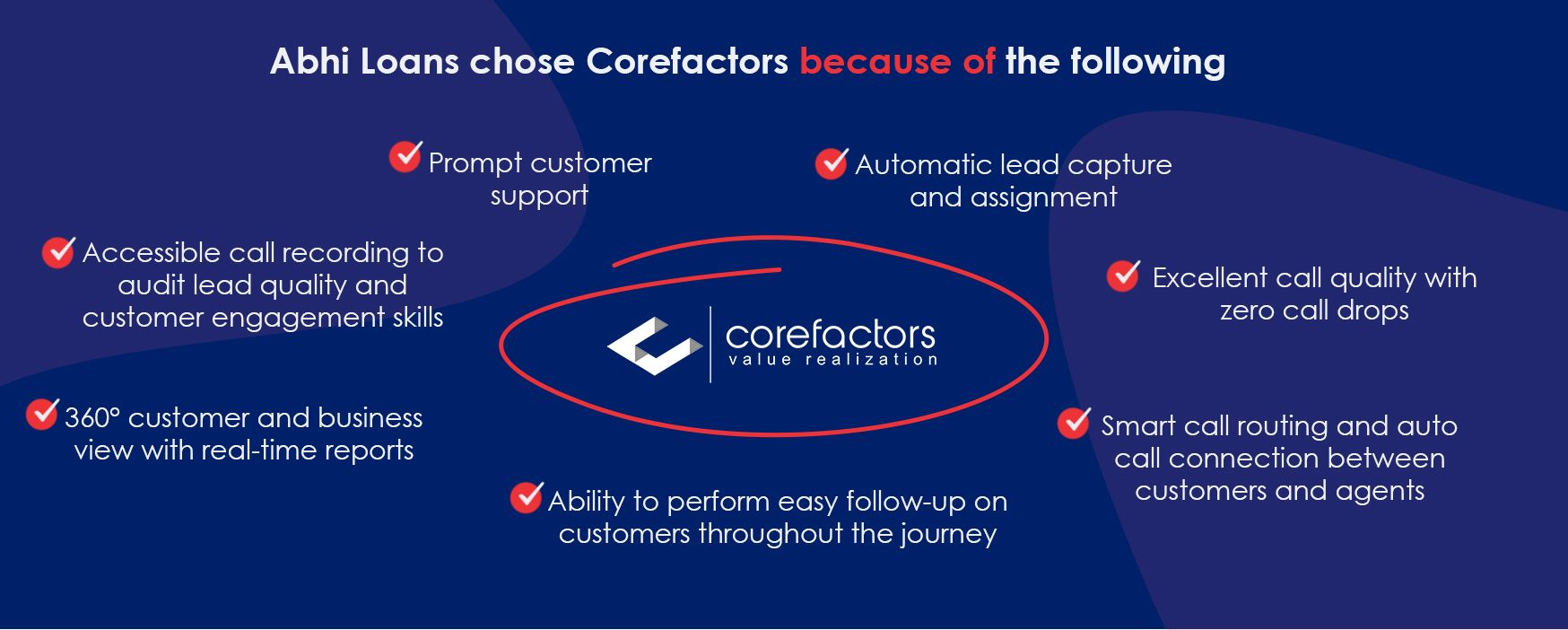 #1 Effective Lead Capture
Think of a scenario where 100 people fill in the form on the Abhi Loan landing page every day. That makes 700 prospects in a week. Imagine the time and resources it would take to manually keep track of every prospect and that too in real-time.
Through its various integrations, Corefactors CRM can auto-capture leads from different sources. Anyone interested in applying for a loan would land on the Abhi Loans website (organically or through marketing campaigns) and fill up the form.
As soon as the applicant enters relevant information and submits the form, the application is captured as a lead on the Corefactors AI CRM platform along with all the field entries in the form.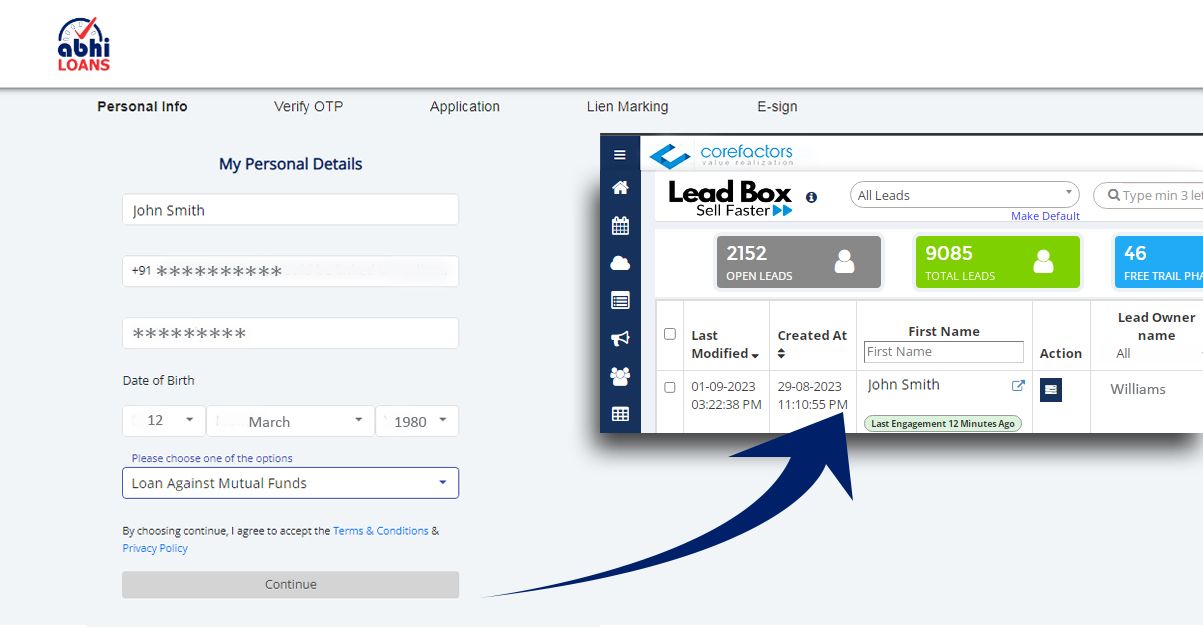 This was an example of lead capture from the Abhi Loans website. Corefactors offers customers integrations with a variety of applications and third-party apps or vendors to enable lead data capture from different sources.
#2 Assigning Leads to Right Agents
Once the lead has been successfully captured in the CRM, they have to be assigned to the right agents or in this case, Relationship Managers (RM).
The chances of lead conversion skyrocket when certain parameters are taken into account. If a Tamil-speaking lead is assigned to an RM who is not fluent in the language, chances are that lead will not go to the next stage in the sales journey.
Corefactors CRM has the feature to customize lead assignment parameters. These can be set on the basis of lead source or location or any other parameter an organization wants. The pictorial representation below explains the process.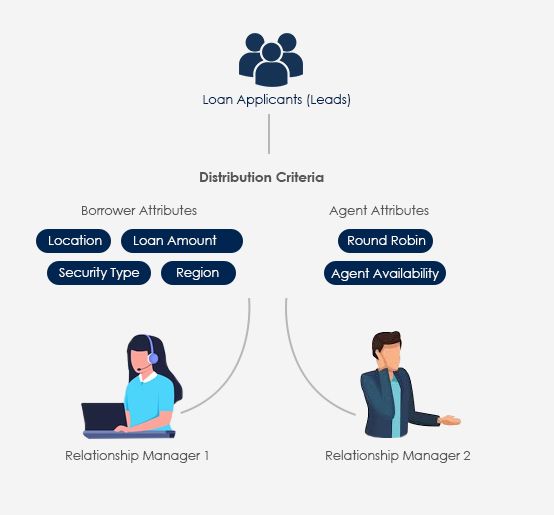 #3 Efficient Communication with Customers
The journey a customer goes through after landing in the lead box is of utmost importance. For Abhi Loans, the Relationship Manager has to make multiple follow-up calls during the loan disbursement process.
In this era of automation and virtual communication, when it comes to loans, customers still prefer talking to a human on the other end of a phone call. The Lead Box has a click-to-call feature that allows instant and smooth communication between clients and agents.
"There are two major ways through which customers land on our website - marketing campaigns and organic searches. Once they start the loan application process, the customer has to share certain details like the security against which they want a loan and then go through a journey that involves a KYC process. Many times customers do not complete this journey in one go. These leads are passed on to the sales team. We have a group of tele-callers who can help them and that is where Corefactors helps us the most." - Vidit Mathur, Associate Manager - Digital Marketing
Using the Corefactors CRM, Abhi Loans can make 150 calls per day per RM. It has streamlined the process of reaching out to new leads and following up on the old ones.

The need for outbound calls does not end with the closing of a lead. Abhi Loans emphasizes the need for after-sales service and extensively uses the CRM for following up on their customers for feedback as well as gauging the scope for future opportunities.
#4 Track Lead Stages and Conversion Progress
Only knowing the percentage of lead conversion is not enough. A detailed report on the time leads spend in each lead stage and the time taken to progress from one stage to another is crucial to improve business strategy.
If a lead is stuck on a certain stage, the Corefactors CRM lead stage dashboard report can be analyzed to identify the pattern and the reason for the delay.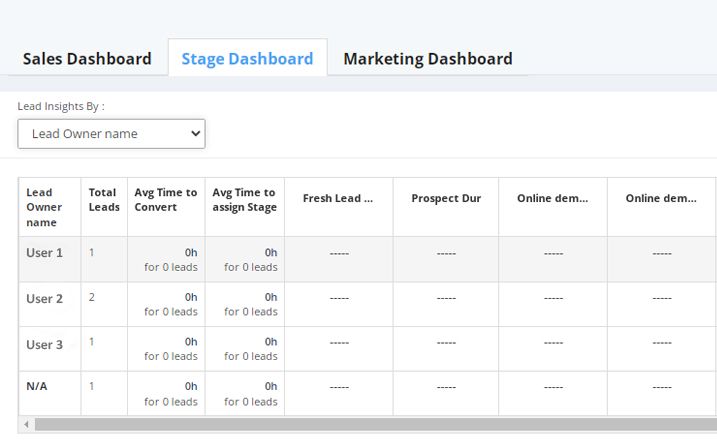 #5 Check the Quality and Monitor Productivity
The interaction history record in the Corefactors CRM allows the marketing team and senior-level managers to check up on the quality of leads. This also enables team leaders to keep track of work efficiency and productivity.
For example, if at the initial stages, a lead had the potential to be converted but ended up being lost, one can easily check the interactions that happened across the lead's journey with Abhi Loans and their respective relationship manager.
One can check the quality of leads in two ways: Manually or through AI-based lead scoring.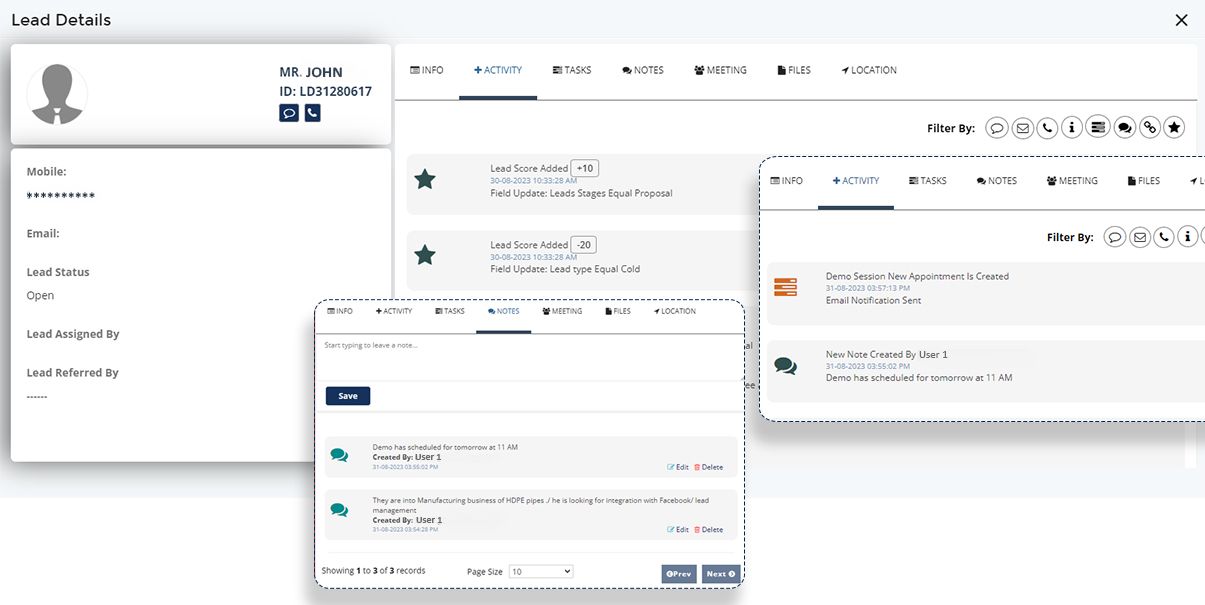 The Call Recordings, Activity, and Notes section shed more light on how an RM handles a lead. Reviewing the entries here can help picture the customer engagement journey. The call recordings available help the team to audit the engagement skill quality and provide feedback to the concerned relationship manager.
For example, if a loan applicant drops off mid-KYC, the RM can get on a call with the applicant and note down the reasons in the Notes section. The reason can provide Abhi Loans with insights into lead quality.

The AI-based lead scoring is based on pre-defined parameters and makes the work of RMs easier. Handing 100s of leads can get overwhelming. The scoring system provides clarity on the priority leads and can help them direct their focus accordingly.
The scores also help RMs prioritize their tasks thus increasing the chances of conversion.
These features can help Abhi Loans diagnose the bottleneck and come up with strategies to combat them.
"The CRM helps paint a picture of each lead and customize our outreach and communication strategy accordingly. I can perform complete lead tracking and monitor the interaction." - Vidit Mathur, Associate Manager - Digital Marketing
What's Next for KNAB Finance and Abhi Loans?
After their success in providing loans against mutual funds, shares, and bonds, Abhi Loans is planning to also provide loans against insurance and digital gold.
They plan to improve their overall product and reduce the loan disbursal turnaround time from four hours to a matter of minutes.
Efforts are in place to increase the customer base, loan book value, and add new products to the lineup.
Their story is a testament to how an idea when supported by the right resources can turn into a full-blown business.