---
TRDFIN is among the best "Back Office Support'' partners, helping companies across the globe improve their back-end management. As TRDFIN was growing, the company was unable to manage their increasing customer enquiries. Corefactors helped them manage leads more efficiently through their proficient CRM - Corefactors. As a result, they were able to onboard 3338 new customers in a short span.
About TRDFIN
TRDFIN is India's leading "Back Office Support" provider, offering exceptional services since June 2020. They are also the "Global Back Office Support Partner'' of Euro Exim Bank Ltd. The company mostly provides its wide range of services to businesses in Trade Finance Industries. Some of their services include Training & Development and Marketing; Support and Consulting services for Legal professionals; Customised Software Solutions; Accounting & Recruitment and Compliance & Due Diligence. The company's mission is to offer personalised business support solutions and state-of-art services using the best human resources and technology.
---
Problems Experienced by TRDFIN
Before using Corefactors CRM, TRDFIN used to experience several unwanted problems that resisted their business growth. Some of those issues that Corefactors helped them get rid of include:
Lead Integration From Naukri.com, Indeed, Freshersworld and LinkedIn
It was a hectic task for TRDFIN recruiters to shortlist profiles from portals like Nauki.com, Indeed, Freshworks and Linkedin. With an on-growing business, their recruitment process was turning out to be hard to manage. Also, the HRs used to face some issues while filtering out the right profiles. The company needed an automated lead integration and nurturing tool to streamline the recruitment process.
Difficulty in Making International Calls For Recruitments
Another major problem in front of TRDFIN was the complexities of making international calls. As their business was reaching international roots, they wanted to hire consultants in different locations across the globe. But the company lacked the resources and tools to make the international recruitment calls. This wasn't only affecting the company's sales but also making it tough for them to firm their place in the international market.
No Proper Sales Process
Back then, when TRDFIN has not collaborated with Corefactors, they used to experience major issues with generating, maintaining and meeting the sales targets. They had no proper sales process and agents used to maintain records in diaries, which wasn't a reliable solution. As a result, they were losing an increasing number of potential clients due to the absence of an efficient sales process.
Low Outbound Calling Rate - Just 20 Calls A Day
The average calls TRDFIN used to make every day was somewhere around 20. There were times when the agents were not even able to meet this goal. Agents were spending a good amount of their time recording the details through manual methods - writing in diaries or paper, for example - which was just a waste of time. Moreover, the agents used to get the details about the inquiries very late. The company needed a more reliable and automated solution to manage calls in a better way.
Reporting to Head Office Was a Complex Process
TRDFIN have multiple head offices in India as well as in the US. It was a hectic task for employees to maintain daily records for officials, keeping in mind the time difference. Moreover, the administration was also facing multiple issues while monitoring the progress of different departments. TRDFIN wanted an integrated platform where real-time details are reflected, making monitoring easy and efficient.
---
Solutions Corefactors CRM Offered to TRDFIN
Corefactors resolved all the above problems of the company with just one solution - Corefactors CRM. Here's how our CRM helped them overcome these issues in the best way possible.
Capturing Leads From Job Portals More Efficiently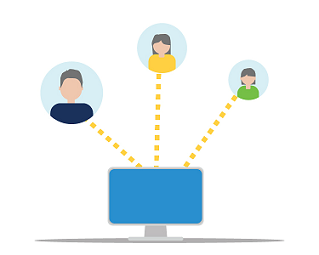 Corefactors offered convenient integration of the CRM with job portals. This allows the HRs to take the advantage of automated shortlisting of the candidates for the required job profile. Earlier, everything was done manually - from, shortlisting candidates from Linkedin, Naukri.com, etc. to calling them. This has been replaced by a more efficient and better method, i.e. Corefactors CRM. The company's recruitment process has become seamless because of our CRM.
Exotel Integration For Convenient Outbound International Calling
TRDFIN faced problems hiring employees globally because HRs weren't able to make many outbound international calls. Corefactors CRM resolved this issue with Exotel Integration. It's a cloud-based telephony system which allows the HRs to make as many international calls as they want, without any extra roaming charges. Moreover, since everything is done by technology, the least they have to worry about is dialling numbers manually. This improved their employee productivity.
Corefactors Introduced Them With a Streamlined Sales Process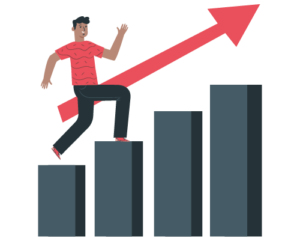 What's better than having a highly efficient sales process? Corefactors CRM helped TRDFIN achieve a seamless sales process, by integrating with their website and recruitment systems. Since the manual mode of calling is replaced with automation, the agents now make more sales calls than they did before. Moreover, agents receive the details about enquiries as soon as they are made, allowing them to close the deals faster.
Daily Outbounds Calls Increased From 20 to 80 Calls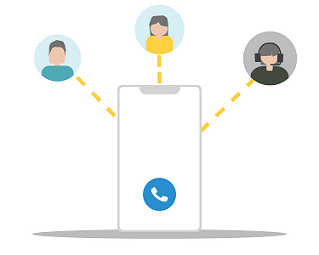 Before working with Corefactors CRM, TRDFIN used to make 20 calls a day at maximum. Our CRM introduced automation into their calling process, making it time-efficient and convenient. The agents' capability to handle sales calls has increased from 20 calls a day to around 60-80 calls per day, all because of Corefactors CRM. The CRM connects agents with potential leads as soon as their interest is captured by the website or marketing campaigns.
Dedicated VIP Portal For Administrators And Heads to Monitor Everything
Corefactors CRM allows directors and administration of TRDFIN direct access to daily reports. With our CRM, it has become easier for officials to monitor and track the daily activities and records of various branches, as everything's integrated into one single platform. Moreover, Corefactors CRM is cloud-based, therefore it can be accessed anytime and from anywhere. Since everything is automated, agents don't have to worry about inserting data manually. It's automatically done in real-time.
Results And Benefits
Corefactors CRM has not only helped provide the above solutions to TRDFIN, but also increased the rate of their business growth. The employees are more efficient, sales agents handle more calls, HRs work to their fullest capabilities, and much more - all thanks to our CRM.
Corefactors is dedicated to providing the highest quality CRM, that's why leading companies like TRDFIN have chosen us for their business. When we talk about the best and pocket-friendly CRM in the market, Corefactors is a favourite choice for lots of businesses. It's not just a statement, but a fact!