Ishan is excited to start his new business and is looking out for loans from banks. He has been to multiple banks but everywhere it is the same story. His loan application gets rejected because of a bad credit score.
It had been years since he had taken a loan for his child's education and remembers paying all the EMIs on time, however, the system shows otherwise. Ishan is now perplexed and does not know how to proceed.
But thanks to Credvent's Credit Health Improvement experts, Ishan has another chance to improve his credit score. With an improved credit score, he can finally get the loan to start his business.
"We believe in making dreams come true" - Deeraj Rangappa, Director of Credvent Services Private Limited
Loans, Credit Score, and Credvent
At the heart of every business lies an idea - a spark ignited by a problem that resonates with a specific audience. This initial idea is the cornerstone. But the idea alone is just the beginning.
It must undergo the scrutiny of market analysis, to gauge its compatibility with the needs and desires of potential customers. If the problem is authentic and the solution proves effective, the doors to any enterprise swing open.
With the introduction of the Credit Information Companies (Regulation) Act of 2005, the process of loan disbursement started taking the applicant's credit scores into account.
The problem: A bad credit score means an applicant may not be considered for the loan, and like Ishan, would be stuck with a difficult-to-comprehend credit report.
The solution: An interface run by certified credit experts who interpret credit reports and offer an in-depth analysis followed by a step-by-step plan to improve credit health. This is the idea that started Credvent Services Private Limited.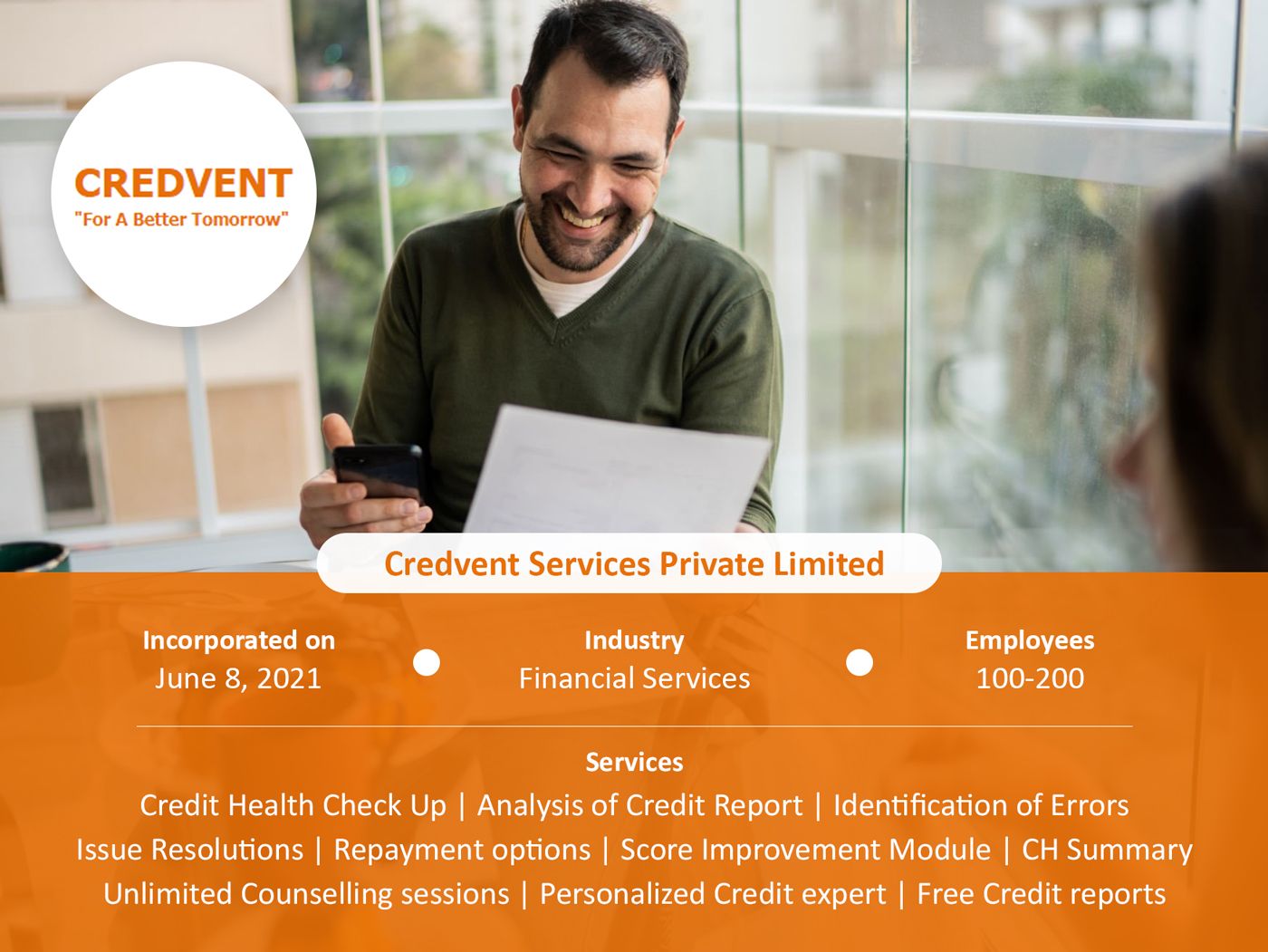 How Does it Work?
For Credit Health Checkup, Credvent generates the Credit or CIBIL report on behalf of their customer. If the customer already has one, they share it with Credvent.
The internal team works with Credvent's software and algorithms that analyze and detect the problems in the report. The analysis of the credit report and identification of errors can be accompanied by services like Issue Resolutions, Repayment Options, and Score Improvement modules.
The services provided are subject to the enrollment plans that the customers subscribe to. For customers with loan repayment issues, Credvent uses its tie-ups with multiple banks such as  ICICI Bank, Money View, IDFC First Bank, and HDFC Bank to coordinate on behalf of the customer and get the best possible quotation for loan closure.
"Credvent acts as a mid-point between banks and customers. We analyze the negative remarks on your CIBIL report and help you take the necessary steps to improve your credit or CIBIL score." - Aswin P A, Director of Credvent Services Private Limited
The Pandemic and The Expanding Business
The COVID-19 pandemic was a hard time for all, especially for those who lost their job or had their income streams cut off with the world coming to a standstill. This situation made it difficult for many to repay their loans on time.
The result: A bad credit score! Credvent saw a need for their services and started operations with a small team of about 10 people.
With an increasing customer base, it was soon time to expand the team from 10 to almost 100 employees, and different departments such as sales, operations, escalation, and accounts were set up.
With separate teams being set up, a business is most likely to run into problems such as silos between teams and data fragmentation.
"Once we started the business, we knew that we needed a CRM to grow." - Aswin P A, Director of Credvent Services Private Limited
The Need for a CRM and the Corefactors Solution
The Credit Health checkup service gets about 500-800 monthly customers. Credvent also deals with about 5000-6000 customers for services related to loans and expects more with their future plans of diversification.
Earlier they used offline CRM and maintaining data on Google Forms or Excel sheets no longer sufficed with their expanding client base.
"Corefactors has helped us a lot in terms of improving our product. Everything will not work out just by using a basic Excel or Google sheet. We needed proper CRM software for our data and calls. " - Deeraj Rangappa, Director of Credvent Services Private Limited
After exploring three CRM platforms including ZOHO CRM, Credvent decided to go with Corefactors AI CRM.

"Corefactors CRM is comfortable to use and compatible with our business. It is a good platform to rely on when you are starting or growing or expanding your business."- Deeraj Rangappa, Director of Credvent Services Private Limited
Let's explore the features of Corefactors CRM and how they helped Credvent serve their clients better.
#1 In-built Cloud Telephony with IVR to the Rescue
Besides leads generated from inquiries about services on Credvent's website, there are numerous Business Sourcing Agents who work to bring in more customers.
In the last six months, they have achieved loan facilitation of more than INR 80 crore from banks. With expanding business and more and more customers signing up, Credvent faced one major challenge.
"We had no system to record calls and keep call logs that would help in serving our customers better. The main feature of Corefactors CRM that we wanted to use was maintaining the call recordings of our customers." - Aswin P A, Director of Credvent Services Private Limited
The agents could quickly initiate a conversation with customers through the click-to-call feature, which decreases first response time and helps businesses nurture better customer relationships.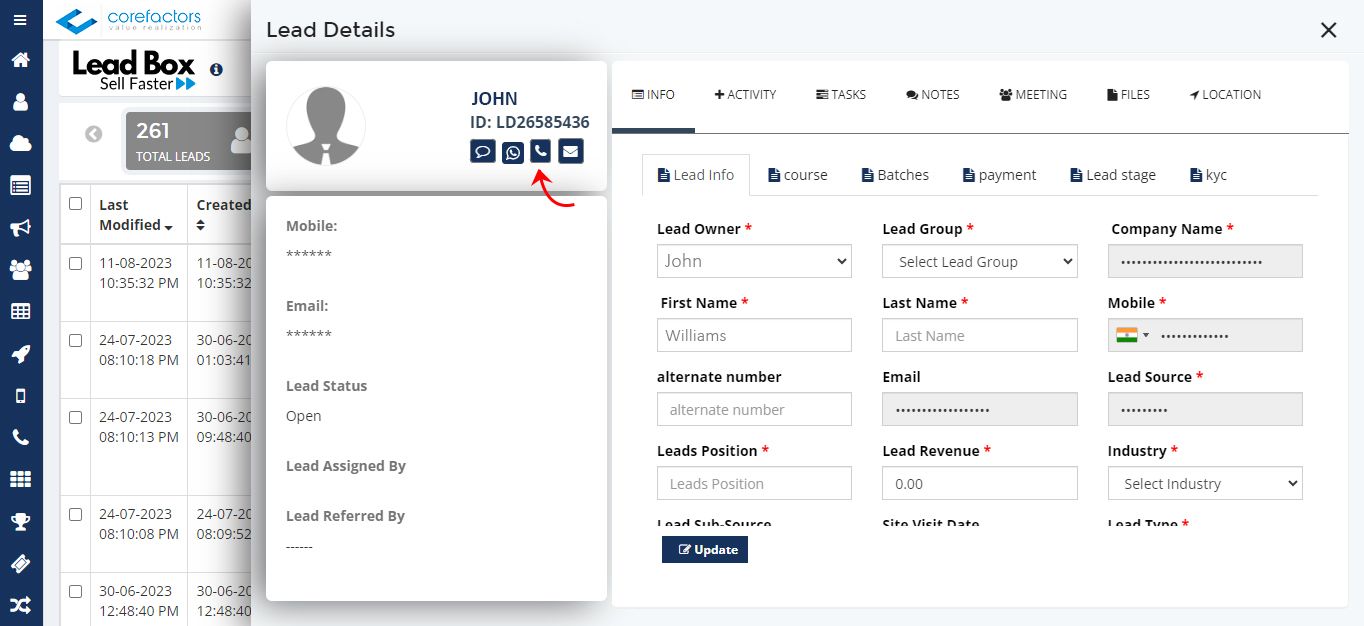 The CRM integrates the Interactive Voice Response (IVR) system. Credvent uses the virtual business number for its prospects and customers to reach them directly over call in a single click. This feature enriches the customer experience and makes Credvent approachable and accessible 24/7 through both inbound and outbound calls.
Whenever an interested party calls on the company number provided on the Contact Us page on the website, the call is automatically routed to the right agent in the right team through intelligent routing, further, an auto call triggers on the agent's phone, auto-connecting the caller to the agent. This feature not only helps Credvent reduce manpower requirement but also increase the speed of lead response.
All call recordings are stored and easily accessible through call logs. This makes the process of keeping track of customer requirements and data easier. Unlike offline CRM, these call recordings are easy to access and retrieve throughout the customer lifecycle.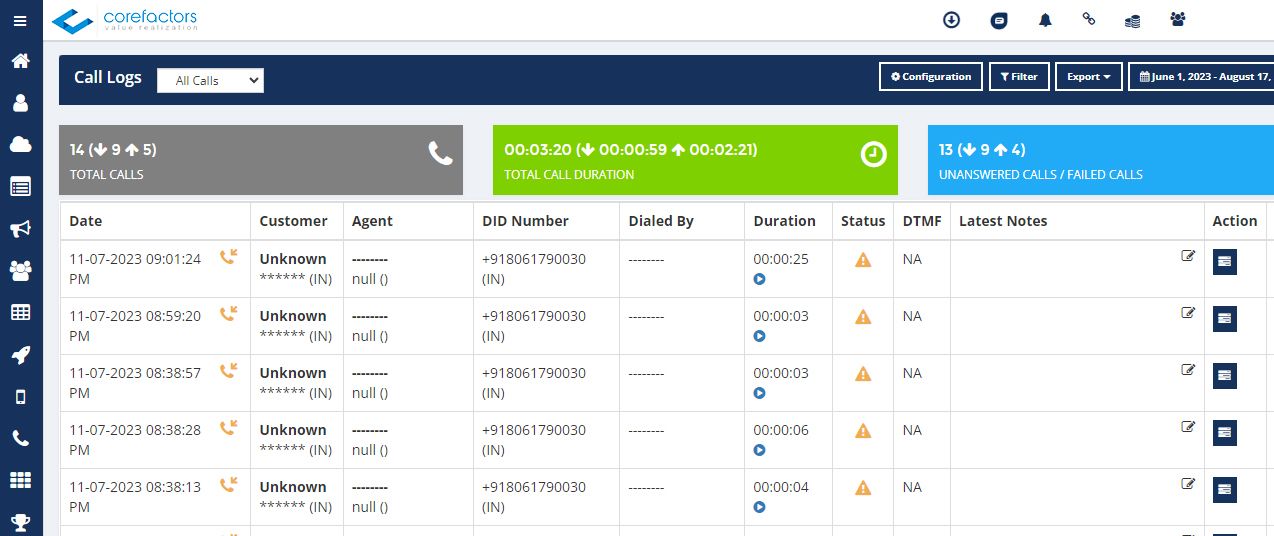 #2 Efficient Lead Management
It is difficult to manually tackle and manage thousands of leads and support them throughout their interaction with Credvent.
The automatic lead capture and assignment feature of the Corefactors CRM Lead Box saved precious time that Credvent agents would have spent on manual entry of leads on Google Forms and Excel sheets.
While navigating the Credvent website, if any users end up on the Contact Us page and fill up the form, the CRM automatically generates a lead with all the details in the form. It goes on to assign leads to agents as per the configuration.  
Corefactors CRM comes with an option to activate an auto-call trigger that would connect agents to respective leads as soon as they end up on the Lead Box. This feature helps companies to beat their competition when it comes to customer engagement and follow-up.
It helps keep a record of crucial information like the Lead Stage, Lead Requirements, and Lead sources and allows the user to initiate conversations as and when required.
The AI-based lead scoring, revenue target tracking, and lead stage change records make lead management a hassle-free affair.
#3 Monitoring Productivity
Credvent manages to convert 10% of its leads. Using the Corefactors CRM, they can monitor the sales, lead stage changes along the sales funnel, and a marketing dashboard that provides a detailed view of the work and effort the different teams put in to grow the business.
The insights from this dashboard help formulate strategies to increase efficiency and productivity by determining the bottleneck.

Employees can stay on top of their tasks through alerts, updates, and reminders that ensure no opportunity is missed, thus boosting productivity. Credvent has reported a rise in productivity after using Corefactors CRM.
#4 Easy Data Access and Retrieval
If one executive interacts with a customer thrice and there are 800 such customers interacting with different agents on a daily basis, imagine the amount of data these calls hold.
Before Corefactors CRM, Credvent relied on offline methods to store this data, and data retrieval was a painful task.
Now with all calls recorded and stored under call logs along with details such as the assigned executive, the date of the call, and the duration, finding out one particular call requires a few clicks.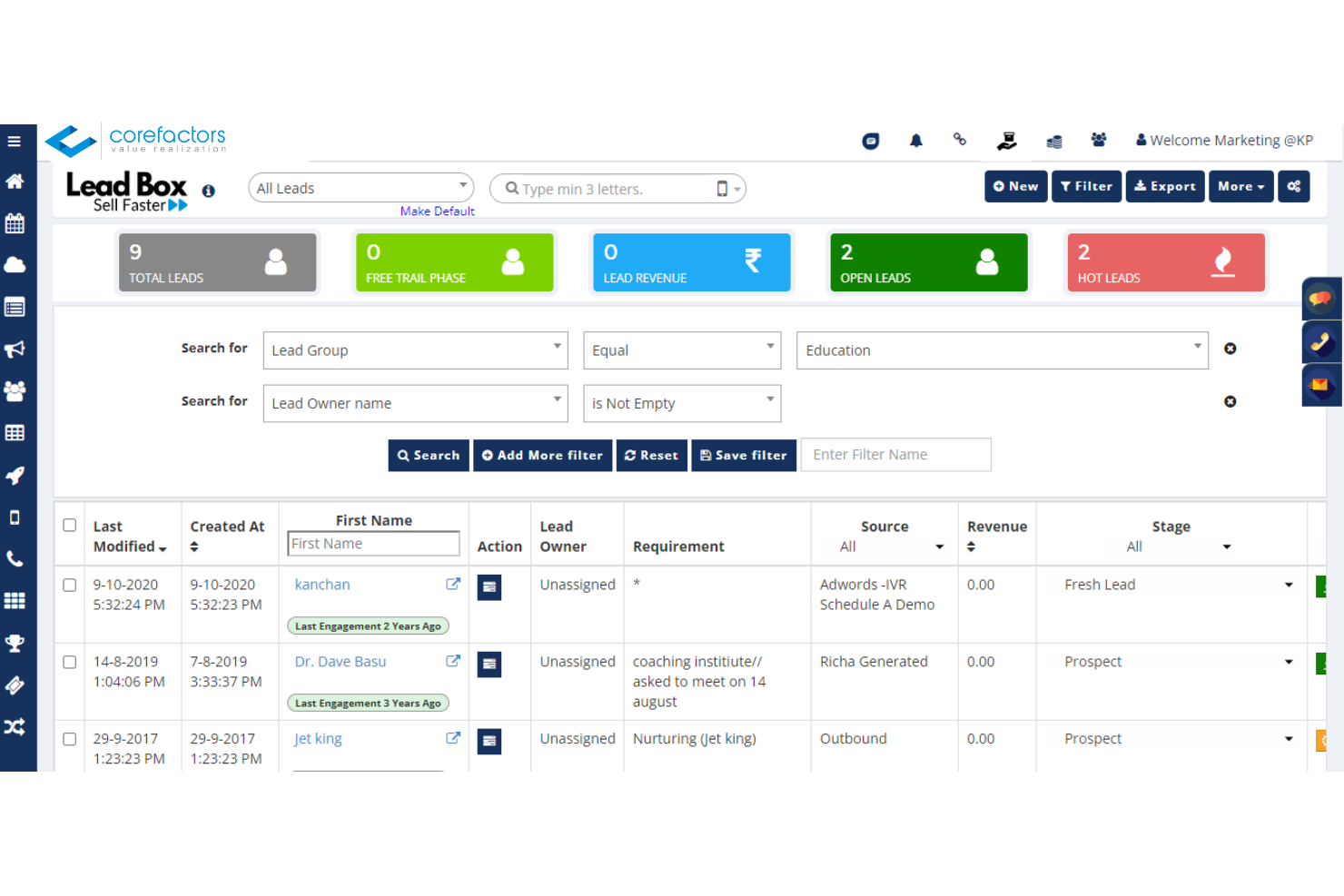 Corefactors AI CRM provides the option to download data and one does not have to rely on the availability of servers.
#5 Enriched Customer Experience
"There will be a lot of competition. It's all about the experience and how you treat customers. When it comes to the service industry, the main thing is customer experience, how we deal with customers and react to their problems" - Deeraj R, Director of Credvent Services Private Limited
From being the first to reach out to any lead, and ace the lead nurturing game through personalized messages, to successfully converting leads to customers at an impressive rate of 10%, Credvent, with the help of Corefactors AI CRM maintains its aim to serve the best customer experience in its industry.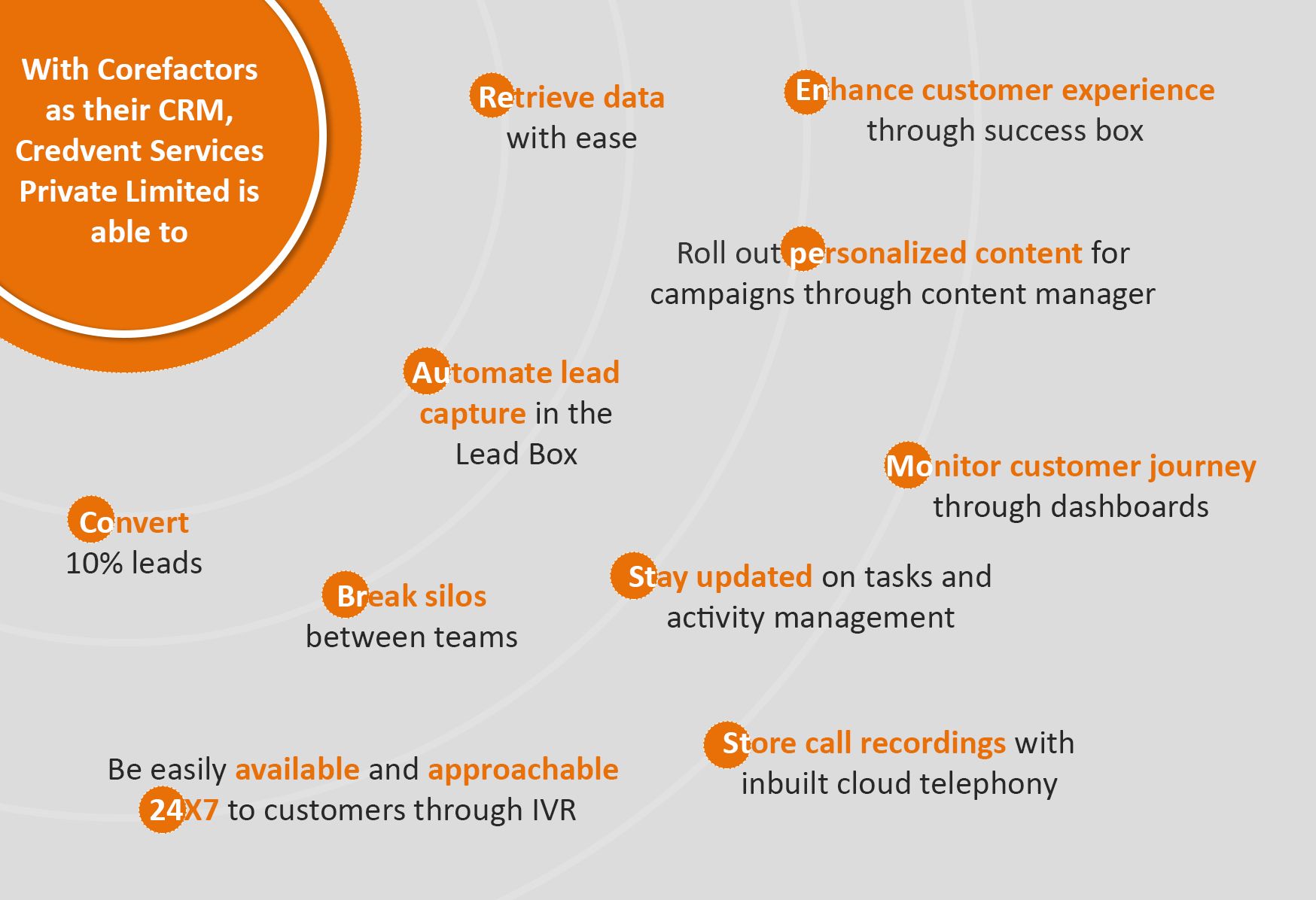 What Next?
Credvent plans to go into a franchise model and aims to open 80+ stores across India. No one should have to hold back on their dreams because of bad credit health and subsequent difficulty in the availability of loans from banks.
They started with one solution, which is the Credit Health Checkup that helps with Credit Score or CIBIL Score improvement. They added loans and insurance to their repertoire of services and are now in the process of rolling out credit cards as well.
The expertise gained from their existing services has fuelled Credvent to provide an end-to-end solution. So if you are thinking about
-Registering a new company
-Starting a private limited company
-GST filing and IT filing for your small business
-Getting support for accounting
Credvent will act as a one-stop platform for all the above needs.
They are all geared up to go into full-mode operation for their future plans and are set to expand their current team to up to 250 members.
The use of Corefactors AI CRM has aided Credvent Services Private Limited in achieving the hyper-growth stage they are currently witnessing.
Their dedication to solving issues in the financial services sector while ensuring a smooth and memorable customer experience is exemplary.