Facebook Marketing Strategy for Small Businesses in 2020 (9 Tips)
Do you want your business to be heard on social media?
A lot of small businesses dabble on social media platforms, especially Facebook because it is cheap and easy to try. But don't worry if you don't know how to use Facebook adverts.
Whether your goal is to attract new customers, build loyalty or increase referrals, Facebook can be an invaluable part of your marketing mix. This guide you can learn the Facebook marketing strategy for small businesses so you can effectively fulfill your marketing aims.
Facebook started out as a social media platform to provide people with a way to connect online. But today it has become an internet giant that encompasses the role of multiple platforms all at one website.
According to Hootsuite which is one of the leading social media management platforms:
90 million small businesses use Facebook, and just 24.6%of Facebook Pages use paid media.
30% of marketers think Facebook gives the highest digital ad ROI.
Estimate says 87.1% of marketers will use Facebook marketing in 2020.
15% of social media users shop on Facebook
Average user clicks on Facebook is 11 ads per month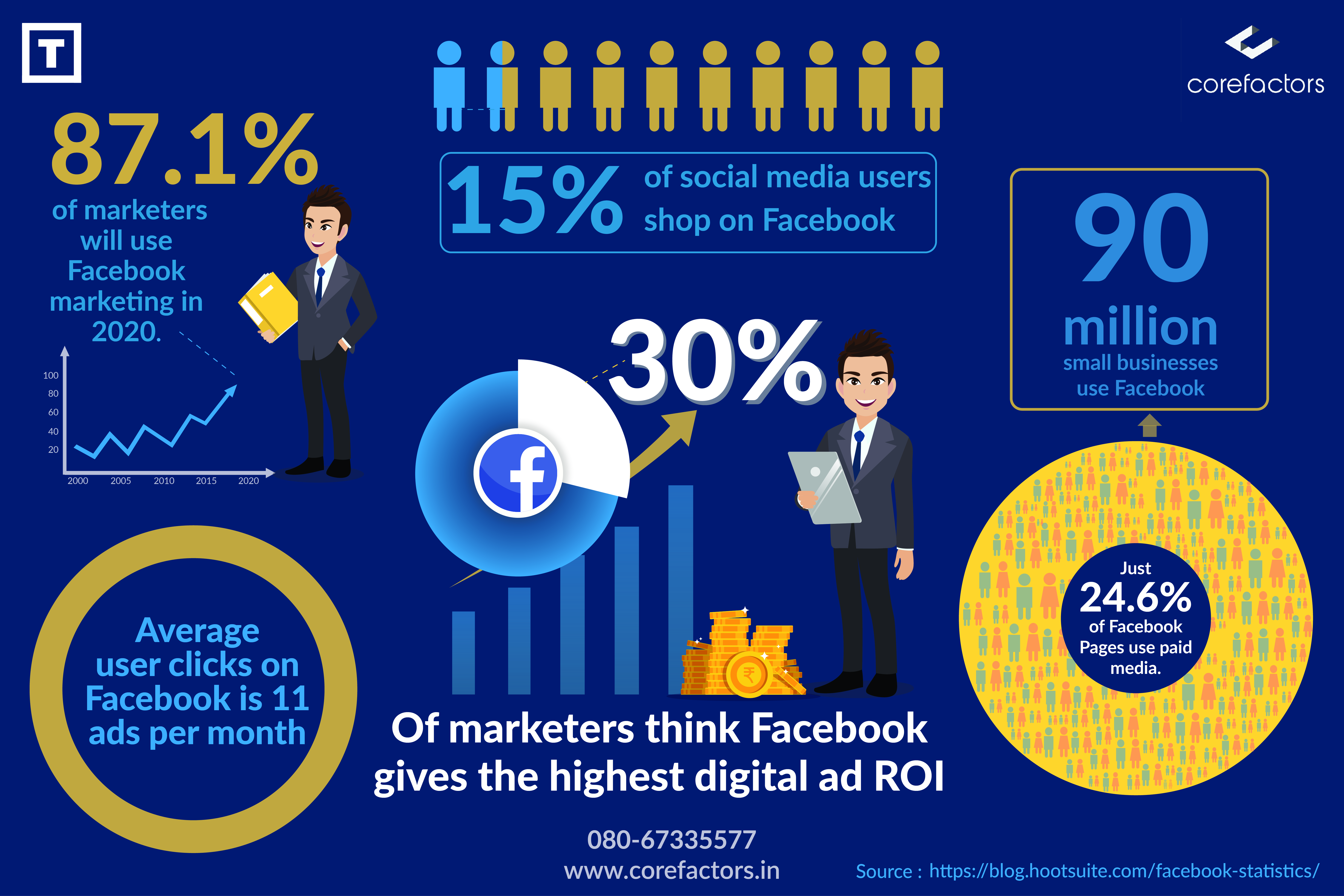 The above figures clearly indicate that the ROI potential of the Facebook platform is enormous. In the rest of this post, we will share a few Facebook marketing tips and strategies for small businesses to get the most out of this mega-platform.
1. Branding Your Business Page
Use all brand all images and collateral which are relevant, consistent and clean. Never use pixelated or random images. Both the profile photo and header photo should be clear and professional. To make them instantly recognizable, match them with your website.


The profile picture should always be your logo since it will accompany all of your content in users' news feeds and anywhere else on Facebook. As for the header image, you can align them with your current marketing strategy. In addition, you can also use missed call marketing for empowering more people to reach you. A business page can be used for
Branding opportunity
Use to promote current offers
Use to promote events coming up
You can change it occasionally
Use the call to action which is located at the top of the page which your users can use to get in touch or buy some products or services.
2. Have Multiple Pages
You can have more than one business page on Facebook. This may be beneficial to you if you have diverse product ranges or customer groups.
For example, if you are in the fashion business and have a store that offers both menswear and womenswear, then on facebook, you can have different Facebook pages for both menswear and womenswear so that you can engage more closely with your audience.


Even if you have a presence in multiple locations, you can make separate pages to target each location audience for each focused local unit.
3. Audience Targeting
You know your audience is there, but how do you reach them? With Facebook, you can set your 'Preferred Page Audience' to your business pages. Your page will still be visible to everyone, but Facebook will try to put your business page in front of users who might be particularly interested in your business.


But before you set up your preferred audience, make sure to collect enough data and build up a picture of the people who are most likely to engage with your brand.
4. Use Relevant and High-Quality Content
A massive part of any social media platform, even Facebook is content. So an effective Facebook marketing strategy for small businesses is to deliver a regular stream of high-quality posts on your business page.


Use engaging rich media like videos, audios, interactive banners, pop-ups, surveys, games and custom cursors
Type of content that could be used in Facebook are
Quality 3rd party content, like tips and relevant content from neutral third parties, not competitors
Your own blog content with useful tips
Showcase your products with strong visuals
Your own website information or updates like about you, about your services, and even about your clients.
Industry News
Case Studies

5. Use Facebook Stories, Groups, and Facebook Live
Facebook stories are more visible than regular posts since they appear at the top of a Facebook feed. These stories let you share moments from the life of your business in real-time.
Stories are usually photo collections or videos that are used to engage audiences in a more immersive way, however, they're only visible for 24 hours.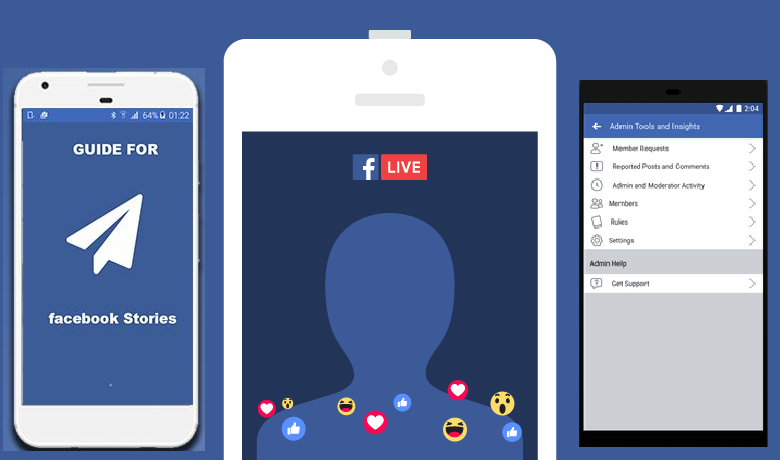 Why should Facebook stories be considered among Facebook marketing strategies for small businesses? This is because today's audiences are more drawn to authentic and engaging businesses. So by posting stories, you're giving your users a two-way feed that they find compelling.
Facebook groups are online public forums that allow you to create your own business community where members can discuss industry trends, their favorite products or service experiences.
With this community, your customers can ask for tips and advice and give you a chance to engage by offering your knowledge. This also gives you a unique opportunity to sell by posting your product and service links and gain insight into them.
As for Facebook Live, you can connect with your audience in real-time. You can talk about your new products or services or offer Q&A sessions. These streaming live videos give you an opportunity to direct users to your site or page and increase your traffic.
6. Facebook 360
Never heard about Facebook 360? Well, they are rich media on steroids. It is a form of photography that captures a 360º view of the setting.
Who can use them? Facebook 360 is perfect for estate agents, wedding venues, showrooms and more. Suppose you are an event manager and your team has decorated a beautiful wedding venue.


With Facebook 360, put your customers into the very venue you've worked on and show them every detail of your project. You can also use Facebook 360 for video, but they require much more production editing.
But done correctly, they can put your consumer straight into your world which can be your perfect marketing strategy when you are new in business and looking for ways to impress your prospects.
7. Respond to Your Customers
When it comes to small businesses, word of mouth and peer marketing is a huge area of opportunity.
Now, if you can get your customers to speak positively about you on your Facebook page or on their personal pages and even other social media platforms then it will more likely convince other people who see their positive words to become your next customer.
You can achieve this by being responsive to incoming messages from the customer and developing a natural rapport with them. What's more, Facebook even allows you to display a badge on your business page which shows your response rate and time.


With better your response rate and time, you will more likely receive inquiries or leads through direct messages.
But what if you receive a negative review? A good practice is to respond to ALL comments both positive and negative and deal with these negative comments or complaints in a timely manner, by trying to make sure the outcome is positive for the customer.
When it comes to reviews, while positive reviews enhance your reputation, the way you deal with negative reviews can both protect and even enhance your stature.
Pro-tip: It is very important to retain your customers and nurture the new leads that you capture with relevant content at the right time, allocating them to the right salesperson. Check out our guide to the best lead management system.
8. Facebook Ads for Small Business
Since organic reach is hard to achieve, Facebooks ads provide a way to access a myriad of impressive targeting options to reach your specific audience.
And the best part is, Facebook ads are extremely simple and quick to implement and adjust. You can also track money spent, performance and ROI of your campaign, all at a relatively low cost.
For Facebook ads, the most important part is to choose an ad objective and then align it with your customer types and business objectives.
These objectives include
Boost your posts or events
Promote your Page or Call to action button
Promote your business locally
Send people and increase conversions on your website
Get installs of your app

For beginners, you can choose an automated option for text or images as promoted or boosted the post. These can be automated by Facebook or chosen by you.
You can get even better results by using Teleduce, which offers a Simplified Campaign Management Software and enables you to send and track the right content to the right audience at the right time and encompass your greater marketing goals.
9. Use Audience Insights
With Facebook page insights, you can glean a great deal of useful information about your audience, their location, and behavior on Facebook. You can get answers to questions like
Have your page likes spiked or dropped?
Has your audience reach altered significantly due to any change in content or strategy?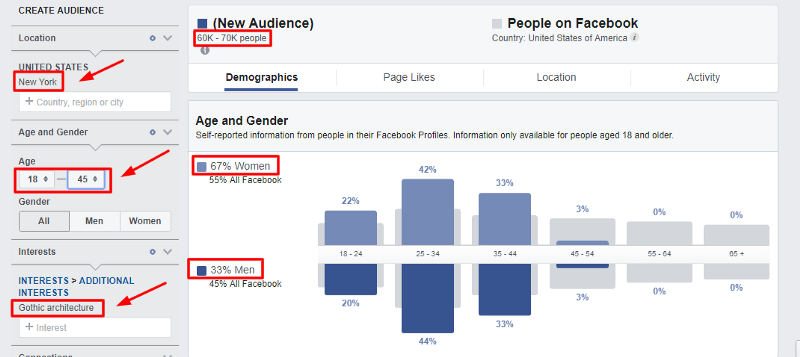 These numbers may not give you any definite numbers, but it will help you reflect on your strategies. These statistics will help you understand how your content is impacting your activity or if you are running any adverts, how is it performing.
You can even have a look at your most recent posts and compare their reach and engagement. Tracking is very essential and should be an integral part of your marketing techniques. Check the importance of tracking in marketing by scheduling a demo of Corefactors' Teleduce.
Automate your business with Teleduce
Collect all your leads in real-time from Facebook via API and push them to directly to Teleduce CRM for your sales team to follow up on. With Teleduce's multi-channel campaign options like SMS campaigns, Missed call marketing campaigns, voice SMS campaigns, landing page campaigns and email marketing for your sales team work faster and nurture leads more efficiently.
You also get insights and details reports to track leads and understand how campaigns are contributing to your business's revenue growth.
Bonus: Here is a bonus for you on how to run email marketing campaigns for your small business: Guide on Email Marketing Practices for Small Business.
Don't wait anymore, Try Teleduce Today!