A successful sales funnel that attracts quality leads starts with a lead magnet. But not just any lead magnet will do.
To generate leads with lead magnet, you need an opt-in that helps your prospects to navigate a problem, implement a solution, or by providing them with a useful set of tools or resources.
In this blog, you will find the complete lead magnet guide for creating lead magnets that convert.
What is Lead Magnet?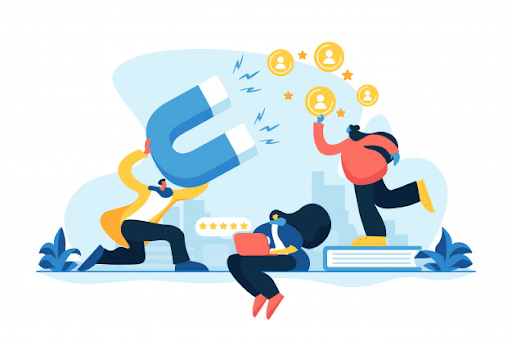 Lead Magnet is basically a free gift that a Marketer offers someone as an ethical bribe to get them to enter their contact information into an opt-in form, and subscribe them to your email list.
The key to creating a great lead magnet is offering your visitors something that has a high perceived value.
The more valuable a visitor sees your free offer to be, the more likely they are to give you their contact information so that they can get it.
For instance, if you were an Insurance Agent trying to get contact information for people looking for Life Insurance, you might put together a small eBook or PDF entitled, "The 5 Most Important Things Your Life Insurance Agent Won't Tell You!"
A lead magnet is the most important part of a high converting squeeze page.
The less information you require a visitor to provide you with, the higher your conversion rate will be.
If you really only need their email address, then don't ask for anything else!
How to Leverage a Lead Magnet?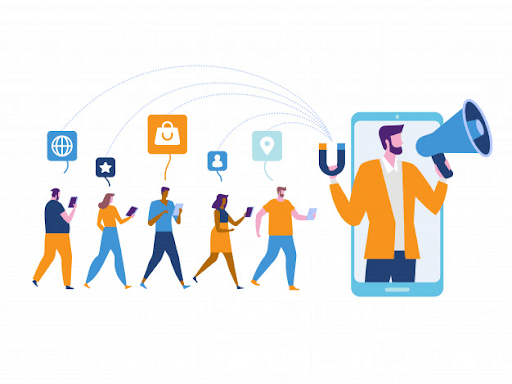 Now that you know what does a lead magnet mean, let's have a look at why it is so important.
By getting your website visitors to sign up for your email marketing list, you are now able to do several very important things:
Add Value to Their Lives
Build a Better Relationship with Them
Build Their Trust
Lure Them Back to Your Webpage
Inevitably Increase Your Sales
By utilizing a lead management system CRM like Teleduce, you can send automated responses to deliver a series of informative and relationship-building emails over a period of time.
This way you will be able to accomplish all of these things in a way easier than before.
This will help you to increase your sales and market other related products or services to the prospects.
And that will lead to even greater profits for your Business.
Bonus: For more tips on nurturing prospects by email marketing automation, check out our guide on How to Automate Email Marketing.
A good lead magnet could be a number of things. It could be a
Free Report
Free ebook
Free Whitepaper
Free Physical Sample of a Product
Free Sample of a Downloadable Product
Free Trial of an online product or service
Free Videos
Notice that everything listed above is FREE!
This is very important because you want your visitors to take you up on your offer so that you can add them to your email list, along with offering them something valuable.
Giving them something for free is the best way to entice them to do so.
But it is also important to give them something valuable and relevant in a content format that appeals to them.
Now let's have a look what does a typical lead magnet funnel looks alike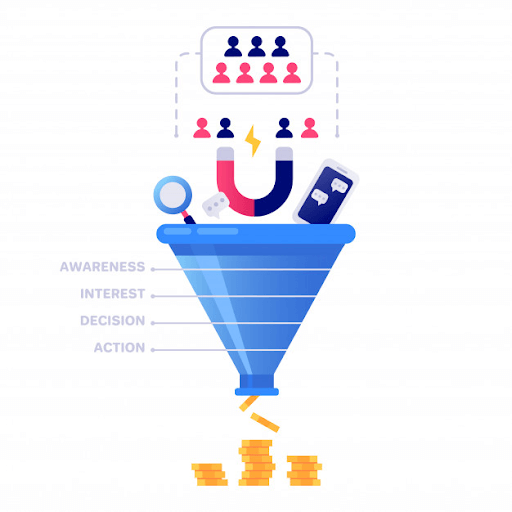 Your prospects land on the landing page that offer lead magnets with an opt-in form. It should be something irresistible that your ideal customer desires like fixing a pain point of them. Research says that such content can raise the opt-in by almost 85%.
The landing page should be simple which states your offer and provides further information if necessary. To make sure, it works, keep the links that take the potential lead away from the landing page to a minimum.
Make sure your CTA is above the fold for both desktop, laptop and mobile devices. The load time of the landing page should be good. Make the opt-in for simple, ask only for minimum information.
Once they fill the opt-in form, provide them with the offer and direct them to a thank you page or a booking page or a schedule appointment page as per your needs. Inform the prospects about the next steps and what they should expect.
Nurture those leads by following up regularly to keep you and your business on top of their mind. You can use drip email marketing or SMS marketing if you are aiming for appointments or simply calling back your leads.
How to Create a Lead Magnet?
Every business wants more leads. It's no brainer. The most effective way to get leads, again and again, is with a lead magnet.
However, how do you research and develop lead magnet ideas that will grow your email list which in turn will create more sales?
1. ​Content Research: Begin your research with content that is getting traction. You can use an online tool like Buzzsumo to do this, which crawls the web and social media feeds to bring you the most popular content in any niche. With this research, you can see what's working and develop a lead magnet from that.
2. Scan Your Blog for Inspiration: An effective lead management could also be an extension of your blog. For example, if you have a particular blog about some 'fantastic top 10 tips' that's had loads of views and comments, simply offer 5 more tips in downloadable form if they sign up for them. This will work only when the blog content is good to start!
3. Service as Lead Magnet: Is it possible for you to offer a piece of your service as a lead magnet? Are you seen as an expert in your field? If yes, this could be one of the most effective ways to get more sales with lead magnet. Offer your visitors the opportunity to receive a free expert analysis or review. For example, if you are a LinkedIn specialist, as a lead magnet you can offer a free audit of their LinkedIn profile with a report to help them generate more business.
4. Develop a Mini-course: Think and analyse your services. Chances are you will find out there are a few questions that are asked again and again by your prospects. This could be a valuable education piece you deliver as a lead magnet. Simply turn it into a mini-course, be it a downloadable pdf or video.
5. Free Coupons: Think of ways to create a simple coupon that gives your first-time customers money off a service or product. Coupons are the practical way to generate more sales leads with lead magnet as it offers value and gives your prospect a reason to sign up or even call on your missed call marketing number to get access to the coupon code.
6. Create a Checklist: A checklist can simplify information into bite-sized easy and manageable steps to help your users get started. They are a great way of summarizing broad topics into something actionable. For example, you have a complex blog post about 'how to blog', create a checklist from that by taking out the top points and offer it as a lead magnet.
7. Develop a Report: One of the most tried and tested lead magnet designs is offering free analytical reports. These reports can provide information on research, up to date statistics, or even offer the best practices in your particular field. For example, they could be something comprehensive like "3 things you can do right now to get rid of clutter" or a lengthy guide like ' 35 points for home inspection checklist'.
8. A Resource List: Do you have a list of your top tools that you use and know that your prospects would really appreciate? Just think what resources could you recommend to your potential customer that would help them to achieve better results and build a resource guide. It could even be as simple as a list of books or apps that you recommend.
9. Newsworthy Events: Another effective way to create a powerful lead magnet is to leverage industry happenings and newsworthy events. This is the best way to build trust and thought leadership. Here are a few lead magnet examples.
Example #1: If you are a sales consultant then offer a lead magnet that helps other companies reach their sales goals. Simply develop a free resource guide that provides useful tips on 'how to improve' along with showcasing your expertise and how your services can help them.
Example #2: If you run a business that educates other businesses on changing laws then create and offer a lead magnet that includes the latest information on updated law, so that your leads can save time and energy and get the important research done for them for free.
Example #3: If you run an SEO company, you can use the latest Google update to help your prospects steer and manage impending changes. Develop a guide that offers simple tips which can help your prospects to stay visible online and improve their search rankings and offer it as a lead magnet.
Use Teleduce – Best Way to Generate More Sales Leads
Now that you understand a lead magnet, its funnel, the ways to create it and how it can benefit your business, take the time to implement some of the best practices.
You can master this right with the help of an integrated sales and marketing tool like Teleduce and bring in a boatload of high-quality leads into your business.
Teleduce is perfect for entire lead magnet funnel, right from landing page or follow-up with measures like email marketing, SMS marketing, IVR services etc.
Start generating high-quality leads with lead magnets today by using Teleduce. Start your free trial today!