To work with a CRM tool you need to document every tiny bit of conversation. But it can be very time consuming and at times frustrating as well.
Save your precious time with an integrated CRM that allows you to send automated emails to all your contacts.
You can track conversations in Gmail and Outlook and store the information in a centralized database.
No email or important information will ever be lost again. Start improving your business workflow with Gmail and Outlook with CRM integration.
What Is An Integrated CRM?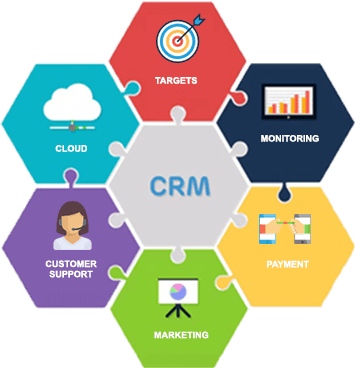 CRM has become an essential part of every business. The number of integrations and functionalities are increasing day by day.
CRM on its own works wonders, but linking it to some useful software and applications such as email integration, lead management system, and list management is not only desirable but also crucial in the effort to maintain high levels of customer satisfaction and business productivity.
Easily track your sales agent's productivity and their conversation with customers and leads.
It provides the opportunity for your sales force and management personnel to view customer-specific data and access permitted information about their customer's orders, account information, financial information, reports, and other key business Intelligence information that you decide is appropriate.
It allows you to track your pipeline and interaction with customers and leads.
Get a 360-degree view of customers.
Real-time customer information.
Track performance metrics and reporting.
Customer success management
Automated email workflow
5 Benefits Of Email Integration With CRM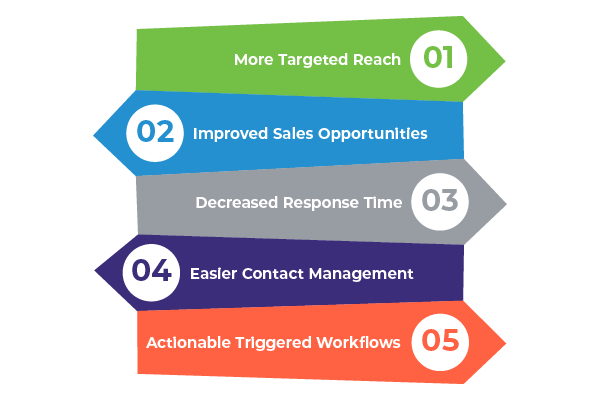 An integrated CRM platform gathers massive information about customer contact through email workflows, calls, and social media.
Here are some of the benefits of email integration with CRM.
More Targeted Reach
CRM with email integration offers you to customize your emails for more targeted outreach.
You can send relevant emails having personalized information based on your CRM data such as name, job, or past buys to deliver your customers with suitable and targeted content.
As a result, there will be more personalized emails and fewer denials. There is a high probability of emails to be opened when the recipients identify the sender's name.
Improved Sales Opportunities
Your sales team has a real-time awareness of customer behavior. They can visualize which prospects may have opened emails as well as referred to the data included in the email.
When the sales calls are made after going through all these details, it allows your sales representatives to adapt calls to prospects' areas of interest.
Decreased Response Time
Email integration with CRM ensures that you follow-up with your customers without any delay. The automation decreases the response time to zero.
You can automate email workflows with the CRM integration and respond to customer queries immediately.
Easier Contact Management
Email integration makes it easier to manage contacts and follow-up simultaneously with the customers.
It's possible to create a single unified view of the customer, by combining contacts' tracking, their interactions with the business, and their buying preferences and service issues.
You get a 360-degree view of your customers and utilize it for your sales strategy.
Actionable Triggered Workflows
CRM workflows are necessary to trigger automated emails to send timely messages.
You can send a single or a series of email messages automatically triggered by CRM web visits, new registrations, email campaign responses, date rules, or by any other events using the data stored in CRM. You can even schedule emails for a timely response.
Connect Your Gmail & Outlook With CRM
With the help of an integrated platform like Teleduce, you can easily connect your Gmail and Outlook accounts. All you have to do is follow these simple steps.
If you're in the Teleduce dashboard already, click on the menu and you and see the integration section.
There, you can click on the Email menu, there you can see the Gmail and Outlook integration.
Here, for instance, if you select Gmail, click on send and receive email and connect with your account.
Allow access to the integration and then you can see on the dashboard that your Gmail has been integrated with Teleduce.
Now, you can send and receive emails directly from your Gmail account in Teleduce.
Also, in any case, you want to disconnect, click on configure, and then click on the disconnect button.
Add Value To Your Business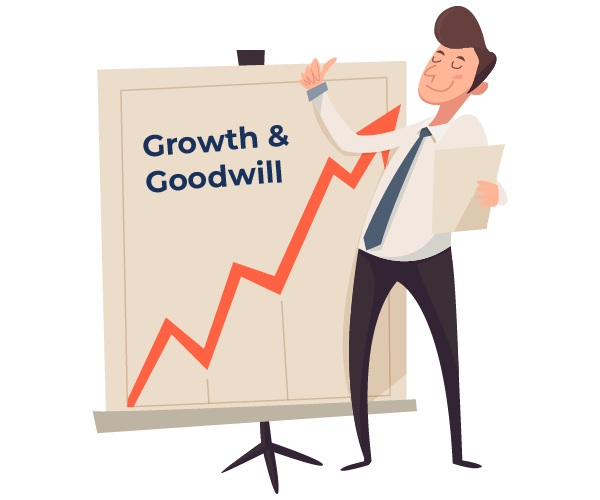 Email is a comparatively more preferred customer channel and is very effective in lead nurturing and other sales activities.
Emails can provide you with more qualified leads than any other channels as qualified leads up to a 50 percent higher rate and 20 percent of income can be directly achieved through email strategies.