The business owners and marketers know that the digital world reigns.
From something as little as posting on social media to something as big as handling business transactions online, anyone would be shocked to find someone who doesn't have a mobile device on them at all times.
So keeping this in mind, it is incredibly important for any business to have a good presence on social media to boost their visibility and be in touch with potential partners.
To have successful online marketing, there are some important things you have to keep in mind to facilitate communication.
Social media is a valuable tool for marketing and communicating with potential new customers and actual old customers. But as crucial as it is for B2C marketing, it is also very important for B2B marketing and serves as an effective platform.
When it comes to B2B marketing on social media, as with B2C marketing, the world is watching so it's important to get it right the first time because, with this kind of marketing, you don't get a second chance to make a good first impression.
Here are some of the dos and don'ts of B2B marketing strategies on social media to ensure you can grow the best business presence possible.
The Do's
Build Good Customer Relationships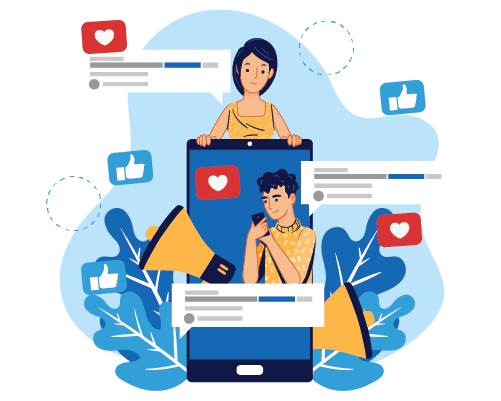 As with most marketing, when it comes to B2B marketing on social media, taking the time to build a relationship with the companies you're trying to target first before you make that initial sales pitch can make a difference.
With the sea of social media users out there, it is more important than ever to dedicate some time to make a relationship with your users. Effective customer interaction will go far in helping you establish a more personal relationship.
You can try giving them a couple of retweets, a few likes, or sharing one or two of their latest company news/status updates.
If you do this, you'll start to make yourselves known to the company you're trying to target. When they do get that sales message, it won't be coming completely out of the blue from a company they've never heard of before.
You never know, if you start to build a relationship, they could even be the ones approaching you to find out more about what your business has to offer.
Pay Close Attention to Details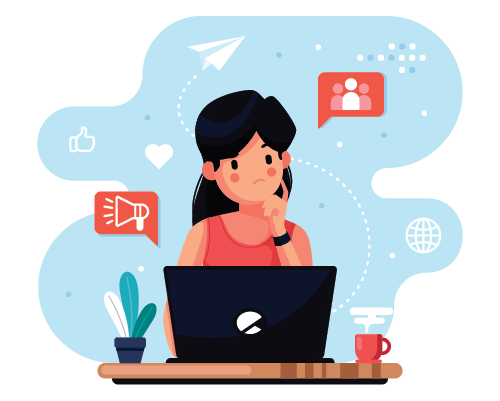 Whatever kind of publication or company you are approaching, you must get key details like the company name right in any tweets or messages you send out.
In addition to making a bad impression on the company you're approaching, if you make a major mistake like calling the company by the wrong name, your tweet is going to be visible to a lot of other people, some of which could also be potential partners or companies.
Remember, with social media, everything's extremely transparent and visible so be sure to check your message carefully.
It is crucial to keep your social media progress in check because it helps in measuring and identifying how it is contributing to the overall growth of a business.
Keeping track of the number of likes and shares, upvotes and downvotes help you know if your social media marketing strategy is going in the right direction.
Similarly, analyzing comments and interactions relating to your brand will help you identify and measure market sentiments. Paying close attention to things like this will surely help ur social media strategies to work properly.
Choose Your Platform Wisely And Carefully
Did you choose twitter as your main platform for B2B marketing? But there's a chance that Twitter's not the preferred social media channel for the companies you're trying to target.
Before you start firing messages off, check out the company's account on that channel and see when the last time they not only posted an update but also interacted with someone on it was.
Because some companies only use platforms like Twitter to broadcast messages, rather than interact.
If the company hasn't posted anything in months or hasn't replied to recent messages, it suggests they're not active on the platform so you could be wasting your time trying to contact them on this platform.
So, it's important to explore all types of social platforms before you try to reach out to a company. Some of the best platforms for marketing are LinkedIn, Facebook, and Twitter.
Also Read: LinkedIn Marketing and Sales Lead Generation
Make sure you explore these platforms carefully to increase your chances of a successful partnership. Make your presence felt at multiple forums too.
Your social media strategy could be incomplete and ineffective if you choose to be active in just one or two social media forums.
As a marketer, it is important to be active on multiple social media platforms and make your presence felt across a larger audience.
Customize Your Content For Each Social Media Platform
No matter how great your content is, when it's distributed on social media it's only meaningful within the context of where it appears. It's thereby important to customize your content for each platform individually.
As mentioned earlier the main platforms for B2B marketing in the social world are Facebook, LinkedIn, and Twitter, let's see how to customize your content according to the platform.
Facebook
This is where you can show more personality than just about any other social media network. From a frame of mind, visitors to Facebook generally want to have fun and be entertained.
This is not the place for serious content. And while there's no limit on the number of characters, try to keep your posts under 250 characters. Use as many visuals as possible, but ensure they are properly sized for Facebook.
LinkedIn
Looking to find and share serious content? Here's your network. If you think about the body language of someone on Facebook, envision someone leaning back in their chair. For LinkedIn, they are leaning forward, searching, and ready to learn.
It's alright to provide more in-depth content here. You can post content to your company page and relevant LinkedIn groups.
But when posting to groups, it's best to listen first to the questions and conversations before offering up your content. Again, keep the context in mind.
Twitter
Think of Twitter as a living, breathing conversation. Keep your tweets short, engaging, and easily shareable. While you get 240 characters, your posts should be crisp and engaging. Use hashtags to connect with an audience or tap into relevant trends.
Also, don't start a tweet with an @ symbol because it will only be seen by mutual followers of the sender and receiver, thus diminishing your reach. And as with so much of social media, make it visual. Tweets with pictures have a 50% higher click through rates.
Here's a pro-tip for social media marketing. Use an integrated sales and marketing platform to capture leads from various social media channels directly into your CRM.
The Don'ts
Don't Be Repetitive on Something and Try Experimenting
You might be targeting the same kind of companies and the message might essentially be the same (eg. introducing your new product feature) but you need to be careful not to just relentlessly churn out the same message
Because if you're using a platform like Twitter, the company you've contacted can click on your profile and view all your most recent tweets.
And if they see that you've been sending the same message to all of their competitors it isn't going to give them the impression that you care about their business. In this scenario, taking a bit of time to write a bespoke message really can make all the difference.
As a rule of thumb, you will want fresh and new content to share with your followers. It's because users on your site and your social media will see that you spend time focusing on what you'd like to say and care about their business.
A B2B marketing agency will be able to help you come up with multiple different approaches you can use.
Don't Miss The Mark And Follow The Wrong Path
All companies have their brand, tone, and personality so it's always worth bearing this in mind before you approach them.
If you approach them in completely the wrong way and your messaging is way off, there's no way you're going to strike a chord with that company.
And they're just going to think you're another company that doesn't really 'get' their brand.
Instead, look at the kind of message they're putting out across their social channels and try and create a message which is just up their street.
For instance, if the company you're approaching is relaxed and their messaging is fun, going in with a corporate, formal message isn't going to hit the mark.
By taking the time to create a custom, on-brand message, you'll increase your chances of standing out for all the right reasons.
Most people run to social media sites to relieve, refresh, and get entertained.
Being too serious, dull, and monotonous will create a similar perception for your brand. Therefore, it is important to be enthusiastic and lively in your social media engagements and connect with people.
Don't Ignore Unfavourable Responses
A lot of brands delete unfavorable responses to maintain a positive brand image.
You may not go very far with this approach. As a marketer, you need to be open to rejections and face every criticism with perseverance.
You need to accept the fact that no matter how good your work is, for some people it won't.
So, you should learn to accept criticism and try to learn from it and do better next time.
Criticism is like a fuel that keeps you going and always forces you to do your best every time.
The point is taking criticism positively because everyone has their different opinion, so not everyone will like your product.
Give your B2B social media marketing a kick-start with an integrated marketing CRM tool like Teleduce.
Receive all your leads and communicate with them seamlessly using the same tool.