LinkedIn is all about building networks and connections with over 660 million users.
It is not just about who you know, but also about who your connections know.
To tap into this social network and grow your brand through this network, keep reading this LinkedIn lead generation guide.
Lot of people focus their social media marketing efforts on Facebook and Twitter, which are definitely great tools to use.
However, no other social media platform allows you to target the exact professionals, partners, referral sources and prospects that you should connect with like LinkedIn does.
When you engage in marketing on Facebook and Twitter, you are taking a scattershot approach.
However, with LinkedIn marketing system you can exactly pinpoint the people you want to be connected to and do business with.
Bonus: Get access to this exclusive Facebook Marketing Strategy to attract new customers, build loyalty, increase referrals and make Facebook an invaluable part of your marketing mix.
How to Market Your Business on LinkedIn?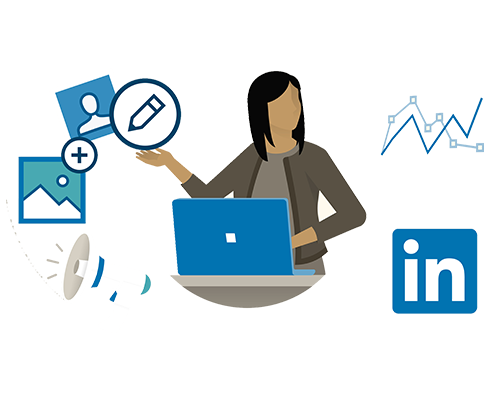 You probably have a LinkedIn company page but that doesn't mean followers will come to you.
The following tips and strategies will boost your chances of success on LinkedIn and will guide you on how to increase followers on LinkedIn:
Let Employees Connect With Your Business on LinkedIn Page
According to LinkedIn, on average, employees have 10 times more first-degree connections than a company.
Companies with strong employee advocacy program attract top talent 58% more than others.
This means that your employees are the best resources you can have when it comes to start growing an audience.
By adding them as followers, you tap into each of their networks, thereby expanding your reach tremendously.
Publish Valuable Content
One of the best ways to increase your audience and keep your current followers is to provide them with value.
Start doing so by posting informative articles or company news or updates regularly.
You can also share a blog post or a news article from an external source. This will show that you have your ear to the ground in your industry.
You can also publish your articles with in-depth knowledge on the LinkedIn publishing platform.
These articles cannot be published from your company page.
However, key persons from your company can publish these articles and boost your company's presence on the network.
Include Rich Media
A LinkedIn Post with an image gets 98% more comments whereas YouTube videos play automatically in the news feed and can generate a 75% higher share rate.
In order to make your content stand out from the crowd, make sure to use rich media in your post and not just stick to text-only posts.
Network Across Linkedin Groups
To grow your business network with other professionals and businesses in your field, you must join LinkedIn groups.
To find a group that aligns with your business interests and goals, use the search feature at the top of your LinkedIn homepage.
You can also check out LinkedIn's suggestions with Groups discover. To get more views to your company page, make sure to actively participate in group discussions.
You can also easily create a new Group based on whatever topic or industry you'd like.
To showcase your group or the group you have joined, add it as a featured group on your company page.
To add, select the 'Overview' tab from the top menu, then scroll down to 'Featured groups', here you can add up to three groups.
Try Showcase Pages
Showcase Pages are like subdomains of your Company Page.
They allow you to spotlight specific areas like a particular brand or ongoing campaign like missed call marketing campaign of your business.
You can create up to 10 Showcase Pages by default. To create showcase pages, go to Manage a section of your company page, then click Admin tools at the top right and select Create a Showcase Page.
One unique benefit of the showcase page is that its followers are getting updates or information about the specific elements of your portfolio. This means these are valuable connections to foster.
Go Global With Multi-language Tools
With LinkedIn, you can create custom descriptions of your company in 20 different languages.
While publishing content, configure the settings so that your global followers can see your post in their chosen language.
This is a great way to build credibility among your international followers as it indicates that you care about working with them in a way that puts their needs first.
Understanding LinkedIn Algorithm
Linkedin algorithm rates and ranks your content. Quality of the content is the key but so is relevance.
The content should provide value to the customer so that they engage with your post rather than hide from it.
To make the most out of the Linkedin algorithm, make sure you keep your profile updated, by providing quality content and engaging regularly with your followers.
Encompass LinkedIn Ads
LinkedIn provides unparalleled targeting capabilities.
This means you can make laser-focused strategic decisions about incorporating LinkedIn ads into your social media marketing strategy.
The several different self-service advertising solutions offered by Linkedin includes
Sponsored Content
Boost your content to reach a wider audience than you could organically reach.
Text Ads
Similar to pay-per-click or CPM ads, text ads appear on the LinkedIn homepage, profile pages, Groups pages, and more.
Sponsored InMail
This is quite similar to how you run email marketing campaign but it is within the LinkedIn ecosystem.
With sponsored InMail, you can send personalized ads to LinkedIn members' inboxes.
Members receive the messages only when that are active on LinkedIn, making them more likely to be noticed.
How To Generate Leads On Linkedin?
According to a survey conducted by Hubspot, Linkedin drives 277% more leads instead of Facebook, Twitter and other platforms when efforts and resources were focused on it.
Let's have a detailed look at how LinkedIn can help you in generating leads in various sectors.
How To Generate B2B Leads On Linkedin?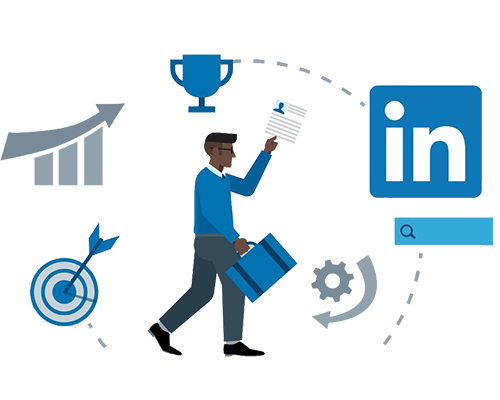 Map Out Contacts: First and foremost, map out all of the key contacts and clients that operate in your industry. For this task, LinkedIn is effective since you can easily find out who is the Director of a company is, how large its various departments are and whether or not they have to payroll over 500 employees.
Know The Target Audience: Once you know who your target audience is you need to join or create groups of these professionals where you can communicate with them. At this stage, it is important to provide value add information to them to improve engagement
Position Yourself as the Leader: Your next step is to establish yourself as the leader of your industry. To do this, ask your sales team to answer questions that appear on forums and groups.
Generate Target Clients List: Linkedin allows you to mine relevant professionals and generate lists of your target clients. Once you have these, you can commence any advertising campaign that communicates clear sales messages just like you would do with any email marketing software.
Direct the Attention: Direct the attention of your target to your company's LinkedIn page with email or SMS marketing. This will have more impact since it will showcase all your details, accomplishments, products and services.
How To Generate Real Estate Leads On LinkedIn?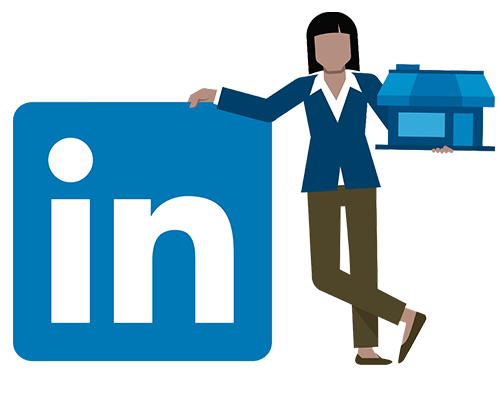 For real estate businesses, your LinkedIn profile should be compelling and clear.
Remember, LinkedIn members do more than 5 billion professionally-oriented searches on this platform.
With this overwhelming number of searches, don't get overlooked because your profile wasn't complete. To improve your profile,
Prepare your content in a way to reflect your professional nature.
Add all relevant skills and training you've achieved throughout your career.
Use a professional headline that grabs attention and include words that spark excitement and position you as a leader within the real estate industry.
Optimize your profile with keywords specific to your location and expertise.
Your next step is to make connections. Reach out to your friends, existing clients and professional relationships that you have already established.
Use LinkedIn's internal search to find them by name, company or keyword. For a deeper dive into keywords, location or industry, use the advanced search option.
Use showcase pages to highlight your individual brand or project. Promote these showcase pages in your email marketing to generate followers.
After finishing research and locate, now is time to stop lurking and get involved to actually connect and engage.
A good strategy is to find and connect with people at large companies that might be opening offices near your area in the future.
To start a conversation, Join group in your niche. Start a topic and get a conversation started and provide helpful answers to questions.
Like or comment on the status of your connections and provide them with genuine reviews.
Lastly, just share. From news, project updates to useful industry information, just start posting and you will see real estate leads coming from LinkedIn.
Furthermore, you can consider using a LinkedIn Email finder chrome extension to generate potential leads more effectively.">
How To Generate Leads Through Linkedin Sales Navigator?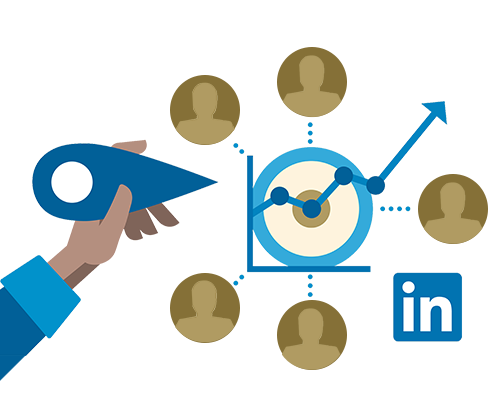 Linkedin offers free Sales Navigator trials to both new and previous customers.
These amazingly useful LinkedIn prospecting tool can be integrated with your strategies to improve sales performance and close more deals.
To get started, sign up for Sales Navigator, go to Sales Solutions. Linkedin will then walk you through the setup process.
Import your leads and then sync with your lead management system CRM. Next, select your territories and job functions.
Next import your connections, to do that click on Settings, then scroll to the bottom of the page and click the Import to Sales Navigator link. Now that you are set up, get started to generate leads.
Sales Navigator offers 22 filters, that has probably everything you need to tailor your searches to your exact personas. Make use of it.
You can also save your search criteria, rather starting from scratch every time. This works more like email list segmentation and comes in really handy.
You can only send messages to your connections with the LinkedIn standard. But with Sales Navigator, you can reach beyond your network using InMails. It gives you between 20 and 50 InMails per month.
These inmails have three times higher response rate than normal emails, so make sure to target at leads who aren't engaging with your email marketing efforts.
You can even measure how effectively you're using Sales Navigator with Social Selling Index, or SSI. It is composed of 4 elements. "Establish your professional brand" is based on how complete your profile is.
"Find the right people" rates your search activity, "Build relationships" shows what percent of your connection requests get accepted. "Engage with insights" shows how people are interacting with your content.
Using these features, if certain activities aren't working to generate leads, you can definitely find out why and take necessary actions.
Conclusion
Generating leads from Linkedin might take some time and effort, but it's totally worth it. This professional platform has become a force to be reckoned with in the social media circle.
So, if you are not using Linkedin to its full potential, it's time you start using it now. Start building connections, you never know how many potential leads are waiting for your services.
As for managing your leads, choose an integrated sales and marketing CRM like Teleduce. From email, SMS, calls and even IVR services, you can track all business communication of your organization at one place with Teleduce.
This platform helps bring your sales and marketing teams to work together which is very important for the growth of your business.
In short, improve your business and create a better working environment with Teleduce.
Try Teleduce today to generate and manage quality leads.