CRM is a tool that lets you monitor how customers interact with your business.
You can see how they go about buying services from your business. It helps you understand how customers go through the process of converting.
This is an important feature as not every customer goes through the same buying process.
When your customers have different experiences interacting with your website, it becomes difficult to process all the information and create a better campaign.
CRM eases the process and helps you to create a customized campaign for your audience.
This feature also allows you to see where's improvement is needed with your customer relationships.
You can see where you fall flat or where there are gaps that you can take advantage of to earn more conversions.
CRM tool takes a large number of facts and stats into consideration. It interprets databases like purchase history, demographics, and keyword patterns which helps to understand your audience a bit better.
Using CRM makes it easier for you to manage your audience and improve their experience with your business or service.
What Is Digital Marketing?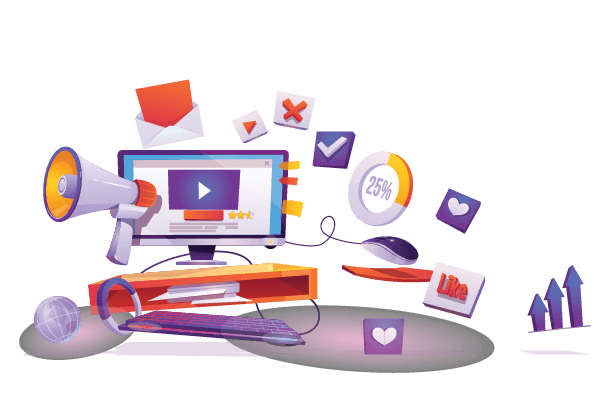 Digital marketing is a substitute for marketing that makes use of the internet and online-based digital platforms such as social media, blogs, and other digital media and many other platforms to promote products and services.
Its development during the late 1990s and early 2000s changed the way brands and businesses use technology for marketing.
At the B2B level, digital marketing refers to advertising delivered through making use of digital channels such as search engines, websites, social media, email, and mobile apps.
Using these online media channels, digital marketing is the method by which companies endorse goods, services, and brands.
Consumers heavily rely on digital means to research products. Marketing insights from Google found that 48% of customers start their inquiries on search engines, and 33% look to brand websites. While 26% search within mobile applications.
While modern-day digital marketing is an enormous system of channels to which marketers simply must onboard their brands, advertising online is much more complex than the channels alone.
To achieve the true potential of digital marketing, marketers have to dig deep into today's vast and intricate cross-channel world to discover strategies that make an impact through engagement marketing.
Engagement marketing is the method of forming meaningful interactions with potential and returning customers based on the data you collect over time.
By engaging customers in a digital landscape, you build brand awareness, set yourself as an industry thought leader, and place your business at the forefront when the customer is ready to buy.
Best CRM for Digital Marketing Agency: Start With 7 Days Free Trial
Why CRM Is Needed For Digital Marketing?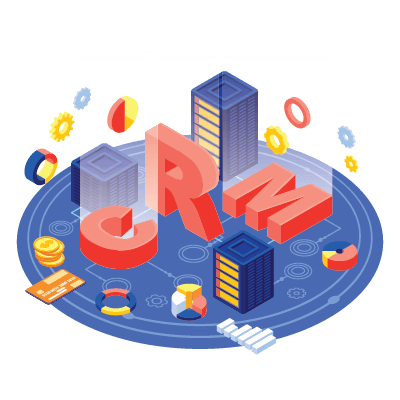 Digital marketing services are designed to boost eCommerce sales. Statistics indicate that most people routinely purchase items online these days.
But it appears that their buying habits involve researching products, comparing their prices, and taking similar steps before deciding to make a purchase.
In other words, just because a customer expresses interest in one of your products, odds are good they won't order it immediately.
Statistics indicate that most eCommerce customers rarely make it past the first step of the check-out process.
Using an integrated CRM, you can identify when customers are researching about one of your products, allowing you to place targeted ads on social media and other platforms to maintain their interest.
The internet is full of distracting content, and you want to take steps to remind a customer they were looking into one of your products or services.
A CRM tool allows you to implement marketing strategies that make achieving the targeted goals significantly easier. An effective marketing campaign delivers a strong return on investment.
You may want to achieve certain goals, like boosting sales or increasing brand awareness, but you also want to be sure the revenue a campaign yield exceeds its cost.
CRM applications reduce marketing expenses by offloading much of the work other employees would have to perform.
With tools designed specifically for managing and analyzing customer data, your team can focus on other tasks. This results in more efficient use of time, and may even reduce the need to hire additional staff.
Most importantly, CRM tools provide marketers with a deeper understanding of their customers. It's impossible to determine the full value of something that is useful.
Also Read: 15 Benefits with IVR Solutions for Small Business
Benefits Of An Integrated CRM for Digital Marketing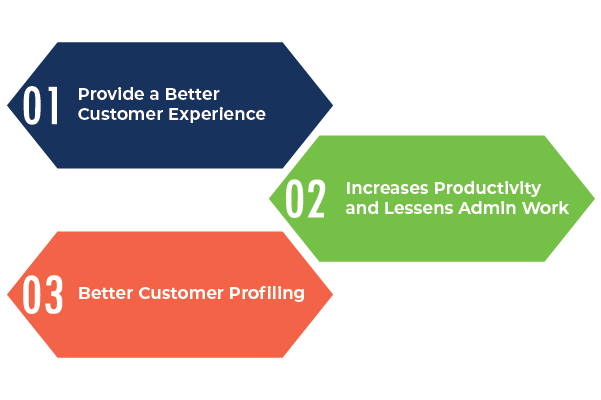 A CRM (customer relationship management) system is only as good as the data it receives. Many organizations never even think to integrate their website with a CRM, Not realizing the benefits they could receive by doing so.
Integrating two or more systems can bring a lot of added value to your organization's marketing outreach, time management, and bottom line.
Provide A Better Customer Experience
If you are not fully supporting your customers at every stage as they research your products, compare prices, converse with customer service and work with your business then you run into the risk of providing poor experiences and losing a significant percentage of customers.
Investing in technology to help you is perhaps the best business decision that you can ever make.
Providing decent customer experience is fairly easy for a business that is just starting, but as consumer interest grows and you find that you are dealing with more and more inquiries it can become difficult to keep up with the demand.
Missing orders, forgotten phone calls, and billing confusion can become common as well. As your team grows you could end up in a position where it becomes difficult for your team to coordinate with each other, compromising the quality of service for all concerned.
For the vast majority of businesses, integrated websites are essential to delivering the requisite experience levels.
Increases Productivity And Lessens Admin Work
If your website and CRM are not integrated, then maybe you're wasting time on data entry. Either exporting it from the website and then importing into the CRM or worse yet, manually copying and pasting or worst of all, not capturing that data in your CRM at all.
By opting for automated integration between the two systems, you're reducing your administration overhead as all that manual copy and paste, or export and import is removed.
This leads to increased productivity as it frees up your marketing and sales staff to focus on other things.
Better Customer Profiling
The biggest hurdle to better customer experience marketing is not knowing customers well enough to deliver targeted offers and personalized experiences. Having a complete and individual view of the customers is key.
To put it more clearly, your customer data cannot be leaked data from social media or other channels.
An amazing benefit of any CRM is the ability to profile customers or leads to determine what they might purchase for their lifetime value, and much more.
The more data you have on your customers, the easier it is to create a more complete profile. A lead management system that's integrated with CRM can help in a situation like this.
By integrating your website with your CRM, you will get a fuller, more complete picture of your customers' interactions with your organization, from initial inquiry to sales, communications, and eventual feedback.
It gives you access to more reliable and consistent information. You are better informed about your customers and you've better visibility of your customer's behavior and buying habits.
Features To Consider Before Going For A CRM Software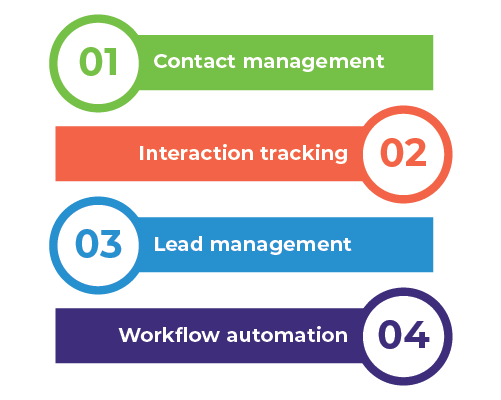 Contact Management
Stores contact information such as names, addresses, and social media accounts in a searchable database.
While all CRM tools offer contact management functionality, your key consideration should be to look for a layout and usability that make sense to you.
How are the fields laid out? Does it feel easy to use and logically organized?
Interaction Tracking
The CRM provides interaction tracking where you can add notes and track interaction history. You can also document conversations with specific contacts.
While shortlisting specific solutions, you must think about how many times a prospect will change hands as they move through your sales funnel.
Lead Management
Take control of converting prospects into customers by identifying, scoring, and moving leads through the sales pipeline.
As the contact management feature, it's important to ensure that the lead management process in your CRM software of choice flows and transitions in a way that makes sense for your business, and your team. It's good to ask the sales department to look ook at this feature with you.
Workflow Automation
Automate repetitive tasks by creating workflows that trigger actions or send follow-up reminders for the next actions. Workflow automation is an upgraded feature that comes in the CRM tool.
While you're purchasing the software, consider how many repetitive tasks can be automated within the sales funnel that would free up team members to complete more nuanced tasks. Is that benefit worth the extra cost?
Conclusion
The digital marketing industry is ever-changing. It's important to follow the trends and provide your customers with a great experience.
To choose the best CRM for your business, you need to understand what's crucial for you and what functionality you can utilize to scale your business.
Give your digital marketing strategy a fresh start with implementing the best CRM tool.