The expectation of customer support has reached heights. It wasn't too long ago when every business claimed that the key to winning customers is in the quality of the product or service.
New trends have emerged in the field of customer support and you're a part of that trend. You seek help in setting up an account or confused about that new product or service. How do you get your issues resolved?
The customer support team is always there to help you resolve your issues. Customer support in 2020 has become a major consideration when it comes to brands. Companies have been doing their best to improve customer support.
What Is Customer Support?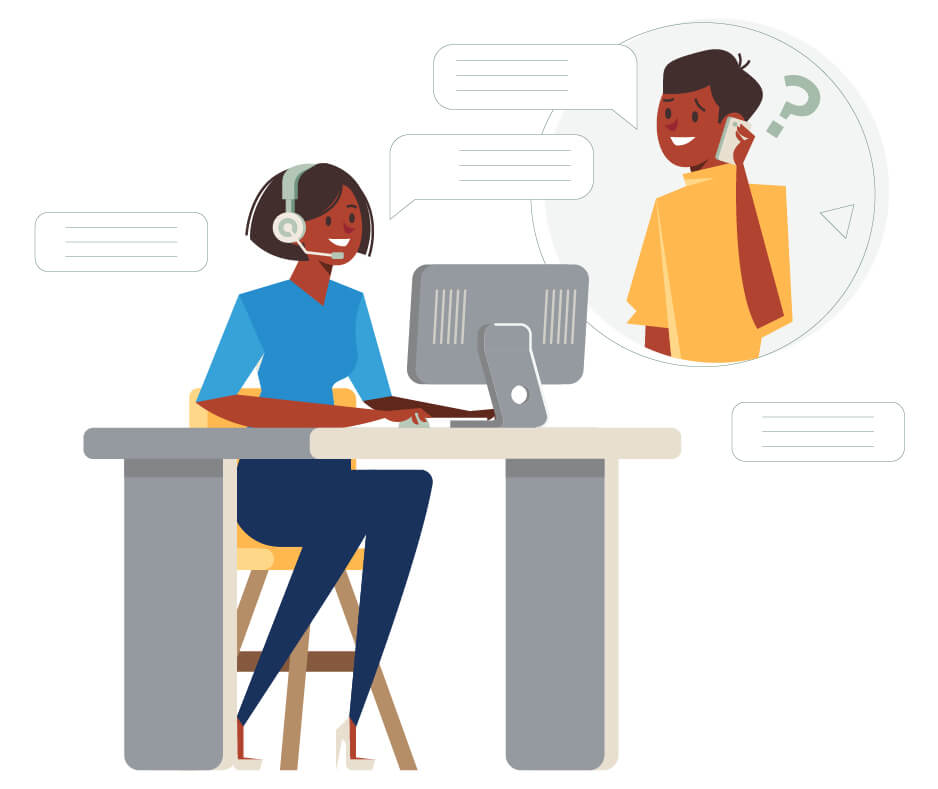 Customer support focuses on helping customers to use products and services correctly.
While customer support is often provided in response to customer demand, it is also a part of intelligent planning for a wide variety of businesses.
Products and services are often significantly more valuable when delivered with customer support.
They help in solving any challenges and pain points immediately and effectively.
Your business's long term success depends on customer satisfaction. Delighting your customers can make them loyal to your brand and spread the word about your products or services.
Companies have implemented IVR service for their customer support team. It can help your team in handling high volumes of calls and track each one of them.
It greets your customer with an autogenerated message and provides them with an opportunity to self-serve.
Customer Support Vs Customer Success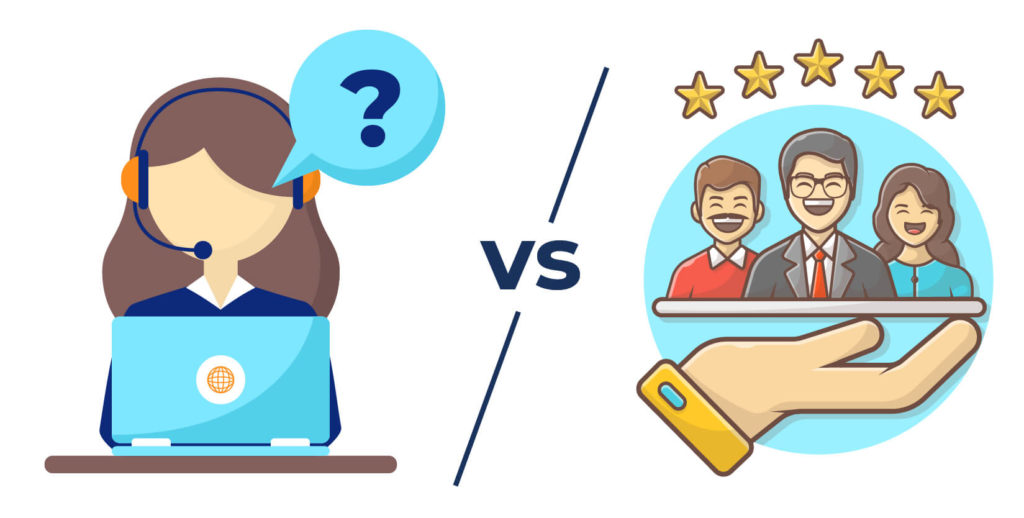 Customer success is a fairly new term and it is the process of doing something for the customer that they might not have known they wanted. It is a proactive approach to solving customer issues and providing them value.
Customer support is more of reactive support provided by businesses to their customers. It means that your team is reacting to a customer's issue.
A business can flourish when they reactively support and proactively guide their customers.
| | |
| --- | --- |
| Customer Support | Customer Success |
| Works on customer satisfaction. | Works on providing value to the customer. |
| Resolves conflicts via SMS, email, or call. | Helps customers to achieve their desired goals. |
| Reactive response. | Proactive response. |
| Short term value. | Longtime value. |
| Resolves a particular issue. | Helps customers in all aspects. |
Given that the success of your business comes down to the relationship between you and your customer, the way your prospects view your business is really important.
Know more about customer support vs customer success.
Customer Support Business Workflow
Customer support helps in increasing a customer's overall satisfaction. It's crucial to recognize your team's structure in order to improve your customer support.
Identify the roles, teams, and their contributions. A good team starts with establishing a good foundation. You need to identify your company's needs and circumstances.
Here's what you can do to effectively implement customer support in your organization.
Support Team Roles
Define clear goals for different teams. A support agent/advisor should be available to resolve customer issues via call and email.
They should answer calls, diagnose issues, find a solution, and leave customers satisfied.
The team leader should oversee a specific group of agents to ensure that they are achieving their target. They may also need to speak to customers from time to time.
Create Sub-teams
Creating sub-teams with different expertise is a vital aspect of building a customer support team. There should be agents available to accommodate the volume of incoming queries.
They should be able to answer calls and start live chats taking important information from the customers and resolving their queries.
QA Analysts for Growth
Repeating errors can lead to dissatisfied customers and churn. Quality assurance is really important while implementing a customer support strategy.
QA analyst should work with your customer support team to drive growth for your business. They identify flaws and come up with effective strategies to fix the issue.
Multi-channel Interaction
Your customers should be able to contact you via multiple channels. The majority of customers expect real-time customer support on the available channels.
Ensure that your team is available for multiple interactions via different channels. Assign more agents to the most active channels.
Role of Social Media in Customer Support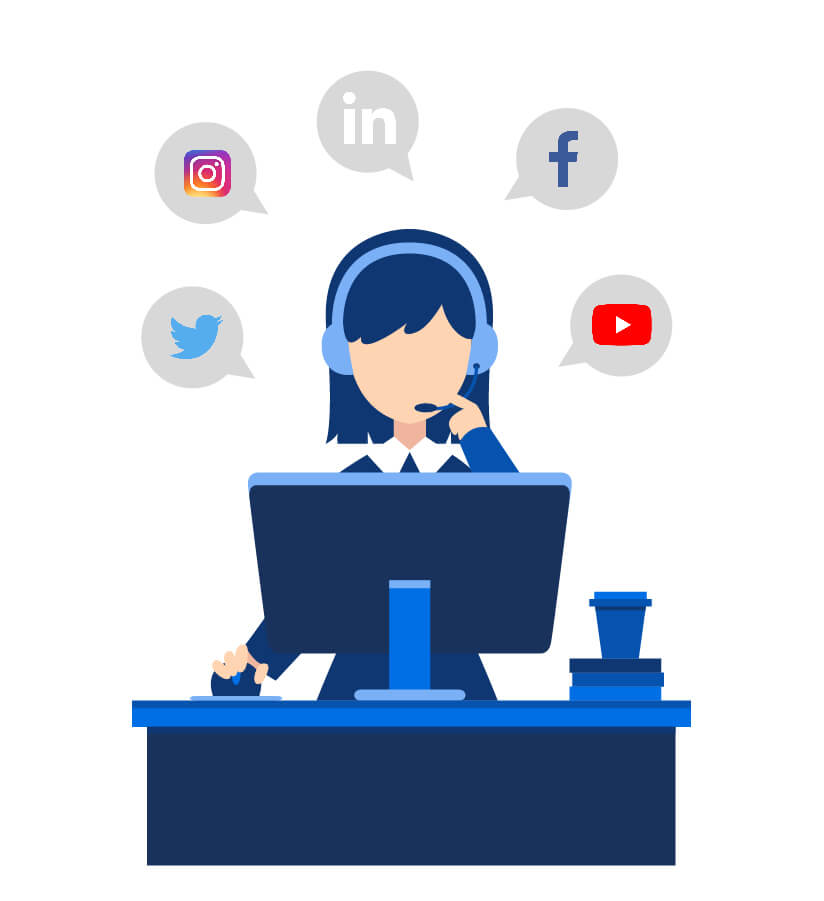 Customers have a wide variety of channels available to them. Social media might just be one of them but it is powerful compared to other channels.
It's immediate and accessible. Customers will be reaching out to you even if you don't have a strategy at hand.
Social media channels have helped businesses in:
Boosting brand awareness.
Marketing products and services.
Interacting with customers.
Almost half of social media users have sought customer support with companies through social channels such as LinkedIn, Facebook, and Twitter.
And the vast majority of those on social media expect a response from the company within 24 hours of posting a complaint or question.
Clearly, social media customer support is here to stay. And here's how you can use it for improving your customer support strategy:
Prioritize Social Platforms
Understand your target audience and the social media platforms they use frequently. Prioritize each social channel with the volume of customer inquiries.
Use it to build real customer relationships by engaging in conversations. Keep your response time minimal. 42% of customers expect a response to a query within 60 minutes.
Create a Customer Advocate Base
The majority of customers are more likely to write a negative review if they had a bad customer experience online.
Your strategy should involve providing excellent customer support that creates a strong and loyal customer base that advocates for your brand.
Integrate Social Media with CRM
Integrating your business's social media with CRM can be really helpful. Record all the queries in your CRM and track customer activities effortlessly.
Understand customer data in-depth and provide them with the best customer support vis any social media platform you have integrated with your CRM.
Having an integrated CRM alternative is a bonus as you can customize which channels to integrate and focus on.
Necessary Private Communication
When customers reach out to you publicly it's only fair that you resolve their issues publicly.
But it's necessary to know when to go for private communication.
Ideally, after two rounds of question and answer sessions, your customer support team should offer to reach out directly.
Another reason could be securing your customer's details such as account details and product ID to resolve the issue quicker.
Leveraging Automated Platforms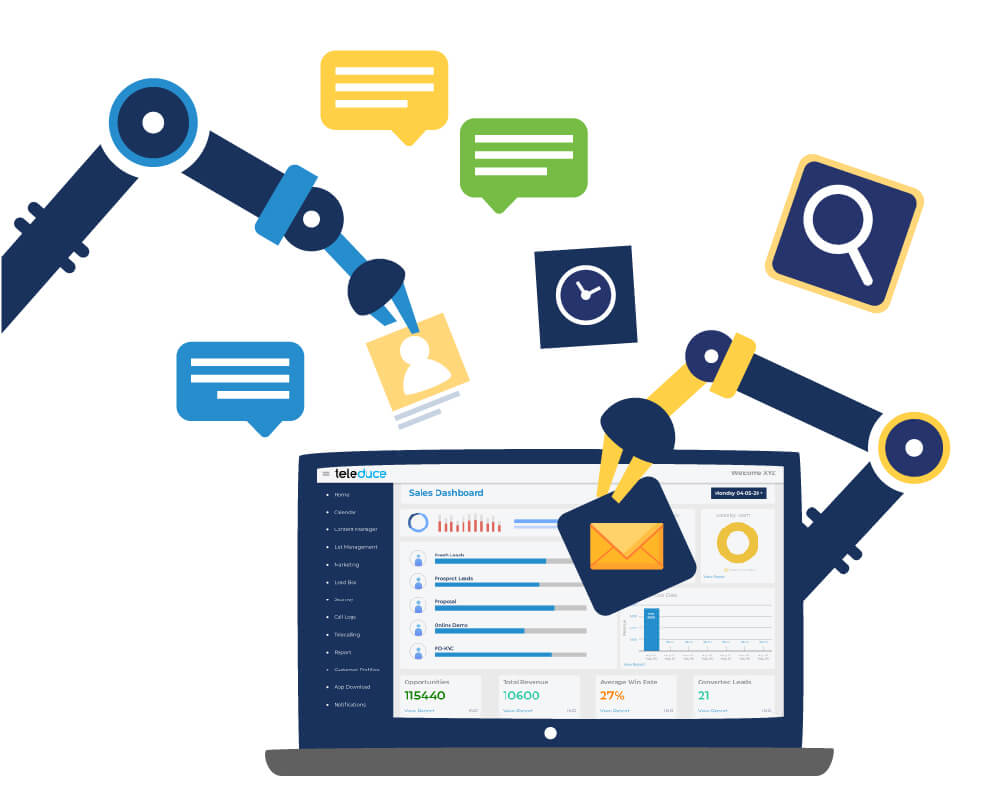 The time it takes for your customer support team to respond to a particular query another one of your potential customers goes to your competitor.
Imagine the consequences after long exhausting customer support your team provides but keep losing customers anyway.
Therefore, it's crucial to implement an automated platform for your customer support.
Automating your customer support will help to save your agent's time and improve the customer experience with your brand.
As it is a purpose-built process it aims to reduce the need for human involvement.
Therefore, it helps to increase the productivity of your support team. An automated system can run 24X7 without any additional costs.
A ticketing system and IVR service can significantly boost cost-effectiveness, customer retention, and team productivity.
With this, customer problems can be tackled with an automated response. You can even conduct customer surveys that bring valuable insights.
How To Improve Customer Support in 2020
77% of customers are likely to recommend a company to a friend if they have a positive interaction with your customer support team. That's one good reason to keep your customers happy.
Here's how you can improve your customer support in 2020:
Take Customers' Feedback into Account
When a customer reaches out to your customer support team, he's in need to address his issue.
Your customers want you to acknowledge them. Therefore, you need to understand their requirements, experiences, and pain points.
Provide your customers with multiple ways to share their feedback. It makes them feel that you value them and are willing to resolve their issues.
Offer Valuable Solutions
It's easy to sway away from what your customer's requirement is. Your reaction is important but they want solutions, not reactions.
Don't avoid confrontation, give them the solution that can be useful for them.
Rather than just saying you understand their issue and trying to solve them give them a proper response and work on providing that solution.
Strengthen Your Customer Support Team
Building a strong customer support team goes a long way. Automation won't work if your team is not efficient enough.
Organize training sessions to improve their skills and show them how good communication can save your brand's image.
Use an Integrated CRM
Establish effective coordination among different teams. Streamline your business workflow with an integrated CRM that also provides you with a lead management system.
It ensures that everyone is on the same page and helps your business to provide exceptional customer support.
Final Words
Customer support can be a real struggle for many companies, but with the right techniques and tools, you can delight your customers and increase your revenue simultaneously.
The quality of customer support can effectively enhance a brand's image. Therefore, you should consistently focus on improving customer support standards.