Recent research from Salesforce reports that "CRM applications can help increase sales by up to 29%, sales productivity up to 34%, and sales forecast accuracy by 42%."
What is CRM?
Customer Relationship Management is a technology for managing all your company's relations, interactions with customers.
Why Does a Small Business Need CRM?
It's pretty exhausting to run a business without management, tracking, and performance reports.
Also, you can't use Excel sheets to track leads or 4 other applications to manage everything.
Hence, we have CRM.
A perfect CRM for small businesses helps in the following functions:-
Generate Reports
Automation
Lead Management system
Customer Support
Track team performance
Let's explore and understand the 11 best CRM software for small businesses.
Teleduce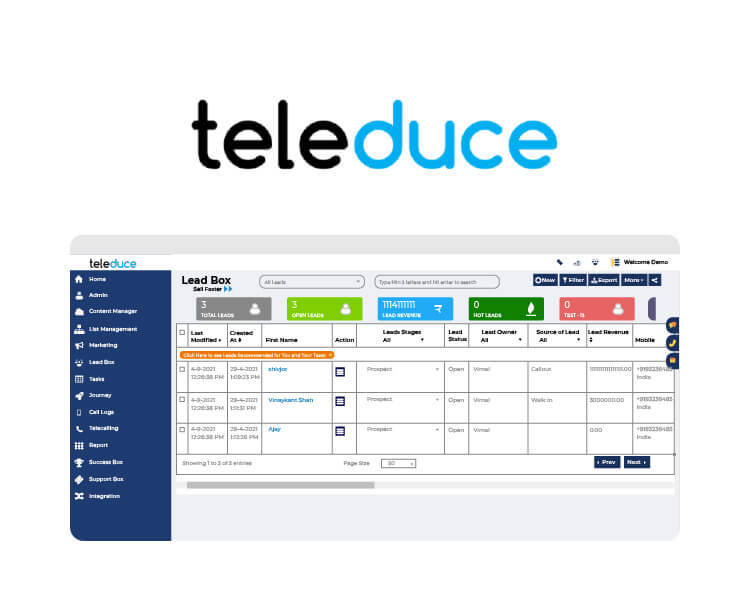 Corefactors product Teleduce is an Integrated CRM empowering Marketing, Sales, Support teams with Inbuilt cloud Communication.
It is a cost-friendly CRM software for small businesses and trusted by over 8000+ users across PAN INDIA.
Teleduce's Best Features:
Create customized and beautiful content for your Emails.
You can make use of already available content templates that can be reused and can be sent in minutes.
Store your customer data with our huge database under List Management.
Marketing Automation through Email Marketing, Landing Pages, SMS Marketing.
Capture and distribute leads: Collects leads from campaigns and third-party websites.
Engage with leads: Follow-up with leads through Email, SMS, Call, Whatsapp.
Sales Automation to convert more leads into customers.
Integration: Integrate with any Mailbox of your choice, social media channels and various third-party platforms Facebook, Shopify and market places like 99acres, Housing.com and so on. Thus you don't need Zapier and Automate.
Learn to grow your business through Customer Success Management.
Resolve customer issues/complaints faster through Teleduce Support Box.
Reports: Generate marketing reports, comparison reports, productivity reports.
Pricing
Teleduce is an integrated CRM software helping businesses to automate marketing, sales, support with inbuilt communications.
So, there isn't separate pricing for Teleduce customer service.
However, you can avail the entire CRM software at just Rs. 699/month/user.
Here are the other plans:-
Seed: Rs.699/- per month. Most affordable pack for starters.
Sapling: Rs.1199/- per month. 62% of customers choose the Sapling plan along with cloud telephony.
Tree: Rs.2499/- per month. It provides Multiple channel communication and advanced reporting.
There isn't one help desk software providing all these features at a compelling price like Teleduce.
You will find extensive features within the seed plan itself at no extra cost for any added feature.
However, we don't offer a separate plan for customer support alone. As we encourage you to go with integrated CRM Teleduce which drives you better results.
But, you can contact our sales team if you wish to choose the Customer Support feature.
Learn more about Teleduce and pricing plans.
HubSpot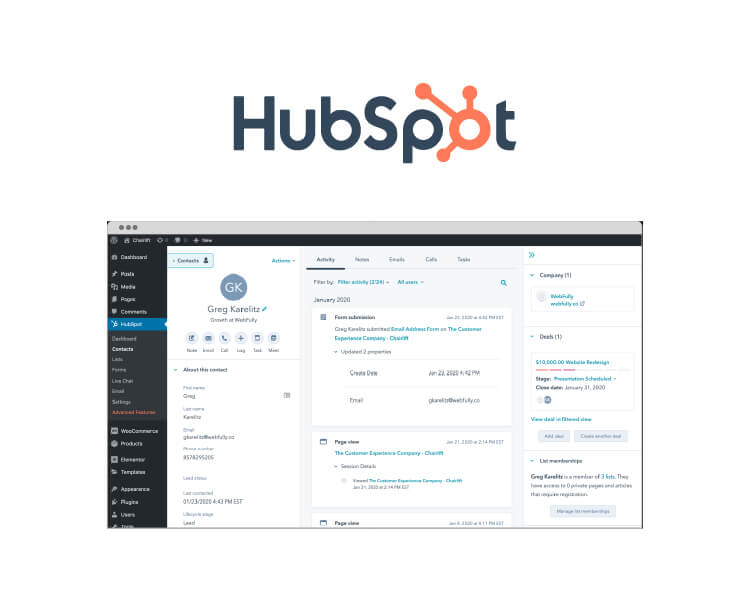 Hubspot offers FREE plans with limited features in Marketing, Sales and Support.
Hubspot Features

:
Track your contacts, leads.
Manage all the data in a dashboard.
Integrate with third-party websites like WordPress, Optinmonster. It integrates around 300 applications.
Mobile app for tracking Emails, Calls, Real-time Notifications and Scheduling.
Offers various tools to manage the customer journey.
Inbuilt calling from CRM tool.
Pricing:
HubSpot has 3 different packages: Starter, Professional, Enterprise.
Charges $540 per year with the Starter Pack.
Zoho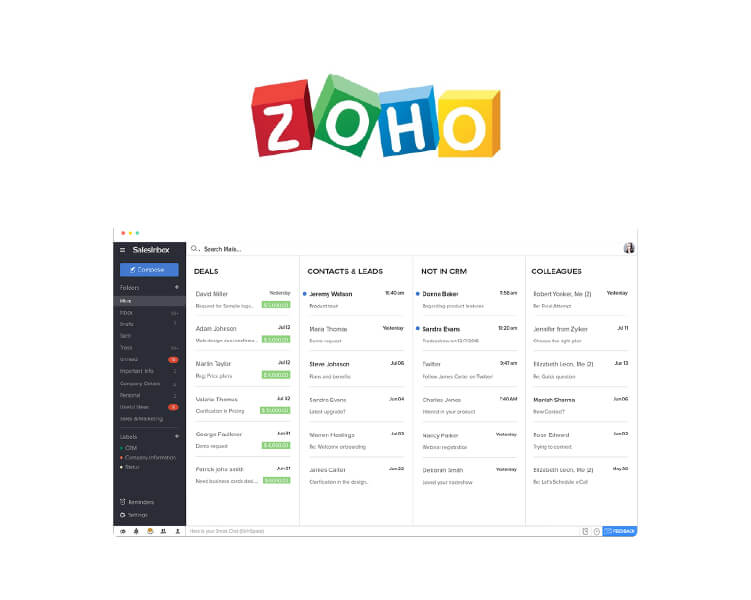 With its cutting-edge features, Zoho is suitable for large businesses yet can be helpful for small businesses.
Zoho Features
Offers lead Management from capturing leads, engaging, follow up.
Track the lead stages timely and close the deals.
Manage your customers and resolve their issues across all the channels.
Workflow Automation- avoiding manual efforts.
Integrate with social media and third-party websites to capture leads.
Make use of Inbuilt communication like Email, Telephony.
Pricing
Offers flexible free trial and switch, cancel plans anytime.
Zoho has 3 packages namely Standard, Professional, Enterprise and Ultimate.
Where Standard Package stands at Rs.800/- per month and goes up to Rs. 2600/- per month in Ultimate Package.
SalesForce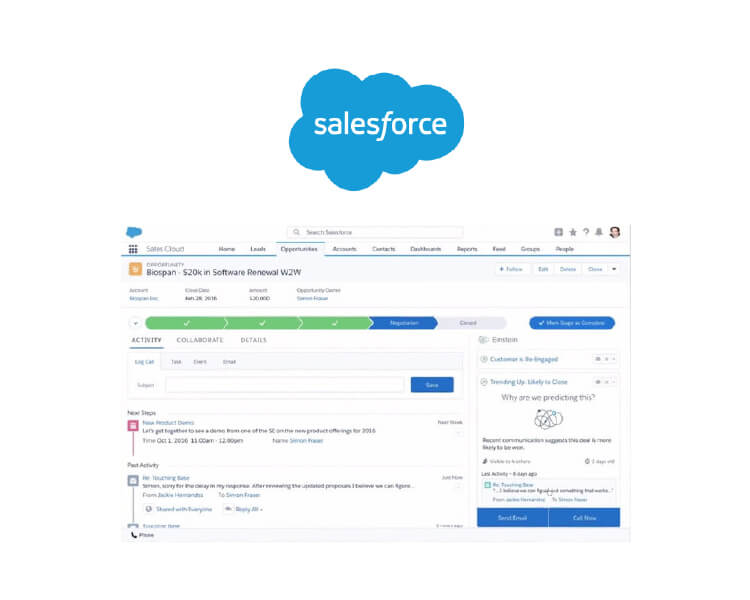 Salesforce emerged with the motto of #CRM can unite all your teams and drive growth.
SalesForce Features
Einstein analytics- Connects the users to sales, service, and community clouds with embedded dashboards.
It consistently demonstrates data as well as insights to the employees and partners.
Salesforce CRM analytics automatically runs multiple marketing campaigns from a single platform.
Pricing
Essentials at $25/month.
Professional at $75/month.
Enterprise at $150/month
Unlimited at $300/month.
Vtiger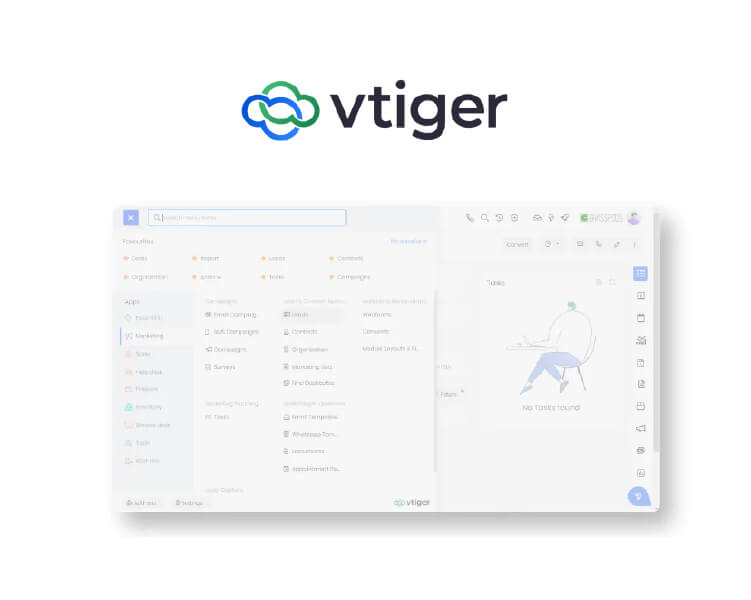 Vtiger helps businesses to grow sales, improve marketing, revenue and deliver great customer service.
Vtiger Features
Smart alerts and Notifications; to keep track of emails, meetings.
Customized sales dashboard to display critical sales metrics.
Generate Sales Analytics and Insights to manage team's performance.
Automate sales processes and repetitive tasks to save time.
Extract relevant data and reports to get an overview of customer-related activities.
Pricing
Vtiger offers a FREE plan called Pilot with minimal features in Marketing, Sales, helpdesk among others.
One Professional at Rs.2100/- per month
One Enterprise at Rs.2940/- per month
Freshworks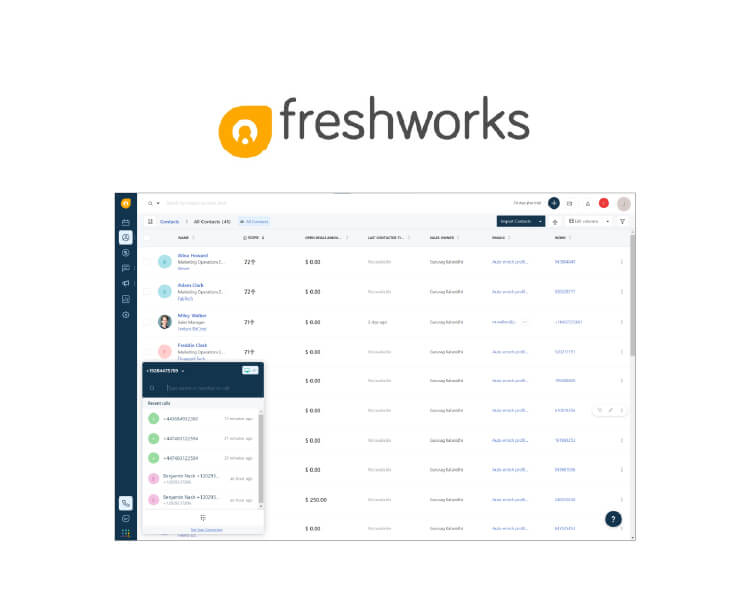 Freshworks provides SaaS solutions to solve complex problems for various businesses.
Freshworks Features
Automate Tasks, Workflows and Sales.
Communicate through Email, Call, SMS, Chat and Whatsapp.
Mobile app with Google Maps, Offline check-in, Voice notes, Gmail and Outlook.
Freddy AI helps to get insights into the customer journeys and deliver personalized engagement.
Automate email communication and deliver them based on customer actions like website visits, email responses.
Pricing
Free plan for forever with exciting features and support.
Paid plans include Growth, Pro and Enterprise.
Keap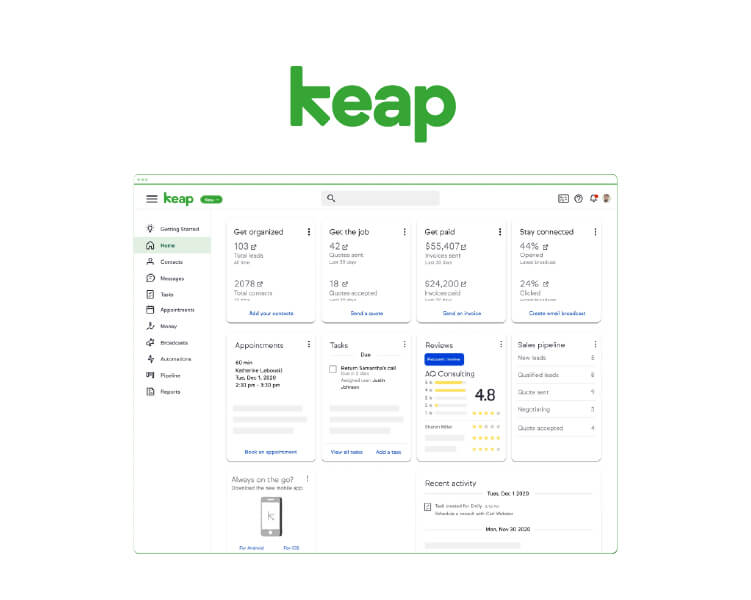 Keap combines marketing, sales automation and payments in one platform.
Keap Features
Keap drives results to their customers in three ways
Capture and Converting leads
Capture leads and organizes them in a place. Maintains a separate list for leads based on the interests and sends targeted campaigns.
Follow-up and get paid
Templates are readily available to set up follow-up automation for reminders, invoices.
Bring all the tools in one place
Keep puts everything you need in one place starting from marketing, sales, payments and more.
Pricing
Lite, Pro, Max are the packages With Keep.
You can choose Lite Plan if you have less than 500 contacts.
It costs $40 per month.
Pipedrive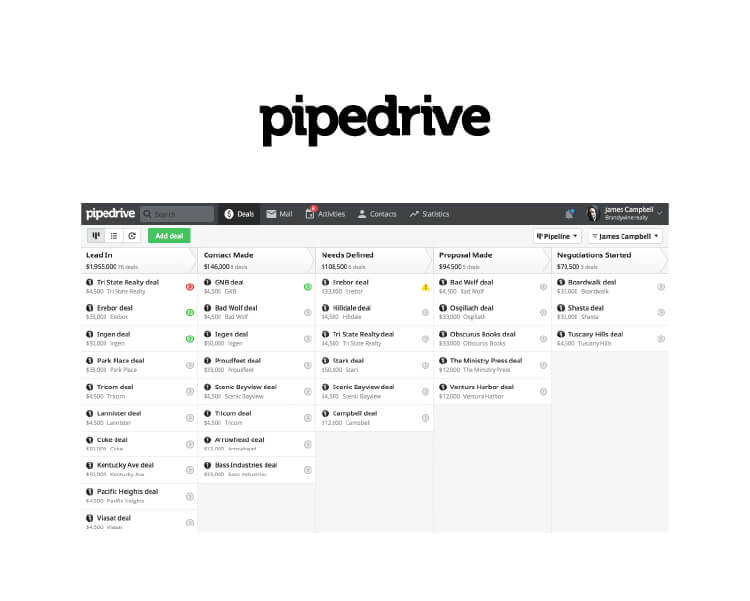 Pipedrive offers features that are useful to prioritize leads, track performance and predict revenue.
Pipedrive Features
Manage Leads and deals
Capture leads 24/7 through web forms and chatbots.
Track communications
Keep track of all the communications through Phone and Email.
Automation
AI built features to reduce manual and administrative tasks.
Insights and Reports
Generate reports based on metrics customized for business and track the company's performance.
Mobile app Integrations
Pipedrive's Mobile app helps you to integrate with other apps and improve sales.
Pricing
Has a 14-day free trial.
Essential:- Charges as low as $12.50 per month per user.The other options are Advanced, Professional and Enterprise.
Insightly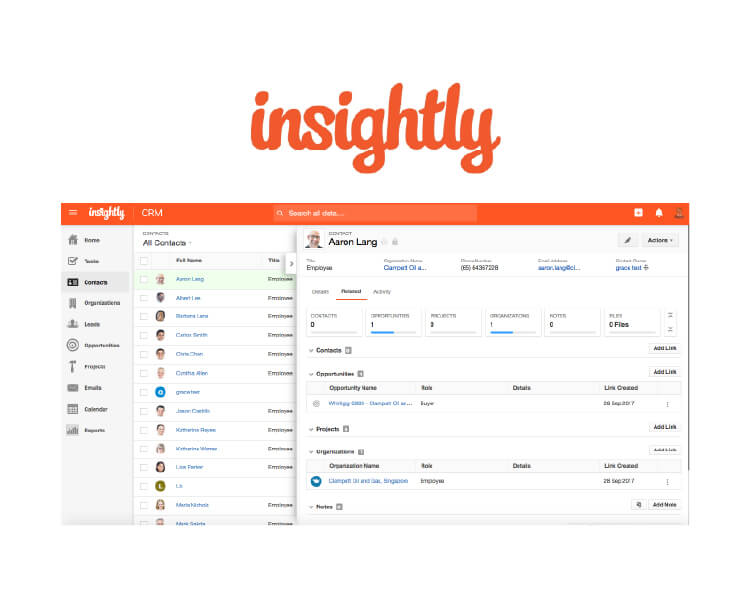 Insightly is most renowned as a platform for small businesses. It has over 500,000 users worldwide.
Insighly Features
Contact management.
Pipeline management.
Task management to get clear sales visibility, an overview of your business, track your deliverables to customers,
Improve customer communication, increase productivity and efficiency.
Insightly has an iOS, Kindle and Android mobile application for on-location flexibility.
The mobile app also integrates with other applications such as Gmail, Evernotes, MailChimp, Office, and Outlook.
Pricing
It has 3 paid plans namely Plus, Professional and Interface packages.
Agile CRM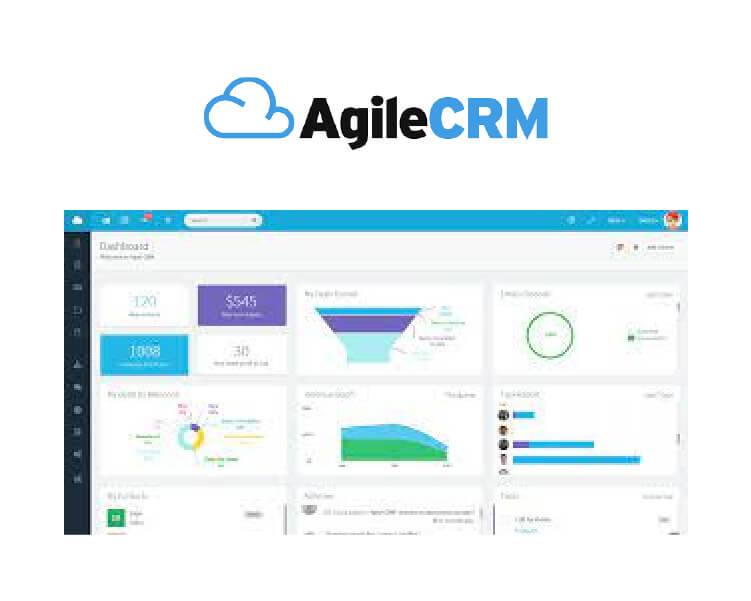 Agile is All-in-one marketing and sales software.
Agile CRM Features
360 contact view of customer including web activity.
Automatically send personalized texts to leads with the Mobile app.
It has telephony integration with Twilio.
Lead scoring to attend the lead is of utmost importance.
Email Marketing with personalization, A/B testing, automation.
Create landing pages on the go with a mobile app.
Pricing
FREE package for 10 users with 50,000 contacts, Email tracking, 2-way telephony
And the paid packages are:-
Starter: Form Builder, Landing Page builder and Marketing Automation. You can Avail of this pack at the best price at $14.99 per month.
The regular package starts from $49.99 per month.
Enterprise package stands at $79.99 per month.
Drip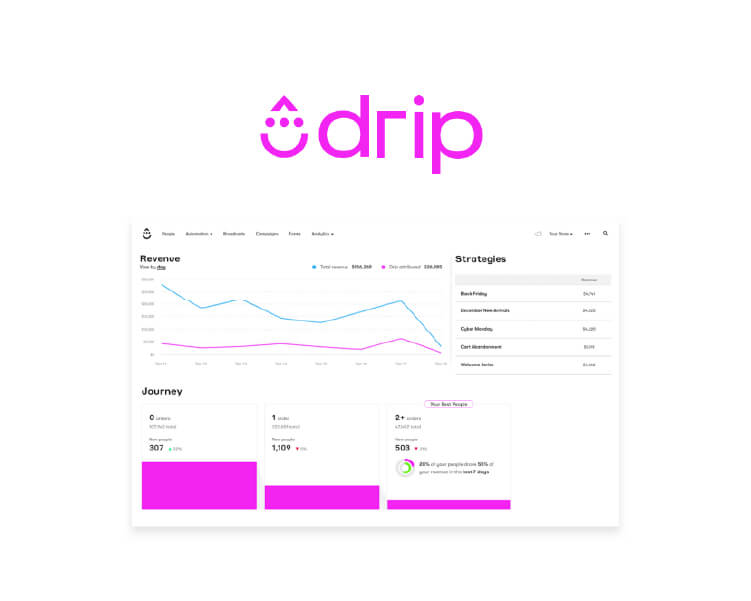 Drip is a marketing automation platform that uses Email, SMS and third-party integrations.
Drip Features
Grow and convert audience through Email Marketing.
Pre-built workflows to run your business quickly with few clicks.
Drip has 90+ integrations to avoid the hassle.
Customer service through Email and Chat.
Pricing
There's a 14-day FREE trial and one paid package which starts at $19/ month.
Which CRM is Best for Small Business or Startup?
Finally, what have you decided?
I know, it ain't easy to pick the best platform for your business with so many options in the market.
But, I've got your back.
There are 4 factors to consider before choosing a CRM tool for your business.
Integrations: If your CRM integrates with third-party services.
Budget-friendly: If you are a small business or a startup, the cost is a primary factor. So pick a tool that is in your price range.
Suits your business requirements: This is the foremost factor to consider before buying any tool. With various products available in the market, you can eliminate the unnecessary service or product when your requirements are clear.
Customer service: The best product also provides full customer care and support.
All-in-One CRM: Find an Integrated CRM like Teleduce where you don't need to spend money on different tools to manage your marketing, sales, and support team.